July's Member of the Month - Meet Ms. Mini

By Teresa Martens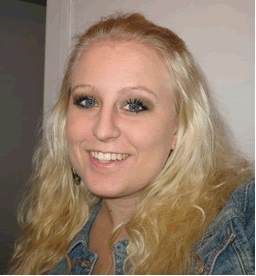 Jenny (Ms. Mini) has been a member of the Greenleaf Miniature Community since December 20, 2005. With 3,087 posts (and counting) she has shared with us the ups and downs of real-life and mini-life, making us laugh and cry along the way. Having the distinction as one of the youngest members of the forum, she sets a pace that some of us more 'mature' ladies (I'm strictly speaking for myself here) and gentlemen, can find hard to keep up with!
Jenny remembers being interested in miniatures when she was a little girl. Her mom would take her to a little toy store, in a small mountain town, which had a glass case by the front door which had miniatures inside. Her mom bought her an old fashioned sewing machine that came with a mannequin. Jenny's mom also bought her daughter her first wooden dollhouse, the 'Dura-Craft 505 Farmhouse Kit' when she was a pre-teen. Unfortunately, Jenny lost interest and never built the kit.
Fast forward to Christmas of 2005 when her boyfriend, Caleb, purchased Greenleaf's 'Garfield' for her, and she has been addicted ever since adding more kits to her long list of to do's, including the 'Coventry Cottage' and the 'Beacon Hill', both by Greenleaf.
The best thing about mini-ing for Jenny is seeing her ideas and creations come to life. When she first purchases a kit, she has thousands of ideas floating around in her head. Seeing those ideas come to fruition is incredibly rewarding for her, especially when it's something she's never tried before, like using paper clay for the first time on her Emerson Row.
Jenny also loves to share photos of her houses with family and friends. She also loves getting on the Greenleaf Miniature Community forum to learn and share information with all her wonderful friends. She says that the forum is unique and inspiring and without it, she would not know half of what she does now about miniature making and she is grateful for everyone there.
Although this was a difficult question for her, Jenny states that her Willowcrest is her true love. The design and layout of the kit itself is very unique and she's very pleased with how hers turned out. Another favorite is her 'Heart Arbor' entry for the Greenleaf contest. It was the first time she'd ever created an entire scene from scratch, except for the arbor itself which was built from the Greenleaf Heart Arbor kit.

Jenny has also built the coveted "White Orchid" by Greenleaf turning it into 'Tinkerbell's Cottage', which is simply delightful.
Jenny also provided many of us with months of fun by sending out her friend "Thelma" who traveled across the United States and Canada gathering many stories and goodies along the way. Thelma made it back home in June, much to the relief of Jenny!
Jenny is currently working on the "Emerson Row" and the "Tennyson", both of which are rare dollhouses from Greenleaf that are currently out of production . Once these two houses are completed she plans on starting her second all-time favorite kit, the 'Beacon Hill' by Greenleaf.
In the foreseeable future, Jenny would like to wire an entire house with electricity. The Emerson Row she's currently building will be the first house she's attempted to electrify and she really hopes she'll be able to pull it off. She believes that adding lights to a miniature house gives it so much more life and character and, if she pulls it off in the Emerson Row, she's going back to her Willowcrest and adding electricity there!
When asked what advice she'd like to share, she provided the classic Greenleaf forum advice, "never use a hot glue gun to build your house!" Also from her own personal experience after suffering a mini-slump she says, "don't be ashamed, it's perfectly normal to go through phases where you just can't get your creative juices flowing. The best way to get out of a slump is to just start off doing small stuff again, like doing a little touch up on your exterior paint." "And", she says, "if you're like me, once you start, there is no going back!"
As is the case with most miniaturists, none of Jenny's real-life friends share her hobby, but they all support it and ask questions about her current projects from time to time. She has lived in San Diego, CA, all her life and works as a Project Administrator for a construction company. Her free time consists of spending time with her live-in boyfriend of five years, Caleb, hanging out with friends, reading, watching movies and just enjoying life as much as possible. She also sees her family as much as she can and tries to keep up to date with her four younger siblings, all under the age of fourteen. One of her goals for next year is to go back to school to get her degree in Business Administration, and she'd also love to start building miniature houses for other people and make a part-time job out of it.
As our 'Featured Member of the Month', Jenny will receive a $25 Gift Certificate to the 'Greenleaf Store'. Congratulations, Jenny!
Written by Teresa Martens
July, 2007
Back to the July Newsletter...