Welcome to the Greenleaf Gazette!

Hardwood Floors to Faux Trap Doors!

March 2009
Dear Miniature Enthusiast,
Wood is good. We love the texture of wood and the beautiful grain hidden within each piece. Most of all, we love the feeling of having a pile of wood sheets take shape under our hands and be magically transformed into a dollhouse.
Be honest... when you open a kit for the first time, you lean forward and inhale deeply to get that fresh wood smell don't you?

But let's think outside the box for just a minute. Actually, let's think outside of the instructions in the box. There's more that we can do with wood than just assemble the dollhouse. There are hidden treasures inside every wood piece that we can use to enhance our dollhouse. This month, we're going to take a look at how we can use the wood already in our kits and a few supplies like Greenleaf Dollhouse Siding to create hardwood floors, authentic looking aged plank siding, and even a fake trap door for those non-existent attic stairs.

To make it even more interesting, Tracy Topps has joined me this month in creating twin tutorials. Each of us has recently built a distressed house but we used different methods to create two totally different looks based on the same concepts, so we're going to run side-by-side tutorials showing you two different ways to achieve aged effects with exterior plank siding and interior floors. Not aging your dollhouse? Take a look anyway. You'll find that these techniques can be used for a newer looking dollhouse with just a bit of modification.

Have you heard the news? Spring Fling 2009 has begun!! Miniature artisans all over the world are busy building their entries for our biggest miniature contest ever. This year Greenleaf has developed a truly unique kit for the contest and we know the results are going to be the most fabulous group of entries the miniature world has ever seen. Do you have your Spring Fling kit yet? We'll it's not too late; we are extending our special pricing through the end of the week! Find out all the details about the contest here.
Deb Roberts
Editor in Chief
---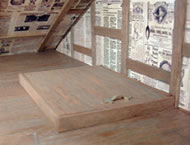 Faux Trap Door

By Deb Roberts

It's a dilemma as old as dollhouses themselves. You'd like to add stairs leading to the attic in a small house but you don't want to take up valuable floor space. The solution is a faux trap door that gives the illusion of a folding ladder!
---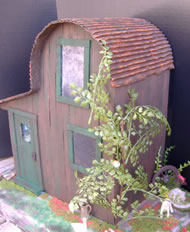 Tracy's Distressed Plank Siding

By Tracy Topps

Tracy Topps creates the perfect exterior for a mountain or forest cottage and shares her technique with us on how to achieve this woodsy delight.
---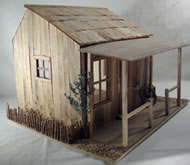 Deb's Distressed Plank Siding

By Deb Roberts

Deb's aged plank siding has a southwestern feel perfect for haunted houses, old farm houses or desert ghost towns. Follow along as she shares her techniques.

Full story...
---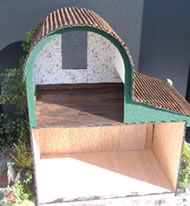 Tracy's Plank Flooring

By Tracy Topps

Tracy shows us how to achieve a rich tone to aged floors using paints and a surprising touch to add just the right hint of luster!

Full story...
---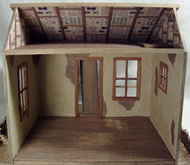 Deb's Scored Hardwood Floors

By Deb Roberts

Deb shows us how to score the floors in the kit to make hardwood floors and then add just the right touch of aging

Full story...
---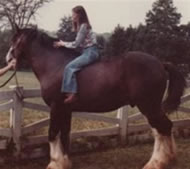 Member of the Month - Meet Freya

By Heidi Cleveland

March winds are blowing in. The weather this month can be so unpredictable. One moment it is cold like a polar bear`s tookus and next it gives you a tease of Spring to come. One thing that is not unpredictable is this article. You always know you are going to get a nice, warm, and fuzzy feeling after learning about one of your fellow miniaturists. I would like to introduce you to our March Member of the Month, Freya (Grynche).
---
Havana Holly's Quick Tips!

By Holly Parker

Polymer clay marble: You do need to get yourself a piece of translucent clay. Condition it and roll it out thin. Take a bit of whatever color marble you wish to make on your paint brush and draw a few random lines, fold the clay and roll it, and do this a couple of times. Repeat with another color or two and white/ pale gray. Last of all roll it thin again and draw fine lines with black. Roll up your sheet of clay into a roll and roll it into a cane. From this you can slice pieces to roll out and bake to make counter tops or tiles. This is a great way to use up stray bits of colored clay, too.
---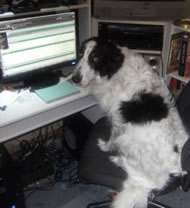 The Critter Corner!

So this is where my human spends all his time...

Like so many pets, Buddy wishes that his human would spend more time with him. Buddy dreams about days of playing fetch and running thru the backyard with his human. He wishes that his human would devote more time to rubbing his tummy and scratching his ears, but alas, Buddy's human is a dollhouse builder. Instead of playing tug-of-war with Buddy, Corwin spends time working on his Garfield and chatting on the computer with his friends on the Greenleaf forum. Buddy seems to have figured out how to hack Corwin's password to sign into the forum but he appears to be a bit puzzled about why it's more fun for Corwin to hang out here instead of playing fetch.

Corwin and Buddy will receive a $25 gift certificate from Petsmart for being featured in our Critter Corner this month.

If you'd like to submit your pet's picture for consideration for the Critter Corner, you can upload pictures in the "Good Pets acting bad!" or "Good Pets acting cute!" galleries at the Greenleaf Forum.