Deb's Distressed Plank Siding

By Deb Roberts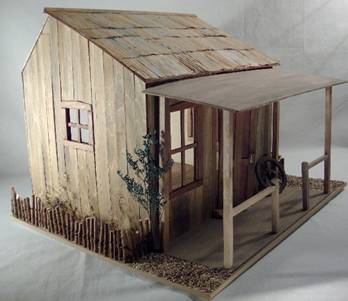 A delightful way of stepping outside the kit box is to create an aged or distressed house. Not only will you have a unique dollhouse with lots of character, but if you're a wood junkie, you'll have a house that puts wood grain front and center. Distressed houses can take the form of an old farm house, a haunted house, a forest cottage, a deserted house in a desert ghost town, or a home for woodland creatures. The possibilities are endless.
Siding strips placed vertically on the outside of the house work perfectly for planking. (they work well for plank walls on the interior and make excellent plank floors too!) If you don't siding strips leftover from another house kit, you can buy packages of siding strips at the Greenleaf Store.
Siding can be applied with tacky glue or carpenter's glue, but I prefer hot glue for siding and shingles. (Please note that I only use hot glue on shingles and siding, not for assembling the house!) If you will be using liquid glue of any kind you'll need to stain the siding pieces before gluing them to the walls since the glue will repel the stain.
We're going to distress the exterior, so you'll need light colored stain and a grey wash in addition to your siding.
To get a rough and weathered look, when separating the siding strips, don't use scissors as you normally would. Tear them apart and leave the edges rough and splintered. Glue the siding strips to the exterior, leaving some gaps here and there. You can stagger the lengths of siding strips if desired. Try not to be too uniform with the lengths. In reality, plank siding was usually made of scrap lumber so try to achieve the same effect with your miniature house.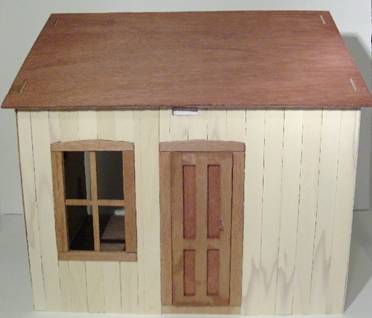 Give the entire exterior a coat of stain and allow it to soak in while you mix the grey wash. To make the grey wash, mix one part grey paint with three to four parts water. If the grey wash is too light for your preference, you can go over the siding with a second coat.
Apply the grey wash unevenly leaving darker streaks in some places and lighter blotches in others. In the picture below, you can see the difference between the aged planks on the right and the unwashed stained planks on the left. You'll also notice that the grey wash brings out the grain in the wood, giving it a wonderfully realistic look.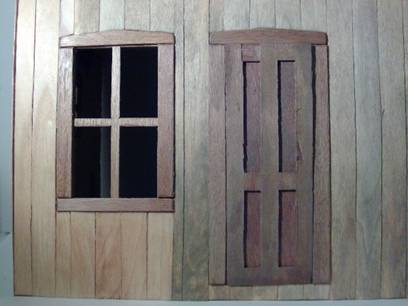 Continue with the dirty wash and when you're done, give it one final look to see if you need to darken any areas. Remember that aging doesn't occur evenly and you want your planks to look as if they've aged naturally. If the siding warps and lifts at the edges just a little bit, that's okay. It enhances the natural look of aging.
Don't forget to give the window and door frames a dirty wash as well.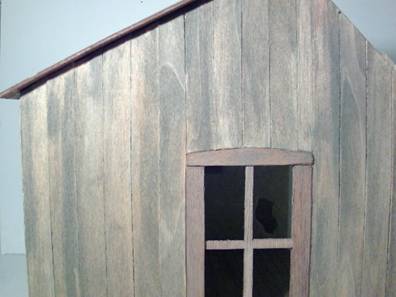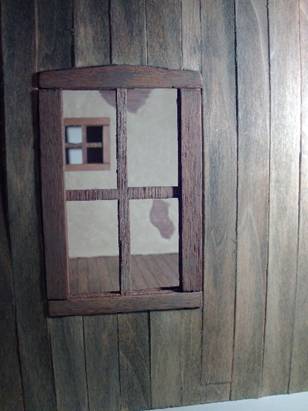 If your aged house is in a forest, you can add some moss or lichen in the cracks. A very subtle dry brush of green paint in small areas also gives a nice mossy patina to a distressed house.
Creating an aged or distressed exterior is a lot of fun to do and adds character to any dollhouse. Plank siding is only one way to create an aged exterior so let your imagination run wild and think outside the box the next time you build a kit.