Welcome to the Greenleaf Gazette!

Flinging into Spring 2010!

March 2010
Dear Miniature Enthusiast,
Did you hear? Have you seen it? Have you heard the buzz? The new Spring Fling 2010 has arrived and everyone is excited! Greenleaf took the SP kit to a whole new level this year using their laser cut process. If you haven't seen the laser cut kits yet, you're missing out on a whole new world of dollhouse building! Laser cutting is a precise method that means better detailing and less sanding plus perfect fits for the tabs and slots. It's a revolutionary process for dollhouse kits and no one does it better than Greenleaf.

You can imagine how excited everyone was to find out that the contest kit this year is laser cut. What's even better is that the folks at Greenleaf have also made it super affordable so that everyone will have a chance to try out a laser cut kit first hand.

Did I mention the style? This kit has a lot of potential! It's full size so the rooms are spacious and this is a kit that you can add to an existing dollhouse or make it a stand-alone building. I'm having so much trouble deciding what I want to do with mine that I might have to buy six more!

So if you haven't seen the Spring Fling 2010 kit yet, drop in here at the Greenleaf forum and see what the excitement is all about! You'll find pictures of the kit as well as information about entering the contest. Greenleaf has extended the FREE SHIPPING on this kit until April 5th for us newsletter subscribers.
Deb Roberts
Editor in Chief
---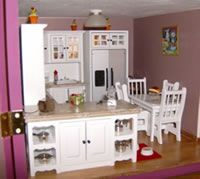 Captivating Kitchen Décor

By Gina Lassales

The room I love most to decorate in a dollhouse is the kitchen. I absolutely adore all of the wonderful minis available for them. Food, tea sets, glassware, dinnerware and small appliances make it a delight to fill your kitchen to the brim with details.
---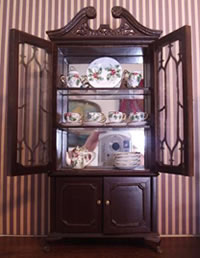 The Collector`s Cabinet

By Heidi Cleveland

In this edition of the Collector`s Cabinet, I would like to introduce you to Claudia (CheckMouse), Liza (Imgervais), and Alyce (alycemina). They all have such wonderful treasures but today we are going to showcase just three.
---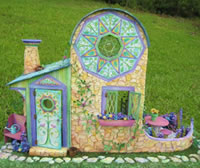 The Many Faces of Spring Fling

by Deb Roberts

One of the things I love the most about contests like this is the fascinating aspect of seeing one kit done in so many different ways. More than anything else, a challenge contest highlights each entrant's individual creativity and vision.

Full story...
---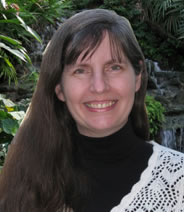 Member of the Month - Meet Tiffanie (Kitten)

By Heidi Cleveland

The Ides of March has brought a wonderful person to meet here at the Gazette. I would like to introduce you to Debbie (deb`s designs). She has been a member of the Greenleaf forum since August 16, 2008. What interested me most about Debbie was when I read that she used to be a toy designer for several years. Also the fact that she has seven children that she home schools. You go girl!
---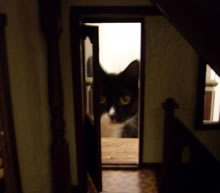 The Critter Corner!

Whatcha doin'?

Sophie isn't quite sure how to fit thru the door, but she certainly is curious about what's inside! Linda says that Sophie is her creative assistant and we're sure that she's always on the job.

Thanks to Linda (pin1056) and Sophie for sharing such a cute picture with us. They'll receive a $25 gift card from Petsmart for being featured in this month's Critter Corner..

If you'd like to submit your pet's picture for consideration for the Critter Corner, you can upload pictures in the "Good Pets acting bad!" or "Good Pets acting cute!" galleries at the Greenleaf Forum.