Captivating Kitchen Décor

By Gina Lassales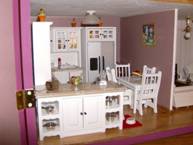 The room I love most to decorate in a dollhouse is the kitchen. I absolutely adore all of the wonderful minis available for them. Food, tea sets, glassware, dinnerware and small appliances make it a delight to fill your kitchen to the brim with details.
There are also so many furniture styles available that you can make your kitchen reflect any era you want it to be. I think that out of all the different types of miniature furniture that exist, the kitchen gives you the greatest selection.
Even though I love all kitchen furniture in general, I am most partial to stoves and thankfully, there are miniature stoves galore to choose from. From real cast iron stoves all the way to wooden ones, there are plenty of cute choices out there to fit every decor.
Grocery items are one of the most popular miniature accessory and they can be found for great prices. Not only can you fill cabinets and fridges with food, but think of the cute food displays that can be made by adding a small breakfast nook to your kitchen. Eat in kitchens give you that extra space to display more food. Kitchens can also house other non food related items like cleaning and pet supplies.
I will take you on a tour of some of the kitchens I decorated for my dollhouses. Hopefully they will be a source of inspiration for your next kitchen project.
Many Greenleaf dollhouse models give you bright open kitchens without the need to bash your kit. They are easily viewed from the back of the dollhouse and many even come with pretty bays that can be made into eat in kitchen areas. That is exactly what I did with my Westville Dollhouse kitchen.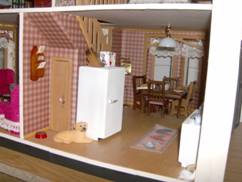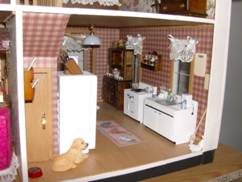 I decided to decorate it as an old fashioned country kitchen with an eat-in area and hutch. I love the little staircase closet detail which can easily be filled with cleaning supplies or even made into a walk-in pantry.
I kept my Willowcrest dollhouse kitchen simple but Victorian. I found a ready decorated stove and sink with plenty of little accessories on them for detail.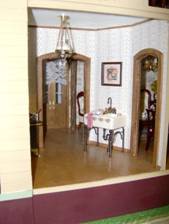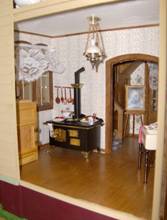 I used a bendable straw, painted black to make the stove pipe.
I created a retro kitchen for the Arthur Dollhouse. It was inspired by the memories I had for my mother's kitchen when I was a little girl. She always used a lot of details in her kitchen and plenty of tiny fruit and veggie magnets everywhere. I couldn't find those in mini but I made up for them in other little details.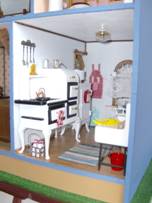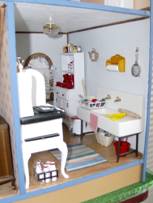 The Lily has one of my most favorite kitchens because of the door to the porch. I just had to add a screen door to it.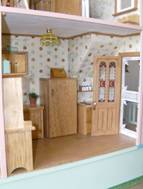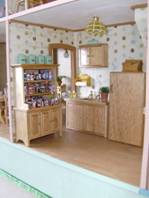 Don't be afraid of over stuffing your kitchens! When I first started decorating with minis, I felt like I was really over doing it with the kitchen accessories but I soon learned that more is better. There is no such thing as too many minis in one room. Leave no drawer un-opened and no cabinet un-done.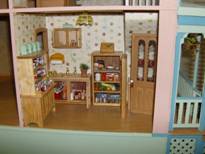 Even tea houses have kitchens, no matter how simple they may be. I made a kitchen just for the purpose of brewing tea in my Orchid Dollhouse.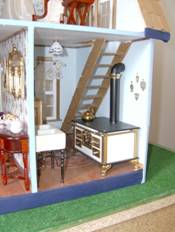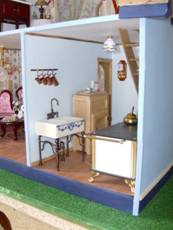 A few Victorian pieces here and there gave life to this cute kitchen area. Of course, I also had to have an excuse for buying the stove.
The Pierce Dollhouse had to have a white kitchen and I added the blue accessories for some flair.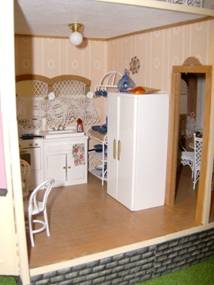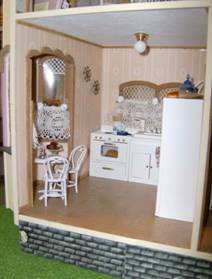 Again, I made use of the great bay area to add an eat-in bistro set and I filled every space available with miniatures.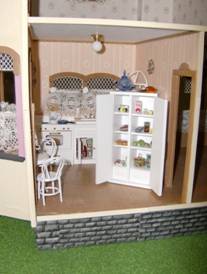 Of course, kitchens do not always have to be so pristine and delicate. You can easily make a Tudor style kitchen like I did in my Sugarplum Cottage with some more rustic furniture pieces and minus the modernization.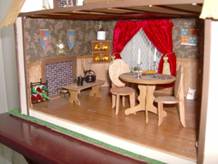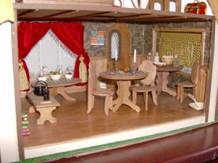 I used the Sugarplum great room to make a kitchen, dining room and pantry all in one. I really love the fact that this room has a large fireplace which can be used for cooking.
The furniture that came with the dollhouse kit and a few added Greenleaf furniture kit pieces were used to complete the look. I decided to leave them in a more rustic, stained only finish to go with the medieval cottage feel.
Greenleaf Furniture Kits are very versatile and can be finished to match any decor. They are easily sanded, assembled and can be stained or painted. In my first Beacon Hill, I used Greenleaf furniture kits to furnish the whole house including the kitchen.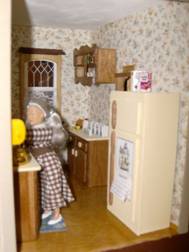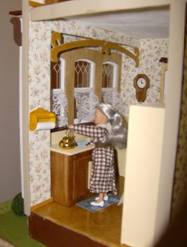 I finished it in the same way that it was done in the kit picture but you can make it into anything you want it to be. You can make them as simple or as sophisticated as you'd like.
Furniture kits are a good way to decorate a kitchen without breaking the bank. In my second Beacon Hill, I used styrene plastic Chrysnbon kits to make my kitchen. These kits are true to scale and very versatile. They are also easy to assemble and fit great in smaller spaces.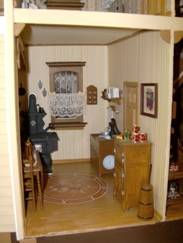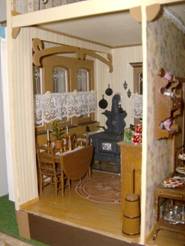 The stove has to be my favorite piece in this kitchen. Its very realistic and pretty. A good tip that I learned while in the Greenleaf Forum is to paint your Chrysnbon plastic stoves with flat black paint to give them an authentic cast iron look. I painted mine with a flat acrylic charcoal black paint and it really worked in achieving an authentic look.
I made my Glencroft's kitchen into another Tudor inspired one. It's missing some more furniture pieces and accessories that I would still like to add but you can already see the over all picture of where its going.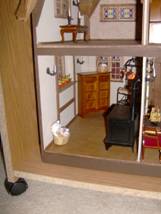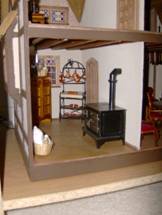 You've seen a lot of old fashioned kitchens but you can certainly bring your dollhouse into the twenty first century with a modern, wrap around kitchen, stainless steel appliances and granite counter tops. I decorated this front opening dollhouse with just that thought in mind.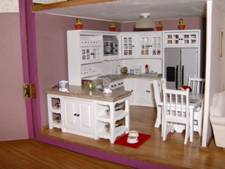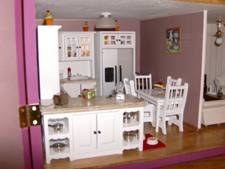 I used a lot of modern accessories to compliment the look.
Modern miniature kitchen furniture can be quite large so you want to make sure that you have enough space for it. Front opening dollhouses with boxy rooms, like Greenleaf's Gloucester Dollhouse, are best for these types of displays. There are also options for modern kitchens in certain furniture kits so you can customize the cabinetry for the space you have.
For most dollhouses, though, it's best to buy each piece of your kitchen furniture separately to ensure that you will be able to place everything in the wall space you have, keeping in mind staircases, doors and windows.
Even the tiniest of kitchens can still be filled with cute furniture and accessories. That's exactly what I did in my quarter scale Arthur. The tiny kitchen is where the red checker board table is.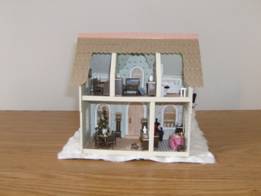 Kitchen floors can range from hardwood to tiles, its all up to you, as is wall coverings. The bottom line is that there is no wrong way to decorate your kitchen and no rules to follow. It's all up to you, the style you want and your preferences so sky's the limit. Now, get cooking!