The Many Faces of the Spring Fling

By Deb Roberts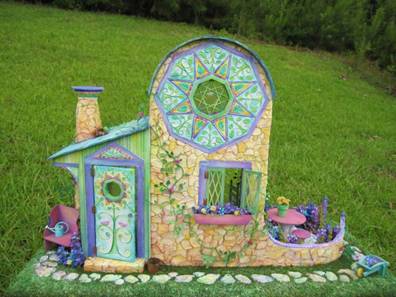 It's Spring Fling time again and everyone is excited! This year's kit is laser cut which makes it the most exciting Spring Fling ever. Dean and the folks at Greenleaf have put an extremely affordable price on this full size kit so that everyone has a chance to try a laser cut dollhouse kit. If you haven't seen it yet, be sure to drop into the Greenleaf forum and read all about how to get yours and enter the contest!
One of the things I love the most about contests like this is the fascinating aspect of seeing one kit done in so many different ways. More than anything else, a challenge contest highlights each entrant's individual creativity and vision. This year will be even more intriguing since the contest kit is a specific building. To someone outside of the artistic world, this might seem inhibiting but to miniaturists, we know it guarantees that the creativity will reach new levels. That's really something to look forward to!
While I was thinking about that, I decided to go back and look at previous entries in the Spring Fling contests to see how the same house can be interpreted in so many ways…….and to see how the same theme can be so very, very different. It is the nature of a challenge contest to see the same theme repeated many times but the wonder of it is how the same thing can take on a completely different look from one person to the next.
I thought I'd pull some examples of how these themes can be so varied from last year's contest to share with you. The 2009 kit challenge was all about the unique shape and you'll see how inspiring that shape could be. Come along and we'll take a look at some truly amazing creativity!
An International Flair
We saw several interpretations of this house that took us to warm and sunny climates. This kit seems to adapt to terra cotta tiles and Venetian plaster quite well.
Lindsay's Casita combines warm terra cotta tiles with cool and colorful tile walls to create a courtyard perfect for a siesta or a cooling drink. Just imagine how delightful it would be to swing in the hammock while listening to the soft splashing of the fountain.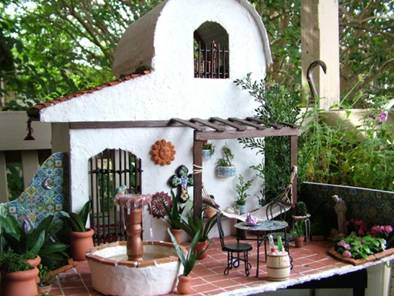 Traci took us to Greece for a weekend get-away with this Mediterranean style. The cool whites and blues are so relaxing and the clean lines of the courtyard and stairs are so inviting. Even more charming is the lemon tree and the krokalia style patterned floor on the upstairs patio.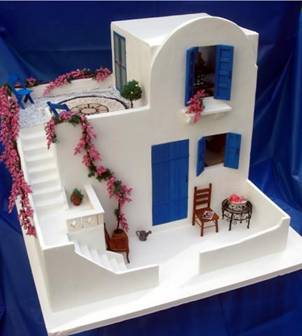 Chris created a Tuscan hotel that had everyone packing their bags and booking the next flight out. From the terra cotta roof to the stone patio, this creation is so realistic that you can almost feel the warmth of the sun.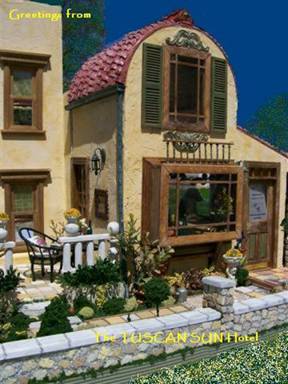 Clock Shops
Clock shops were very popular with the Loganberry Inn kit and I can certainly understand why. The rounded shape of the roofline has the same gentle curves as a mantel clock.
Elicia created an intriguing clock shop that combines a real working clock and pendulum with a miniature clock shop. It's charming and unique design as well as all the details make one think of quaint little shops hidden away on side streets where one can find all kinds of treasures inside.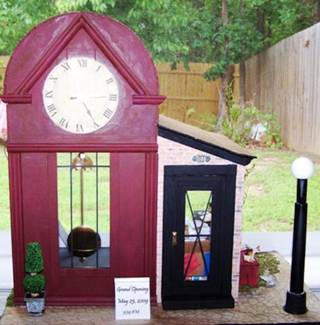 Brigitte gave her clock shop a touch of the old world and created a tribute to her husband's ancestor who was a clock maker. The glow of light behind the amber face of the clock window combined with the warm green façade and the stone foundation make this shop so inviting.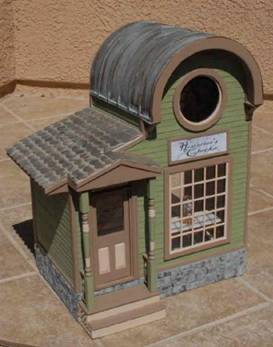 While I didn't enter the contest, my own interpretation of this kit was also a clock shop. In this case, it took the form of an old world shop where the ticking of clocks is a soothing sound as the shop owner sits on the bench outside and smokes his pipe.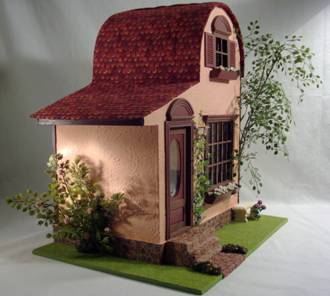 Diners
Diners are always so much fun in miniature and these examples are no exception! Something about the shape of this kit said "jukebox" to several people.
Teresa's jukebox diner promises a good time for everyone and even features a genuine 45rpm record set into the wall upstairs.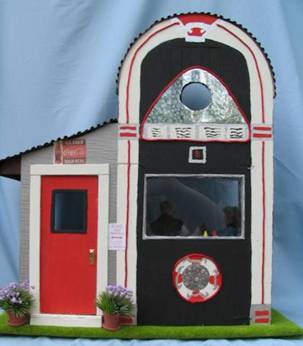 Gayle's jukebox record shop makes us think of those classic bubbler jukeboxes with her clever use of lights.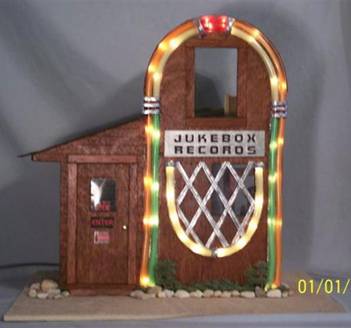 Speaking of clever, Donald's coffee shop is titled "After the Morning Rush" and features a fabulous and creative architectural flair. Atop this old fashioned coffee shop is a giant coffee cup that stands out against the city skyline.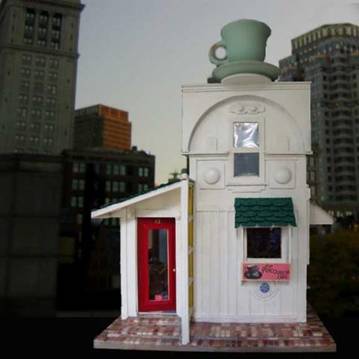 Rustic and Western
We saw a lot of different variations on rustic, rural and western themes last year and each one was delightful. The realism of each one was amazing and the detailing makes for some excellent eye candy.
Roy got things rolling with his Whinnybago. We loved the humor of his title and the beautiful realism of this old west creation.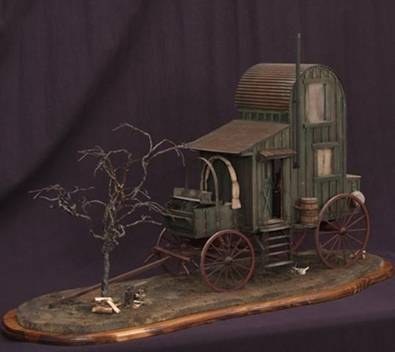 Cathy created the perfect oasis for anyone seeking a little East Coast culture while on the path of the California gold rush.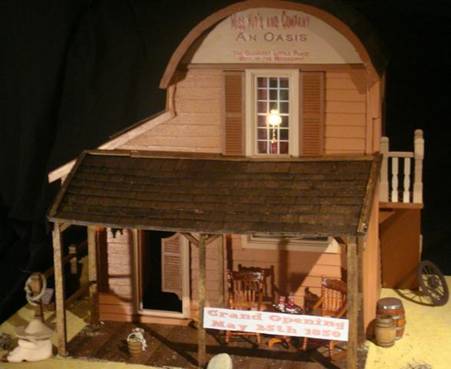 Shar brought us the Red Door Flour Mill, which is a familiar sight to anyone who has ever lived in the country. From the water wheel outside to the gears on the grinding machinery indoors, it's all so real! We're sure that Red Door flour makes the best miniature biscuits!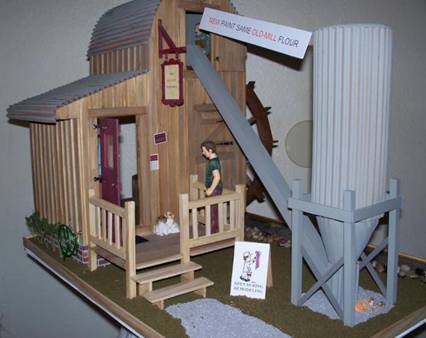 Melanie's stable is as fresh as a spring morning and the thoughts of that cool breeze makes us want to saddle up the horse and go for a ride.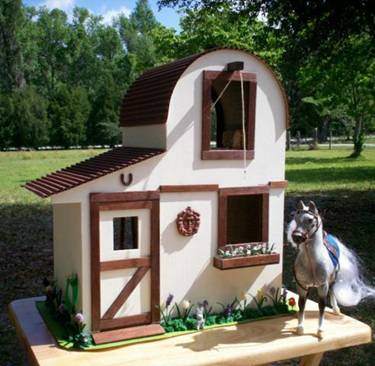 Suzy invited us to share the grand opening of the Mountain Top Retreat Spa and Sauna where a good time was had by all.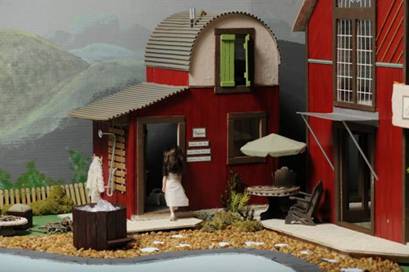 Kristen showed us a different kind of spa tucked away in the forest. This Finnish Sauna in New England features a fabulous steam sauna and a refreshing cool pond.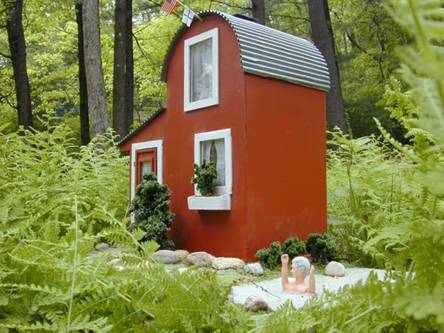 Bright and Beautiful
Now that we've seen how perfect this house can be in earthy and rustic tones, let's take a look at how it shines in bright colors.
Marie-Louise created a delightful candy cottage and invited Hansel and Gretel to come visit.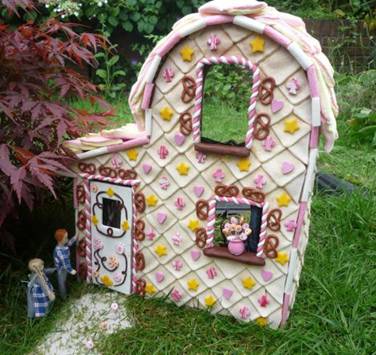 Ellen used bright spring colors to make a whimsical cottage with picket fences and stained glass windows.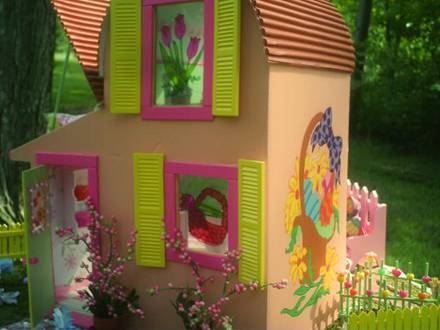 Eily added a little bit to the construction of the house to make this fairytale shoe house and then created fabulous stonework with Paperclay. She finished it all off with mouth-watering watercolor shades and whimsical designs.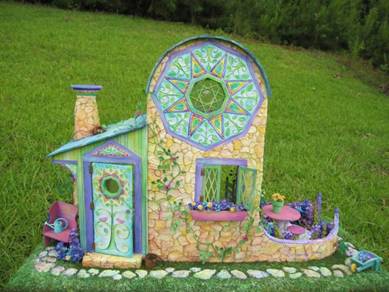 Aliens and Observatories
The dome shaped roof was an irresistible invitation to create some genuinely amazing observatories.
Blondie used aluminum for the exterior finish and added a copper telescope for a shiny and high tech look.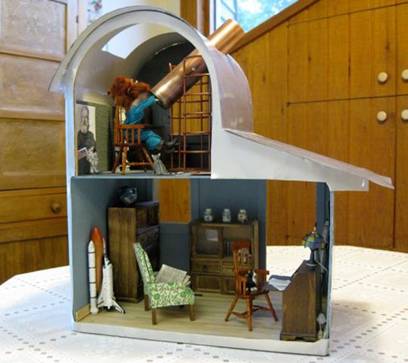 Selkie's solar powered observatory and planetarium draws in the crowds with daily shows fun ways to learn about the stars.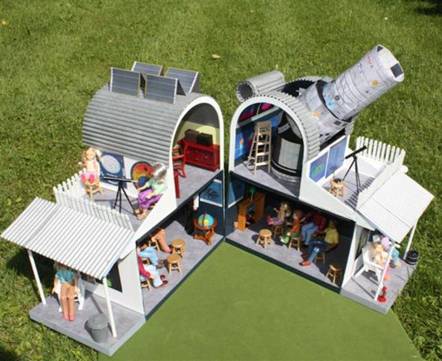 Anna's use of sleek, clean lines makes this observatory ultra professional, however it appears the professional is missing. Something out of the ordinary must be happening because Scully and Mulder have been called in to solve the mystery.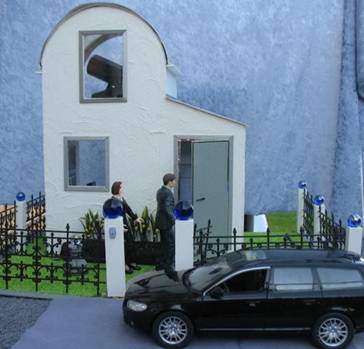 With all this searching of the stars going on, something is bound to turn up! But maybe instead of looking up, we should look down the street to Brandaen's UFO Center and Crashdown Café. I think that's where all the hip aliens are hanging out.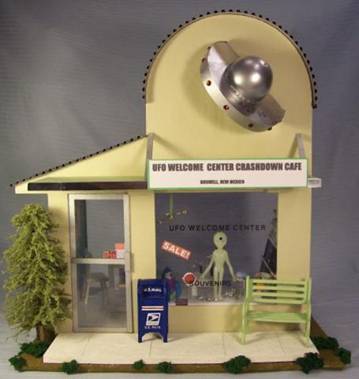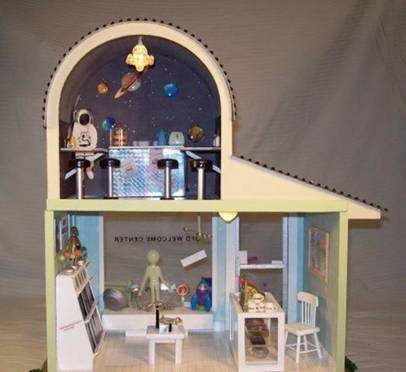 This is just a taste of all the wonderful examples of how one house or one theme can be done in so many different ways. That's what makes a challenge contest so much fun for everyone. I hope that each one of you will join in the fun this year and be a part of Spring Fling 2010!