New Product Review: Lovin' the Laser Cut!

By Deb Roberts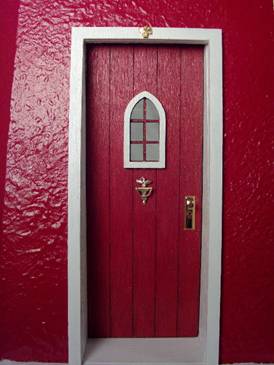 I don't often do reviews of new products but I'm so excited about Greenleaf's new laser cut process that I can't keep it in! It's no secret that I love to build dollhouses. I like every aspect of miniatures, but building is my great and wonderful passion. I'm happiest when I'm up to my elbows in glue and surrounded by wood. Seeing that pile of wood sheets turn into a dollhouse is my greatest joy and I get very excited when I find something new and wonderful. So if I may, I'm going to set aside the "editor in chief" role and simply tell you about the laser cut kits from the perspective of an avid dollhouse builder.
I didn't think the joy of building dollhouses could get any better until Greenleaf started using the laser cut process. I was excited when I heard about it because I've done small items like shelves and accessories that use the laser cut and admired the precision. What I wasn't prepared for is just how incredible that laser cut process is when used for a whole dollhouse kit!
The 1:12 Lighthouse and Harbor Island base were the first laser cut kits that I got my hands on. When I opened the box I sat back and gazed in wonder at the beautiful precision cuts. The edges all felt so smooth and each piece had a "solid" type of feel to it. I admit to spending the first few minutes simply petting the wood. Then it dawned on me that there would be no sanding needed at all! Just imagine the time that can be saved by eliminating sanding! And I was right. I built the Lighthouse and Harbor Island base from start to finish in just six days. The half scale Lighthouse was assembled and ready to paint in two hours. I was so excited that I knew I had to tell everyone what a thrill it is to build one of these kits!
But before I show you some of the things that had me dancing around the studio and hugging plywood, let's take just a minute to understand the laser cut process. Dean Roberts, CEO of Greenleaf Dollhouses, explains how laser cutting works and how it will impact the world of dollhouses in the Greenleaf Blog. Dean tells us, "Laser cutting works by directing a high powered beam of light with incredible precision across the surface of a sheet of wood, leaving a high quality finished cut. There are many differences in die-cutting and laser cutting wood, the most important is that we can realize intricate designs that are too complex for die-cutting. We can also cut smooth curves and even engrave highly detailed patterns into the wood, a technique that will add dimension and scope to our products. Additional benefits of laser cutting is considerably less stripping of parts and minimal sanding."
If that isn't enough to make a dollhouse builder do a happy-dance, nothing will! Now let's take a close look at what some of these laser cut parts look like.
I'm most amazed with the half-scale parts because of the smooth, precise cuts that can be achieved with such tiny pieces. The 1:12 scale cuts are just as smooth, but just take a look at how perfect the cuts are in this little piece of half scale railing.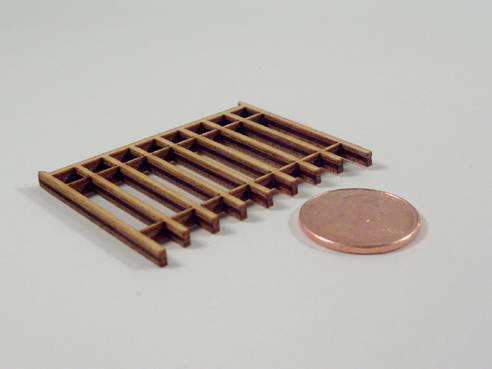 Just think how much easier those fussy bits of trim are going to be when you don't have to sand them! The laser cut also seals the edges of the wood but we'll talk more about that in a few minutes.
Dean mentioned the more intricate designs that can be achieved with laser cutting and this little door is a perfect example. Notice the scoring of planks into the door which gives it so much character and depth.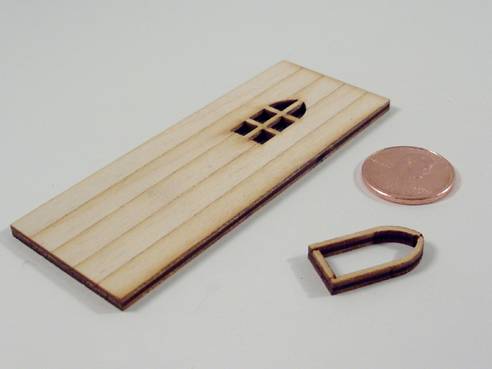 The arched window and frame are yet another example of how versatile the laser cut can be and of the kinds of delightful design changes that are in store for us. When combined with the scoring, this door takes realism to a whole new level.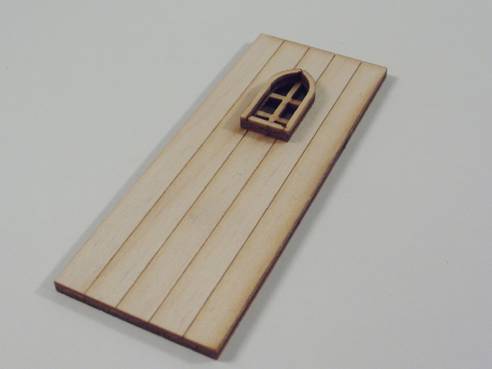 To give you an idea of just how smooth the cuts are, I took a picture of this sheet of trim. The trim pieces are ¼" wide. With die cut kits, we see pieces of this type of trim spaced out on a sheet and they have to be punched out. The laser cut is so precise that the pieces are cut together and slip right out of the frame with just a light touch. The cut goes completely thru the wood and seals all the edges.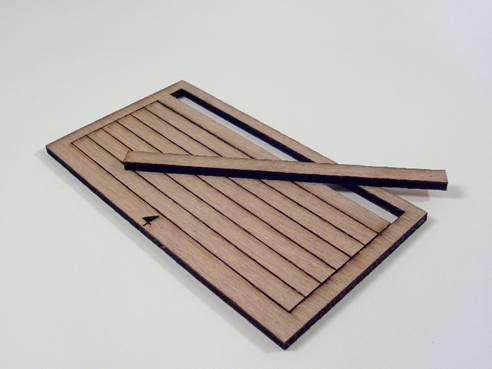 It's almost like a little wooden puzzle! I can take the pieces of trim out of the sheet and then slip them right back in place perfectly. How cool is that!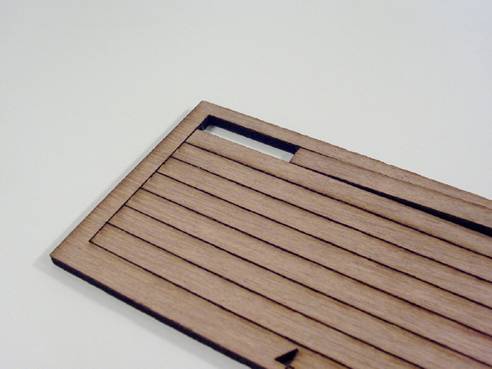 Most builders will tell you that they're not overly fond of sanding tiny pieces of trim but with the laser cut, you won't be doing any sanding at all. Simply slip the pieces out and paint them. The edges are smooth to the touch and perfectly squared on all ends. When you're ready to apply the trim to the house, you won't have any crooked gaps between pieces because the ends are all perfectly square. When I think of how much easier it will be to build a house with lots of tiny pieces it makes me swoon.
The Tennyson has delightfully charming trim that reminds me of ocean waves, but just thinking about sanding all those curves makes my hands ache. Now that the Tennyson has been released in laser cut, my hands are as excited as the rest of me to build one!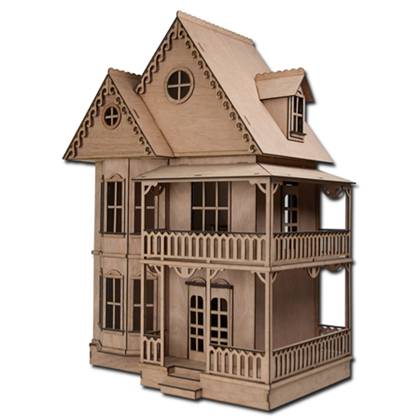 Any builder will tell you that gaps are just a fact of life, but this is another area where Greenleaf is revolutionizing dollhouse building. Remember how I mentioned before about the laser cut sealing the wood? Well, just one of the perks of sealed edges is that it helps keep the wood from expanding when it's painted or stained. Pieces go together as smooth as putting butter on a hot biscuit! Tabs don't need to be sanded and slots don't need to be shaved. The tabs and slots on the top of the lighthouse lantern room base went together as smoothly after I had painted the pieces as they did before painting. No swelling of the wood at all! And wait till you see how smooth a door fits into the door frame. That's always been one of my challenges because I use so much paint or stain that the wood swells and then I sand it and it comes out crooked and... well, you know how that goes. But with the laser cut kits, the doors slip right back into the frame perfectly.
Building tower roofs is something that has always made me cringe because I can never seem to get the edges even. I fuss and fight with taping the pieces together and somehow I always manage to have gaps, usually because I sanded an edge too strenuously and created a curve or ruffle. My days of covering tower gaps are gone now! Since the pieces don't need sanding, there are no ruffled edges and my lighthouse roof went together perfectly. Look! No gaps!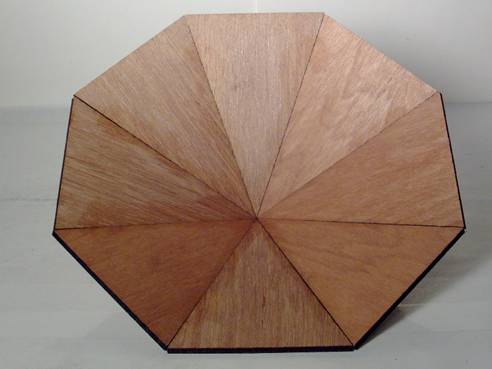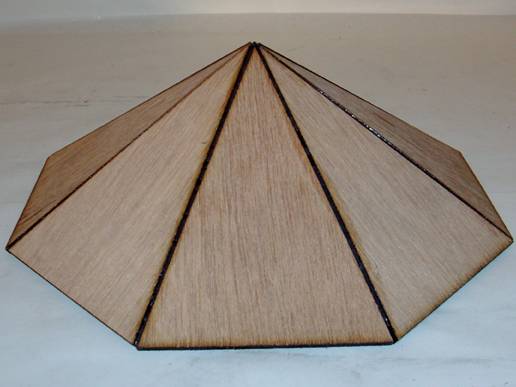 Walls go together so sweetly that it's like poetry. Take a close look at the join of the tower walls on the lighthouse. Remember that the lighthouse is an octagon so there are lots of joins on this house! I did no sanding on the edges of the walls at all... this is the result of putting the floor tabs into the wall slots and coming up with precision joins every time! A teeny bit of spackle smoothed into the groove is all that was needed to get this perfect look.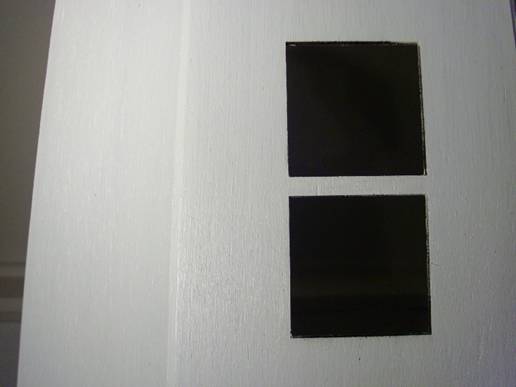 I have to show you this incredible example of how precise the tabs and slots are in laser cut. This is the half-scale lighthouse lantern room and it's not glued together. Yes, you can believe your eyes! This is dry fit without tape! The cuts are so perfect that even the tiny railings will balance on their own when they're slipped into the little slots at the bottom.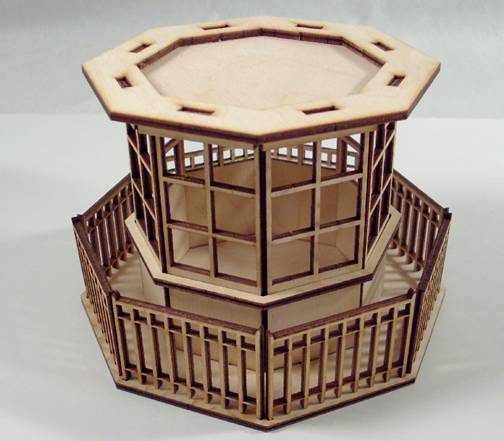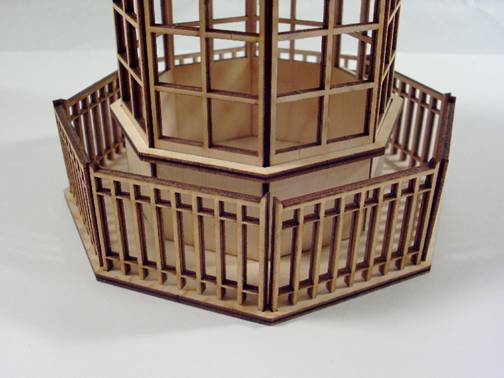 Here's a view of the bottom of the 1:12 scale lighthouse so you can see the perfect fit of the tabs and slots at the bottom. Look at the assembly to the right or left of the steps. The center tab facing downward is the wall fitting into a slot on the edge of the first floor. The two tabs facing upward are on the foundation piece and fit into slots on the edge of the first floor. I ran my fingers over these connections and it felt smooth as silk. With my eyes closed I could barely tell where the tabs were at.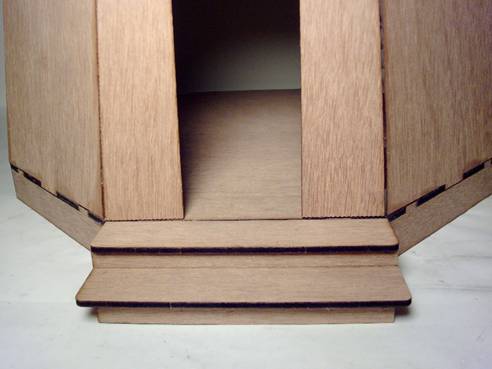 Can you see why I'm so excited about the laser cuts now? This is a dollhouse builders dream come true. Some kits will remain die cut, but Greenleaf is releasing several of the older kits such as the Tennyson, the Brimbles and the Emerson Row in laser cut to the delight of dollhouse builders everywhere.
Precision cuts, no sanding, sealed edges, and a perfect fit every time and it's all in the wood that we love so much. Thank you Greenleaf!!