Welcome to the Greenleaf Gazette!

Have a Merry "Little" Christmas!

November 2008
Dear Miniature Enthusiast,
Did you hear the news? The miniature world recently stepped into the real world spotlight on the Martha Stewart Show! Our friends at CDHM.org were featured on Martha Stewart on November 11th when miniature artisan and IMGA Fellow Betsy Niederer recreated a delicious turkey scene from Martha Stewart's Living magazine cover and demonstrated how to make delightful miniature cookie ornaments. Greenleaf was proud to participate and each member of the studio audience went home with a Storybook Cottage dollhouse kit! For all the details about the show, click here.
With all the recent concern over the economy, Greenleaf wants to help out with the holiday season, so we're offering FREE SHIPPING on orders over $49 at the Greenleaf Company Store. Sorry, but this offer only applies to orders shipped to the U.S. continental 48 states. For other destinations, use our customer service page to request a special quote.

From all of us at Greenleaf, we hope you have the happiest of holidays with the love of your family and friends around you, peace and joy in your heart, and a dollhouse under your tree.
Deb Roberts
Editor in Chief
---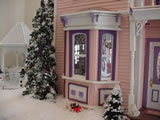 Visiting Mini Friends for the Holidays

By Deb Roberts

Sleigh bells ring, are you listening? In the lane, snow is glistening... Except it's a miniature lane and we're about to shrink ourselves down and take a ride in a winter wonderland with all our miniature friends. Grab your coats and mittens, put on your boots and let's go!
---

Holiday Centerpiece

By Deb Roberts

Here's a fast and fun mini project for your holiday table or sideboard. Chances are that you'll have all the supplies you need right on hand too.

Full story...
---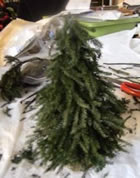 Making an Evergreen Holiday Tree

By Corwin

Follow along with Corwin as he shows us how to make a lush and luxurious evergreen tree! It's the perfect start to your Holiday Decorating!

Full story...
---
A New Generation of Miniaturist!

The future of any craft lies in the hands of young artisans. In the miniature world, we eagerly watch for up-and-coming talent as a sign that our craft is being passed on to a new generation. That's why we're so happy to spotlight this young miniature artist! Please join us in applauding 11 year old Rachel and her beautiful Primrose!
---

July Member of the Month - Meet Meet Steve from PA!

By Heidi Cleveland

I would like to introduce you to November`s Member of the Month, Steve (in PA). Steve has been a member of the Greenleaf forums since October 10, 2006. He always has advice and a kind word when someone needs it. His work with dollhouses and miniatures makes many of us aspire to his greatness.
---
Havana Holly's Quick Tips!

By Holly Parker

When staining shingles, I buy a two-pack of the heavy aluminum disposable roasting pans and use a large roofing nail to poke holes all over the bottom of one. Set the pan with holes into the pan without holes, put the shingles into the holey pan and pour in the dye/ stain, lift the inner pan straight up and let all the dye/ stain run into the lower pan and dump your shingles onto newspapers and spread then out to dry, repeat the process until all your shingles are stained.
---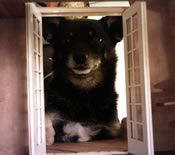 The Critter Corner!

Are you sure I can't come inside?

Poor Paco sits outside the patio doors of Linda's miniature house, eagerly awaiting an invitation to come inside. He promises to be good and not chew on anything if he could only come inside for a few minutes and see what all the fuss is about. After all, the miniature houses shouldn't only be accessible to cats!

Our thanks to Linda (brookwoodworker) for sharing this delightful picture with us. For being featured in the Critter Corner, Linda and Paco will receive a $25 gift card from Petsmart.

If you'd like to submit your pet's picture for consideration for the Critter Corner, you can upload pictures in the "Good Pets acting bad!" or "Good Pets acting cute!" galleries at the Greenleaf Forum.