Visiting Mini Friends for the Holidays

By Deb Roberts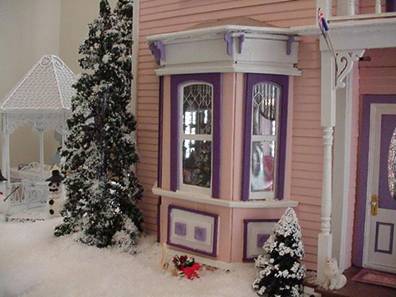 Sleigh bells ring, are you listening? In the lane, snow is glistening... Except it's a miniature lane and we're about to shrink ourselves down and take a ride in a winter wonderland with all our miniature friends. Grab your coats and mittens, put on your boots and let's go!
Brrrrr... it's cold out tonight! Good thing there are warm blankets to cuddle under in the sleigh.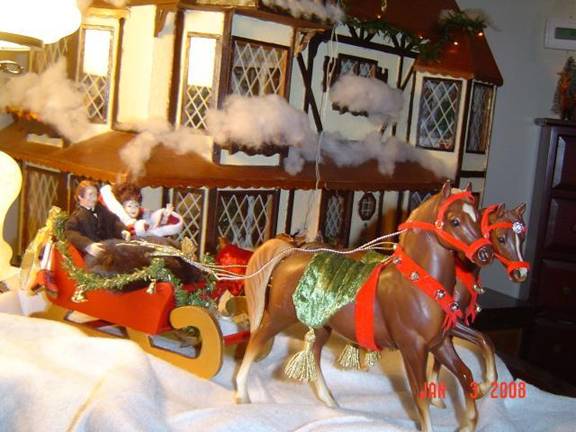 We'll drive the sleigh quietly out of the yard so we won't wake the baby. He's sweetly closing his eyes and settling in for his nap.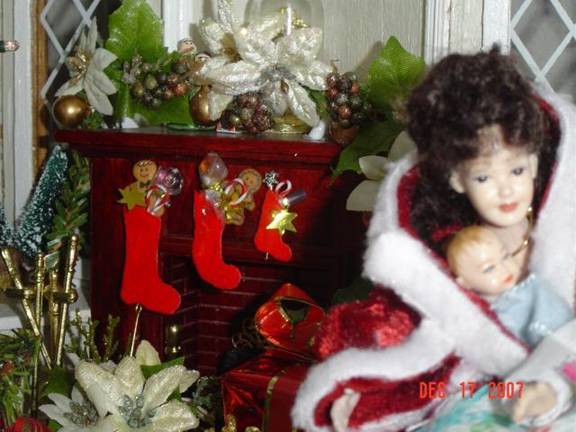 Oh look!! There's a vendor on the corner with lots of fun things in his cart. Let's stop for just a minute and pick up a wreath to hang on the sleigh. Maybe there's a chestnut vendor nearby. Wouldn't it be lovely to have a bag of freshly roasted chestnuts to warm our hands?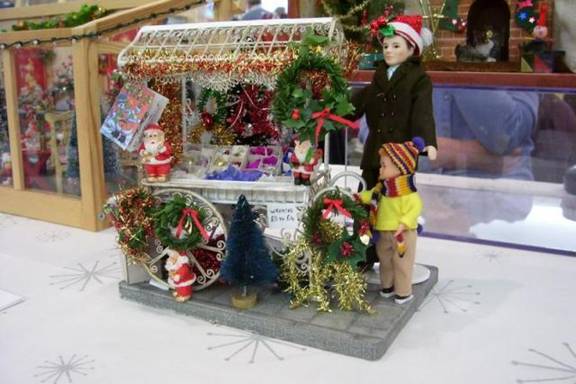 Now that we have our wreath and warm chestnuts, where shall we go first? Oh! I know! Let's stop at John Tomson's Tree Farm and get our Christmas tree! We can tie it to the back of the sleigh.
There's John out front, waving. He's such a friendly guy and makes a stop at the tree farm a happy tradition. He'll help us pick out the perfect tree.
As long as we're here, let's pop inside and get a couple of potted poinsettias.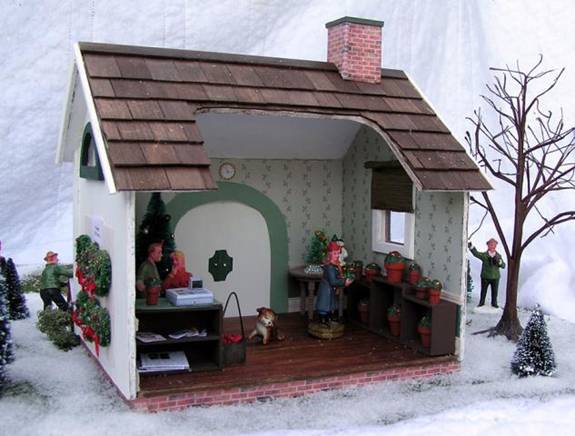 Is everyone snuggled back in the sleigh and ready to go? I know the perfect house for our first stop to visit friends. Mary isn't able to get out and about as much as she used to, so let's drop in and wish her a happy holiday.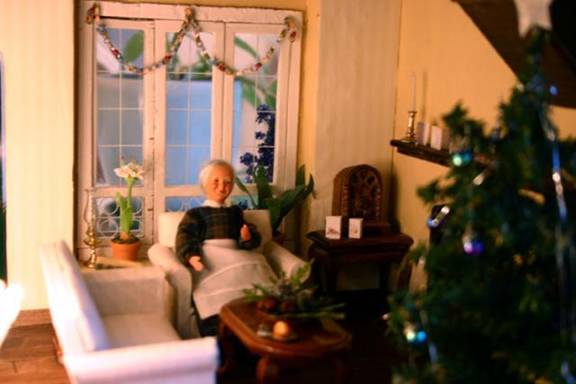 Hi Mary! We just dropped in to say hello and bring you some chestnuts. Oh, and John sent along some garland for you. We'll just put it under the tree by the stairs for you.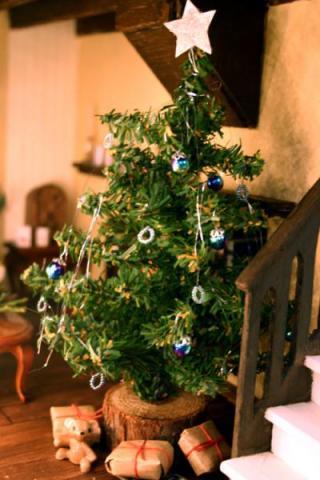 What a pretty arrangement on the table!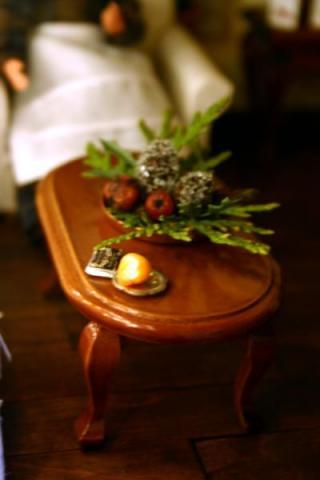 We'd best be on our way since we have lots more stops to make. Merry Christmas Mary!
The next stop on our list is Aunt Mayme's house. She's waiting for the twins to arrive and is so excited! I hear she's been decorating the house and baking special goodies for them.
Ooooooh, look at the beautiful decorations around the doorway! It looks so warm and inviting. Everyone be sure to knock the snow off your boots before we go in.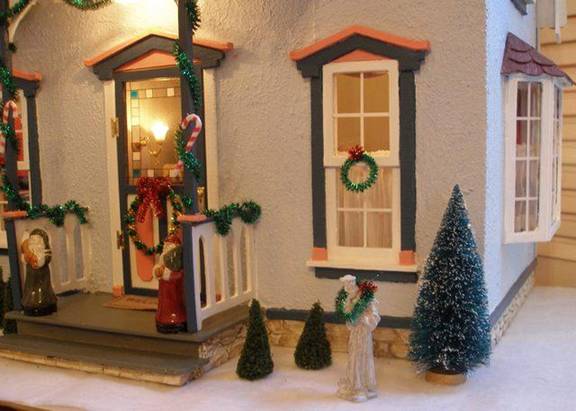 What a darling gingerbread house! The twins are going to love it!
The whole house smells like gingerbread. I wonder what we'd find if we peeked into the kitchen? Yes, there are fresh gingerbread cookies waiting for the twins too. What a wonderful Christmas they're going to have with Aunt Mayme!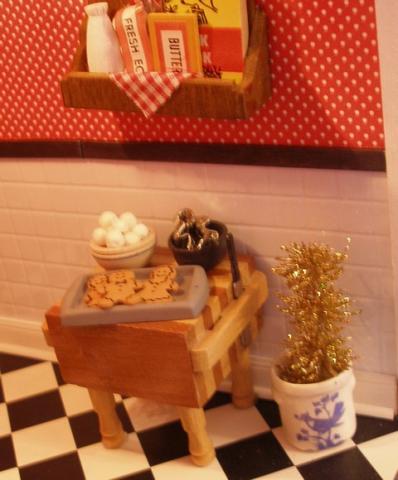 I hear giggling coming from the path behind the house, so the twins must be on their way. We should be on our way too. Our next stop is at Susanne's house. She's having a family get-together tonight and invited us all to stop by and join the fun.
No, don't go to the front door. Let's go in the back door and say hello to Grandma first. You know she'll be in the kitchen baking up a storm and she'd never forgive us if we didn't stop in there for a hug first thing.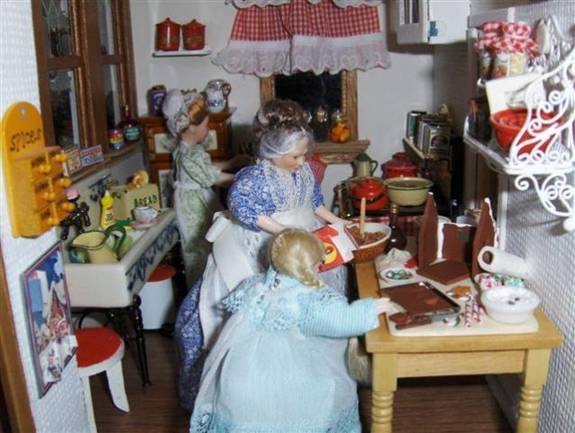 Mmmmmmmmmmm... those brownies are so good and still fresh from the oven! But let's get out of Grandma's way and go see what's happening in the rest of the house. I bet the girls are in the dining room, setting the table.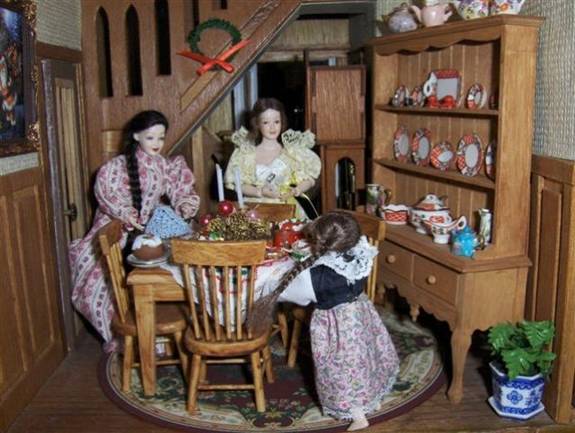 Girls, it looks beautiful! Is that a plum pudding I see? My goodness, but Grandma has been busy!
I hear voices coming from the small parlor. Let's see what's going on there.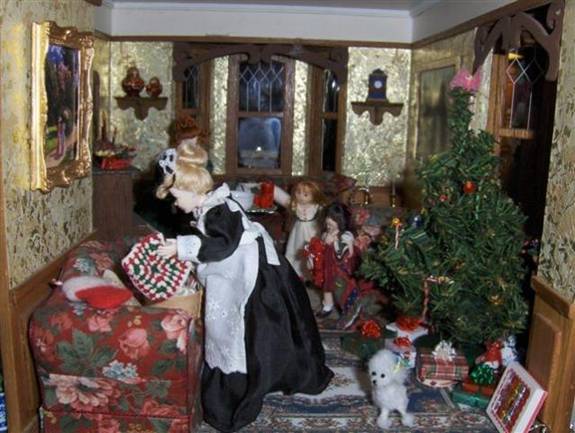 Looks like everyone is lending a hand with decorating in here. Even the poodle has been rearranging the packages under the tree.
I hear someone calling to us from the living room. Let's go join in the fun!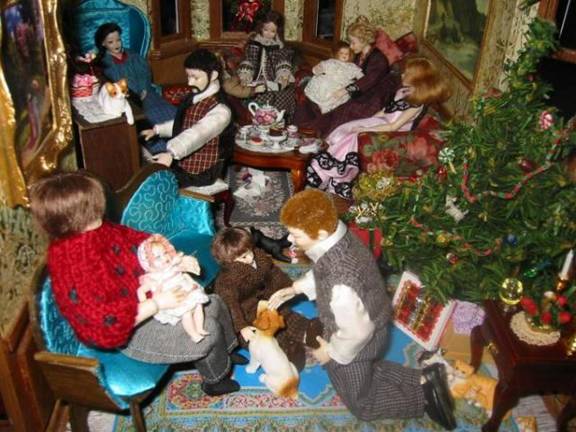 It's going to be a bit of a squeeze, but I think we can fit all of us in here. Watch out for the kittens! Isn't it wonderful to have the whole family together this time of year!
Oh my! Look at the time! I hadn't realized it was getting so late. No wonder the children are yawning. Time for us to take the sleigh back home.
What a wonderful evening it's been. It's so nice to be able to visit our loved ones and share in the happiness of the holidays. Before we go, let's gather around the tree and spend one last tranquil moment together.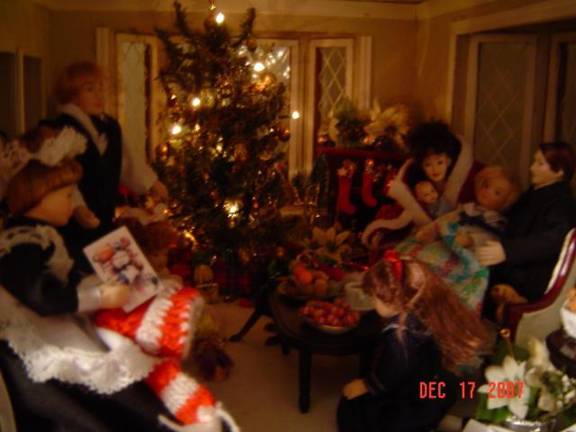 As hands reach out to hold one another and children snuggle drowsily under blankets, our voices join together quietly and sing,
"Silent as the snowflake in the night, holy is the spirit of this night.
All the world is calm and peaceful, all the world is bright and joyful.
Spirit of love and song of peace, love unending that shall not cease.
Sleep my children, with good will. Sleep my children, peace, be still.
Peace on earth, oh peace on earth, on this silent night."
Merry Christmas and Happy Holidays to all!