Welcome to the Greenleaf Gazette!

Traditional Holiday Décor Tutorials

November 2010
Dear Miniature Enthusiast,
Ho! Ho! Ho! This month we're covering all kinds of holiday décor for your miniature home. Whether you're looking to add a bit of sparkling holiday bling to your modern house or you need a centerpiece for a more classic look, we have a solution. There's even a tutorial for staging a charming fireplace scene that's so inviting Santa Claus will want to come down your chimney twice!

As you know, we believe that the best gift ever is a dollhouse kit under the Christmas tree. Just a reminder; you'll find the best selection of dollhouse kits at the Greenleaf store. Look for the exclusive laser cut 1:12 scale and 1:24 scale dollhouse kits you won't find anywhere else! Whether it's a gift for someone you love or a treat for yourself, doing your shopping at Greenleaf always puts a smile on your face.

Most of all, we want to thank all of our readers for making this the best year ever for the Greenleaf Gazette. We're about to celebrate the 4th anniversary of the Gazette and that makes us truly grateful for all the thousands of subscribers who read our newsletter each month. Every issue is dedicated to bringing miniature news, tutorials, and just plain fun to you, and over the years we've come to consider you all members of our Greenleaf family. So before I go, I invite you to join me in a little sing-along with one of our favorite holiday tunes!
Deb Roberts
Editor in Chief
---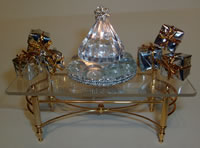 Lighted Crystal Christmas Tree

By Deb Roberts

Sometimes it's fun to step away from the traditional and do something a little more modern and unique. That's what I had in mind when I created this modern, slightly art deco, lighted Christmas tree. The purity of crystal and silver make this an elegant accent piece for any modern or deco holiday décor.
---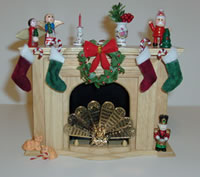 Christmas Minis in Minutes

By Deb Roberts

We all know how hectic the holiday season can be and how little time there is for minis. We also know how much we miss that mini-time we crave. Let's face it, too much time without minis and we get cranky. The holidays tend to be stressful and we need that relaxing time when it's just us and our miniature creations. So here's a little project that only takes minutes to do and will still keep you in the holiday spirit!
---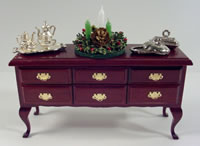 Holiday Centerpiece

By Deb Roberts

Here's a fast and fun mini project for your holiday table or sideboard. Chances are that you'll have all the supplies you need on hand to create this lovely and traditional holiday centerpiece.

Full story...
---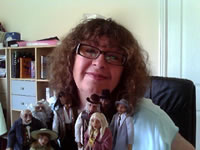 Member of the Month - Meet Jo! (Jo Med)

By Heidi Cleveland

I would love to introduce you to our November Member of the Month, Jo (Jo Meds). Jo has been a member of the Greenleaf forum since January 24, 2009. I love Jo`s attention to detail on all things that she does. Especially the dolls she has been making. Each one is unique and I wish I could buy them all!
---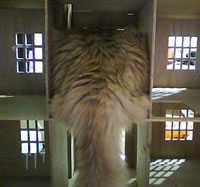 The Critter Corner!

Talk to the Tail!

If it's your role in life to be house staff to a cat, this is a posture that you've seen quite often. It usually means that you've offended the cat in some unknown way and are being treated to the rear view until you make amends. In this case however, it appears more like Honey Butter Biscuit has simply found an excellent view from the veranda of April's dollhouse. Either way, I don't think that he plans on giving up his special place any time soon!

Thanks to April and Honey Butter Biscuit for sharing such a wonderful picture with us. She and Gizmo will be receiving a $25 gift certificate from Petsmart for being featured in this month's critter corner.

If you'd like to submit your pet's picture for consideration for the Critter Corner, you can upload pictures in the "Good Pets acting bad!" or "Good Pets acting cute!" galleries at the Greenleaf Forum.