Welcome to the Greenleaf Gazette!

Tips for Interior Design

March 2007
Dear Miniature Enthusiast,

Spring is here and there are signs of the season popping up everywhere around Greenleaf. A visit to the forum will lift your spirits with a delightful look of flowers, bunnies and green, green, green plants! Miniaturists are turning their thoughts to landscaping and gardening mini-style, and the annual spring cleaning of the mini houses has begun.

The Heart Arbor Contest has come to a close and the winners have been announced amid a great deal of excitement and anticipation. To see the announcement of the winners, and find out about a little surprise for everyone who entered in the contest, click here.

It was a tough decision for the judges with so many wonderful creations to choose from. You can see all the entries here in the Heart Arbor Gallery. Be sure to stop by and take a look at the incredible collection of mini eye candy. The level of talent, creativity and imagination of our members is truly inspiring and you won't want to miss a single entry

Congratulations to all the winners!


Deb Roberts
Editor in Chief
---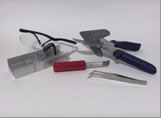 So You Want to Build a Dollhouse

Part 3: Tools and tips to get you started

First of all, find a workspace where you can spread out your tools and materials and leave them undisturbed for the duration of your project. When building a house, you don't want to spend precious time moving things out of the way and then setting up again. After all, that's time that could be spent working on minis instead of gathering up your supplies repeatedly. Keeping your work in one area also decreases the chance of losing a tiny piece of trim.

Full story...
---

An Open Letter to Felines

By Napoleon B. Roberts

Dear Fellow Felines,

My name is Napoleon and my human plays with dollhouses. If you're reading this, chances are that your human does the same. Not only do they play with them, but they build entire houses and fill them with tiny things that look as if they might be Cat toys, but we're told we can't play with them. This is a gross insult to felines everywhere.

It's not our nature to be overtly aggressive in our protests, because Cats are subtle creatures. However, it is our birthright to be the center of every human's universe and this obsession with miniatures is depriving us of quality time that should be spent rubbing ears or filling our dinner dishes. Therefore, we must consider a full scale movement to bring the human's attention back where it rightfully belongs... to the Cat.

Full story...
---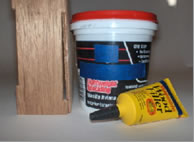 Filling in the Gaps

By Deb Roberts

A natural challenge to building houses is finding ways to fill in gaps around wall seams, tabs, and in areas that just don't quite fit together smoothly. Sometimes we don't get joins perfectly square, or there might be a bit of natural warping in the wood that creates a little space that needs to be filled. Builders know that gaps are a part of the process and there are a multitude of creative ways to fill or cover them.

Full story...
---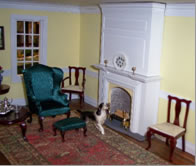 Colonial Fireplace Tutorial

By Christine Hardy

When I first moved to the Philadelphia area, I was captivated by the classical simplicity of the historic homes here and wanted to recreate this style in my dollhouse. After touring several homes and poring over reference books, I realized that one of the distinctive features of the Colonial style is the woodwork covering the internal chimneys. I decided to try building my own using a Jamestown fireplace by Houseworks for the base. I then built the chimney to fit on top of it using stripwood from the local hobby store and a few pieces of Houseworks molding.

Full dollhouse tutorial...
---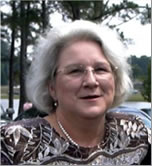 March's Featured Member of the Month - Meet Peggi!

By Teresa Martens

Peggi (Peggi) has been a member of the Greenleaf Miniature Community since May 28, 2005. With 2,780 posts (and counting) her gentle southern spirit exudes in her willingness to help and share with others.

Read more about Peggi...
---
March's Quick Tip!

By HavanaHolly

When shingling houses with gables, make a paper template of the gable and roof pieces before assembling the structure. When it comes time to shingle, you can use the template to make the correct angled cuts in your shingles before applying them. (Thanks Havana Holly!)

If you would like to submit a Quick Tip to the Greenleaf Gazette, please send an email with your tip to deb@greenleafdollhouses.com and include the words "Quick Tip" in the subject line.
---

The Critter Corner!

The Cat That Ate Manhattan!

The appetizer Simba has chosen this evening is Carrie's Pierce. For the main course, she'll be having a robust Garfield and for dessert, she's selected a delicate Sugarplum. When asked about the best choice of wine with a Pierce, Simba suggested a Meadowgold '07.

Carrie (CJEP), thank you for sharing this picture of Simba with us. Simba will be receiving a $25 gift certificate from PetSmart for being the March Critter of the Month.