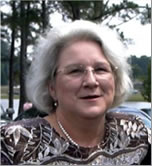 Member of the Month - Meet Peggi!

By Teresa Martens

Peggi (Peggi) has been a member of the Greenleaf Miniature Community since May 28, 2005. With 2,780 posts (and counting) her gentle southern spirit exudes in her willingness to help and share with others.

Peggi got her start in miniatures in 2003 when she was given a fully built 'Cambridge', complete with furnishings, by her nephew. It had been in storage for a number of years and needed renovating. However, there was a catch . . . she was told by her nephew that she could keep it for as long as she wanted, but she could not pass it down to her children. After researching how much it would cost to renovate the house with new wallpaper and wiring, she figured if she was going to spend that much money on a house, she might as well try to build her own so that it could become the heirloom she wanted to pass to her children. With that in mind, she bought the 'Lily' by Corona Concepts in 2004.

That house has since become her favorite because for a first time project it turned out "pretty darn good, even with all the trials and tribulations". The house also turned out to be a great learning experience and prepared her for future projects. She also gained confidence that she hadn't had before starting the 'Lily' to pursue other projects. You can view Peggi's 'Lily' at her webshots album.

Peggi works full-time so enjoys working on her mini-projects in the evenings after her husband has gone to bed or on weekends. Because of this she finds it takes her longer to complete a project than it does others. Her husband is a big help when building. He has made furniture, measured and sawed parts, and helps her to figure out how to make things work. She says "he deserves credit for encouraging me and aiding me in my mini-madness", and she laughingly adds, "it should be noted that so far he hasn't even complained about the money I spend".

Peggi's two daughters have also shown an interest in her miniature making so, in order to help recruit another generation, they were both given kits for Christmas. Two of her three granddaughters have already asked for the houses she's already built, but she's told them that they will have to wait until she gets tired of them. Her only grandson loves to move the miniature furniture around and has to be watched closely or he will steal the little animals that live in her houses.

The best part about mini-ing for Peggi is when she gets that 'WOW' moment when her creation is recognizable and starts to fulfill her vision. We've been fortunate to have shared in some of those moments with her whether it's part of the Community Build she's working on or whether she's participating in a Community Swap.

Peggi is currently building furniture from the Corona Concepts line for the first time. She hopes to furnish the 'White Orchid' which is the future home of 'Snow White and the Seven Dwarfs'. She is also playing around with ideas for Greenleaf's 'Heart Arbor' contest which she won't elaborate on because, well, we all know that that's hush, hush!

Peggi has a blog which showcases her 'White Orchid' and her 'Creekside Cabin' which is a hunting cabin owned by redneck hunters, but it's off season and some very angry animals have broken in to take revenge! You can view both of these dollhouses here.

Peggi has been a designated 'Team Builder' "for a little while now" and says that it was "one great honor to be asked". Being asked boosted her confidence level several degrees. Her title line states "The Cautious Team Builder" because she will research how to do a new treatment before trying it, and she will also double check every step to make sure that she fully understands what she's doing. Peggi has shared her progress on the 'Lily' and the 'Coventry Cottage' with us in the Team Blogs which you can visit here. She has some very innovative ideas, even putting an elevator into the 'Coventry Cottage'! Both houses are wonderfully made and detailed and are well worth the visit.

Peggi is also an avid 'swap' participant. Her very first swap item was a 'Rose Topiary'. Since then she has thrilled us with her 'Haunted Mirror' and tempted us with 'Chocolate Donuts'. You can view Peggi's swap items in the Mini Swap Gallery.

Peggi's future mini-goals include learning more about landscaping and different interior and exterior treatments. She also has a discontinued Greenleaf 'Beaumont' that she hopes to make into her dream home, but it waits in the wings until she has more experience and confidence.

When asked what advice she would likely share it would be to always keep a box of 'wipes' on hand while building to help from gluing yourself to your house. Also, before undertaking a project, research the Greenleaf forum's blogs and tutorials. The experience of others can save a person a lot of time and heartache.

When Peggi isn't busy with her houses or other mini-creations, you can find her babysitting her grandchildren, crocheting, cross-stitching, knitting or relaxing with a good book.

As our 'Featured Member of the Month', Peggi will receive a $25 Gift Certificate to the 'Greenleaf Store'. Congratulations, Peggi!