Welcome to the Greenleaf Gazette!

Flinging into Spring!

April 2009
Dear Miniature Enthusiast,
Have you heard the latest buzz word in the miniature world? It's "Flinging". We're hearing it all over the place these days in comments such as, "I got a new mini in the mail today and I'll be Flingin' it.", and "Glad to hear that you'll be Flinging along with us.", and "I had a wonderful day today because I spent the whole day doing nothing but Flinging."
What are these miniaturists talking about? The Greenleaf Spring Fling contest, of course! The miniature world is completely involved in building their contest houses. The biggest challenge so far seems to be resisting the urge to share their creations with one another before the contest deadline. Are you Flinging yet? If not, you can still get in on the fun. Find out all the details here.

This month the Gazette is going to be doing a little Flinging of our own. We're going to take a look at highlights from our past Spring Fling contests to get everyone in the Spring Fling mood. We'll also fling open the doors to Spring by showing how to bash bay windows into great French doors. After we get those doors open to the great outdoors, we'll take a look at how to create a patio and beautiful landscaping for a garden party. And Heidi Cleveland will share her Collector's Cabinet with us again this month!

While you're flinging yourself into Spring, you may want to consider the newest arrival in the Greenleaf furniture kit line, The Dollhouse Patio Furniture Kit. It's perfect for relaxing in your miniature yard this spring!

Are you ready to Fling? Come and join us in this exciting Spring Fling issue!
Deb Roberts
Editor in Chief
---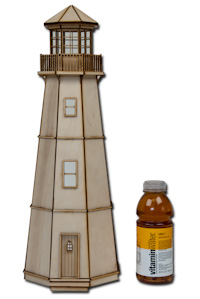 Half Scale at Half Off!

By Dean Roberts

We've been getting a lot of questions about our Dollhouse Lighthouse Kit which is the first in our new line of laser cut miniatures. Mostly, folks want to know what's so exciting about laser cutting. Well I decided the best answer is to let you decide for yourself, so we put together an incredible offer just for this newsletter. Introducing our new half inch scale miniature lighthouse which can be yours for only $24.90... that's half off the retail price! This kit showcases our laser cutting on beautiful birch plywood, so it's a great way to see what all the fuss is about at an incredible price! Even if you're not into half inch scale, it's also great for home decor! This offer is good only until next Monday with a limit of one per person, so order your's today!
---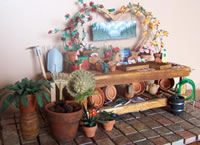 Spring Fling Review

By Deb Roberts

Are you ready to Fling? Come and join us in this exciting Spring Fling issue!
---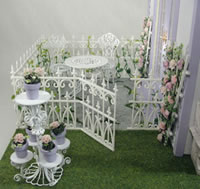 Garden Party Landscaping

By Deb Roberts

What better way to celebrate the beauty of Spring than to have a garden party! It's always a delight to invite friends over for an afternoon of wandering thru the gardens, smelling the roses and having tea on the patio. You don't have a patio or a rose garden? That's easy to fix with this simple tutorial for landscaping a small house and adding a patio.

Full story...
---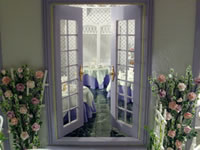 Turning Bay Windows into French Doors

By Deb Roberts

Are you ready to fling open the doors and let Spring come into the house? Perhaps you'd like to have French doors leading out into your garden but that bay window is in the way. Follow along as we show you how to change a bay window into a beautiful set of French doors.

Full story...
---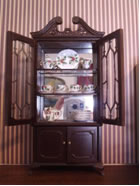 Collector's Cabinet

By Heidi Cleveland

In this edition of the Collector`s Cabinet, I would like to introduce you to Anna, Jerri (LubbockTXChick), and Linda (LPCullen). These three members have a real eye for some beautiful miniatures.

Full story...
---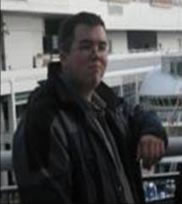 Member of the Month - Meet Corwin

By Heidi Cleveland

I live in New England. The majority of us that live here tolerate winter for the most part. When those first peeks of Spring start to show, I become very happy. This time of year is glorious. I get to enjoy all the harbingers of Spring; bird song, daffodils, and the Greenleaf Spring Fling. Ahhh! Heaven.
---
Havana Holly's Quick Tips!

By Holly Parker

Bead fruit: You can thread seed beads in different shades of violet or pale green onto a strand of dark brown embroidery floss, loosely knotting the floss between each bead and allowing at least 1/2" between each bead; drip a bit of tacky glue onto the knot & slide the bead onto the knot. When the glue is dry you can cut your "grapes" apart and twist a few of the "stems" together with a bit of glue on your fingers to make bunches, or use them singly in fruit arrangements. You can use green, brown, black or gray beads to make cocktail olives, with your embroidery floss either tomato red or ecru for whatever stuffing you want.
---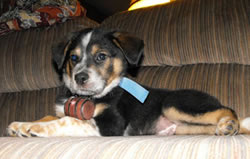 The Critter Corner!

I won't be a mini dog forever!

This cute little fellow goes by the name of Peanut Buster Parfait. He's a mix of German Shepherd and St. Bernard and just as cute a miniature as we've ever seen. Somehow we get the feeling he won't stay a mini very long. Fortunately his human Jeremy is a miniaturist and was able to provide him with his own little keg for his collar while he goes thru St Bernard puppy training.

Thanks to Jeremy (jdeer96) for sharing such a cute picture with us. Jeremy will receive a $25 gift card from Petsmart for being featured in our Critter Corner.

If you'd like to submit your pet's picture for consideration for the Critter Corner, you can upload pictures in the "Good Pets acting bad!" or "Good Pets acting cute!" galleries at the Greenleaf Forum.