Collector's Cabinet

By Heidi Cleveland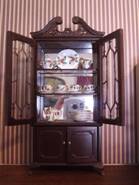 In this edition of the Collector`s Cabinet, I would like to introduce you to Anna, Jerri (LubbockTXChick), and Linda (LPCullen). These three members have a real eye for some beautiful miniatures.
Anna had a hard time choosing which of her miniatures she wanted to spotlight. After having conversations with her dollhouses she was finally able to chose one. Anna`s house, Mz Chantilly, is the graceful owner of this gorgeous black bathroom set.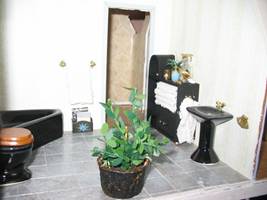 Anna says it was one of those *love at first sight* moments when she initially saw it. At the time, she did not have a house or setting in mind that would suit the set. It kept calling to her from afar. Anna drooled over it so much that she finally relented and hit the "Buy it now" button. She still does not have any real plans as to where to set will reside but she just had to have it. Anna awaited its arrival. She pitched a makeshift tent in the garden near the mailbox waiting for it. Her mail man made sure it was okay when it finally did arrive.
Jerri`s most treasured miniature is her Heidi Ott doll. The doll introduced herself as Lily.
Jerri`s husband gave this to her as a gift which she is pretty sure he acquired at an online auction. He is an expert at finding things. Her hubby bought the doll with the yet unbuilt RGT Newport in mind as a resident. But Lily has decided that she would rather live in the Willowcrest that Jerri is rehabbing.
Jerri was not really searching for a doll. When she started this hobby, she told her husband that she didn't really want to have any dolls in her dollhouses. The most affordable dolls were too toy-like and she did not want to use cartoonish people in her beautiful houses. She felt it would ruin the effect. Plus she was not willing to sell a kidney to finance one of the really nice looking dolls. Then she unwrapped Lily.
Jerri asked her husband if he thought the doll expresses something about her. He said. " Yeah, you`re a classy broad." Jerri thinks she expresses what all her minis mean to her. She pictures herself living in huge, lavish homes surrounded by beautiful things. She can see wearing beautiful clothing, eating bonbons, and filling her days with pleasurable pursuits. Jerri says she expresses the *me* that will never be. She thinks that is okay. Lily can live it for her.
Linda`s most prized miniature possession is this wicker baby room set that Terri Hirt (smallhouset) made for her.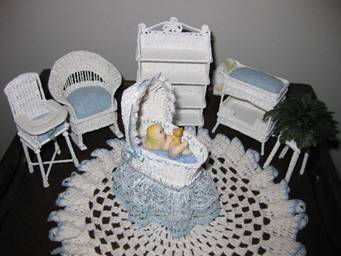 Terri emailed some pictures to Linda of bassinets that she had made and Linda fell in love with them. Terri made her the bassinet first. Linda said it was absolutely beautiful and could not believe the workmanship. Linda and Jimmy went to meet Terri to pick up the rest of the baby room in May 2007.
The set does not have a specific dollhouse as its home. Right now it sits in her office on a little table so that Linda can look at it everyday. She has a great time showing it to people who come and visit. She takes the bassinet, puts it in their hands, and asks them to watch the baby for her while she goes to do something.
Linda knew she wanted a baby set and she wanted it for a boy. She already built a house that had a baby girl`s bedroom set in it so she had to make one for a baby boy. When she saw the pictures of them online, she knew she had to have one.
She does not feel this piece expresses her at all. Sometimes when she is building and decorating houses, she has noticed that she has a tendency to include some scenes that would be like her real life family.
I hope you enjoyed visiting with these three wonderful collectors. I will be busy searching the Greenleaf galleries for more succulent eye candy. Do not be surprised if you get asked to be chosen as a member of the Collector`s Cabinet.