Welcome to the Greenleaf Gazette!

Fling On Friends, Fling On!

April 2010
Dear Miniature Enthusiast,
The catch phrase of the year is "Fling On!" and we're hearing it everywhere! Miniaturists all over the world are talking about the Greenleaf 2010 Spring Fling contest and the amazing details of this year's kit. The most talked about feature is the size of this kit! It measures 23˝" W x 13" D x 15˝" H with the addition which is almost the same size as the Orchid so there's a lot of house there for a very small price. The other hot topic is how great it is to work with the laser cut kit. Spring Fling has never gone together faster with minimal sanding and the precision tabs and slots. People are spending less time building and have more time for decorating and finishing their entries.

Just when we thought that the Spring Fling couldn't get any better, Greenleaf and HBS announced that this year HBS will be piggy-backing a contest of their own with the Greenleaf Spring Fling contest. That gives everyone two chances to win with one creation! You can find the details about the HBS side of the Spring Fling contest in the discussion section of the HBS Facebook page. For all the information and chatter about the Greenleaf Spring Fling, come visit us here and join in the fun!
Deb Roberts
Editor in Chief
---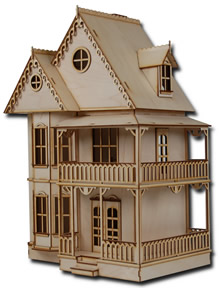 News Flash: Half Scale Houses Invade Greenleaf's Store

By Dean Roberts

A recent poll on our website made it clear; you want more half scale dollhouses from Greenleaf! Well wait no more! The new half inch scale dollhouse line has arrived and we've even added smaller scale accessories! To put it simply, these houses are amazing! We're using a new hardwood maple plywood and did I mention; THEY'RE LASER CUT! Have a peek today and if you move fast, you can have one home by Mothers Day!
---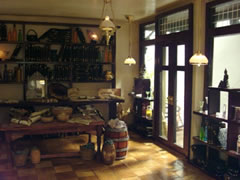 Hard Wiring a Brimbles Mercantile

By Deb Roberts

We're always hearing requests for more information about how to hard wire larger houses, especially how to hide the wires. So when I was building my Brimbles Mercantile, I wrote up a tutorial as the wiring progressed. These are techniques that will work with any large house.
---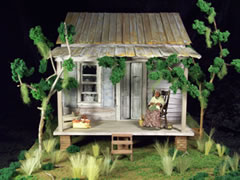 The interior of the Gris Gris House

By Brandaen Jones

In this tutorial I wanted to go over the unique features of the interior of the house. I had so much fun with this house and as I have said before, money being tight should never stop you from creating something fun and wonderful. I always try my best to save money because there never seems to be enough with these days being what they are. I love to pinch a penny. In creating this house I found inexpensive ways to create a miniature that I am truly proud of.

Full story...
---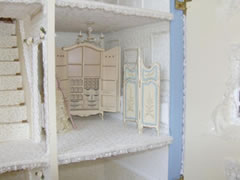 The Name Game!

By Deb Roberts

This game is a favorite with dollhouse builders and collectors alike and we've been getting some requests to play again, so the Name Game is back with new pictures and new challenges.

Full story...
---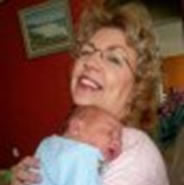 Member of the Month - Meet Debra!

By Heidi Cleveland

For this wonderful month I would like to introduce you to a wonderful miniaturist. Say hello to Debra (Debra from Olde Cape Cod). She has been a member of the Greenleaf forum since April 2, 2008.
---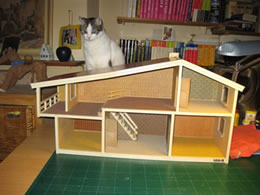 The Critter Corner!

Okay, you can keep it but I'm not sharing my space with it!

Muis seems to be a bit concerned about her human bringing a dollhouse home with her. She never knew that there were houses close to her size! After a little investigating Muis decided that the house could stay as long as she had free access to wander inside whenever she wanted to..

Thanks to Marianne (Nileke) and Muis for sharing such a cute picture with us. They'll receive a $25 gift card from Petsmart for being featured in this month's Critter Corner. Edit by Dean: Hope they have a Petsmart in the Netherlands or we'll find a similar store.

If you'd like to submit your pet's picture for consideration for the Critter Corner, you can upload pictures in the "Good Pets acting bad!" or "Good Pets acting cute!" galleries at the Greenleaf Forum.