Sandpaper Brick Tutorial

By HavanaHolly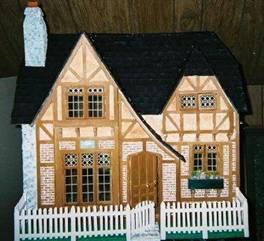 By popular demand, there's the famous HavanaHolly tutorial for sandpaper bricks! This is condensed from Holly's Glencroft blog. Holly uses the Beryl Armstrong brick method and shares with us her application of that theory.
I started out in a mellow mode rubbing pastels lightly over 240 grit sandpaper to color "bricks" and sprayed them with lacquer hairspray afterwards. I did four sheets with different combinations of colors on them. I calculated that a 1/12" scale brick face is approximately 3/16" x 5/8"; after I get them all cut I'll put them into a bag or box & shake them up really well and glue them on in random colors. I also calculated I shall have to do this sitting down with a FRESH knife blade and a SHARP pencil.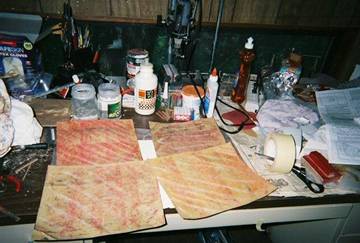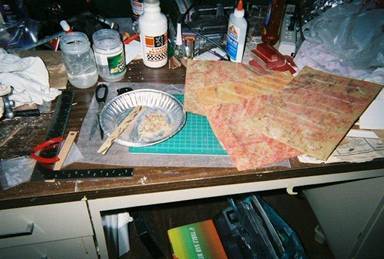 I took the card templates and colored sandpaper sheets, steel ruler, pencil & fine-point pen downstairs to the dining room table and for two and a half hours I drew grout lines on the templates 1/4" apart and then I marked 3/16" intervals down the sides and 5/8" intervals across the ends of the four sandpaper.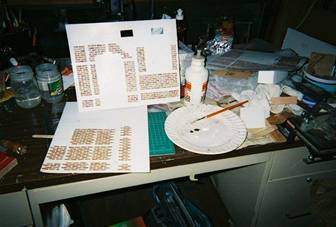 I began "bricklaying" at 0830; it took 5 1/2 hours to glue the individual "brick" faces to the card templates and the finished product POPS! So I painted a dirty wash of 5 parts white to one part each black & burnt umber and LOTS of water, applied it wet and patted with a tissue and it looked much better. When dry I cut out the infill areas of the bricked card and glued them to the house.