Welcome to the Greenleaf Gazette!

2009 Dollhouse Review

December 2009
Dear Miniature Enthusiast,
Wow, is it really the end of the year already? Seems like we were just starting a new year yesterday but I double-checked the calendar and sure enough, we're almost at the end of 2009.

This is the time when we take a look back at the highlights of the past year. Greenleaf had so many new things that it's hard to know where to even begin! We saw the re-release of so many of our favorite kits that most of us were drawing names out of a hat to decide which house to build first!

Of course, the biggest news was the arrival of the laser cutter at Greenleaf. Talk about causing excitement in the miniature world! The laser cutter truly revolutionized the world of dollhouse building. The first time I built a laser cut kit I realized that it was a whole new way of looking at dollhouses.

Gina Lassales (also known as Butterflyex) of MoreMinis Blogspot joins me this month in reviewing some of our favorite dollhouse kits of 2009, both die cut and laser cut. Come and see some of the top hits of 2009 and why laser cutting has become the new darling of the dollhouse world.

Before we go to the articles, all of us at Greenleaf want to thank you for helping make 2009 such a great dollhouse year and we wish you all a very happy, healthy, and prosperous 2010.
Deb Roberts
Editor in Chief
---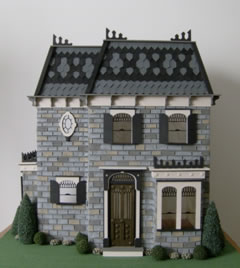 Laser Cut Rosedale Review

By Gina Lassales

The laser cut Rosedale Dollhouse was a must have dollhouse on my wish list but what Greenleaf house isn't folks? Everyone knows I can't stop collecting Greenleaf dollhouses.
---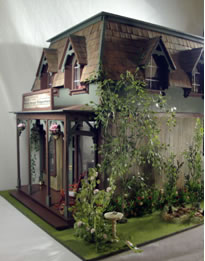 Laser Cut Brimbles Mercantile Review

By Deb Roberts

I'm going to tell you right up front that I'm biased about this kit. I've wanted a Brimbles Mercantile almost from the moment I opened my very first dollhouse kit box. I know it's not a Victorian Painted Lady or a cute little country cottage, but for me the Brimbles has always had a certain charm. Well, to be honest, for me it had a certain, "If I don't get one of these I will hold my breath till I turn blue" sort of appeal. Was it the roomy interior and all the cool shelves that came with it? Or was it the old country store charm of the front porch just waiting for a miniature "spit-n-whittle" club to come along? I've never been exactly sure what I found so appealing about the Brimbles but I was willing to throw a full blown hissy-fit to get one if I ever got the chance.
---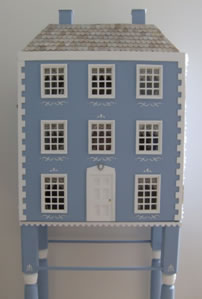 Gloucester Front Opening Dollhouse Review

by Gina Lassales

A front opening Greenleaf dollhouse, need I say more? I didn't think so. I was so excited when I saw that Greenleaf re-released their front opening Gloucester dollhouse that I knew I had to get it. Greenleaf came out with so many wonderful kits this year that I didn't know which one I wanted first but the front opening Gloucester was just too tempting to leave for later. It moved up quickly in my wish list and I am so happy that I got it.

Full story...
---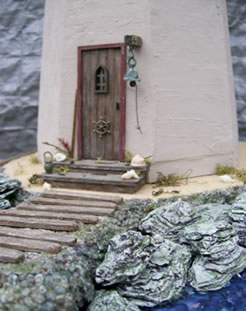 Laser Cut Lighthouses in Full and Half Scale

by Deb Roberts

What is it about lighthouses that fascinate us so much? When I built my first lighthouse (the 1:12 scale laser cut kit) it was for a friend who is a bit of an historian from Maine and an expert on lighthouses. As we talked about lighthouses in general, I listened to him describe the beauty of these man-made monoliths as they stand on rocky outcroppings over the ocean. From an architectural standpoint, the shape and design of lighthouses is glorious in its simple, yet dramatic lines. The smooth sides and clean lines make a dramatic contrast against the ever- changing contours of the ocean and the jagged rocks on which they stand.

Full story...
---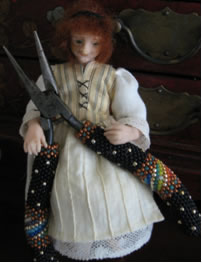 Member of the Month - Meet Casey (Caseymini)

By Heidi Cleveland

For this month's installment, I would love to introduce you to Casey (Caseymini). She has been a member of the Greenleaf Forum since February 15, 2008. Everyone enjoys reading what Casey has to say and she has immense talent in the miniature arena.
---
Havana Holly's Quick Tips!

By Holly Parker

If you have filched more of the Formica sample chips than you needed to make your kitchen counter tops, here's a neat matching kitchen table! Cut four equal pieces of 1/8" dowel the length of your table legs and glue one 1/16" in from each corner of the extra sample chip. If your dowel will fit the little hole in the end, drill a small hole near the top and glue in one end of a cut paper clip and hang a bunch of polymer clay bananas from it.

HARDWARE STORE MINIS
The tip about the sample chips reminds me to remind y'all that you can find all sorts of raw materials for minis at your friendly neighborhood hardware store. Besides the sample chips and the dowels and stripwood, you can find all sorts of lovely mini copper cookware, etc, in the plumbing section; the fasteners' section has 4mm (and sometimes smaller) nuts and bolts and washers for folding furniture, and take a look at lock-washers, they make PERFECT gas stove burner rings.

(Editor's Note: I'm sorry to say that this is the last of Havana Holly's Quick Tips. As you may know, Holly spends more time traveling the country with her darling hubby than she does at home and between cycling, kayaking, hiking and driving, her time has become a bit limited. We want to extend a special thank you to Holly for all the priceless information that she has shared with us in the Gazette. Holly, you are truly one of the most precious dollhouse resources we know and we'll miss you!)
---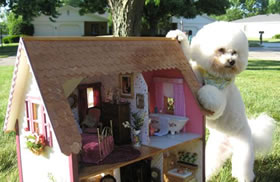 The Critter Corner!

"If Vanna Can Do It, So Can I!"

BoJangles has a secret dream of someday moving to Hollywood and becoming an overnight sensation on TV game shows. She thinks that if she can just become rich and famous, she'll be able to buy her human all the dollhouses she wants. Here we see Bojangles practicing with Sharon's Limited Edition Arthur. Go Bo!!

A big thanks to Sharon and Bojangles for sharing such a cute picture with us. They'll be receiving a $25 gift card from Petsmart for being featured in the Critter Corner.

If you'd like to submit your pet's picture for consideration for the Critter Corner, you can upload pictures in the "Good Pets acting bad!" or "Good Pets acting cute!" galleries at the Greenleaf Forum.