Laser Cut Lighthouses in Full and Half Scale

By Deb Roberts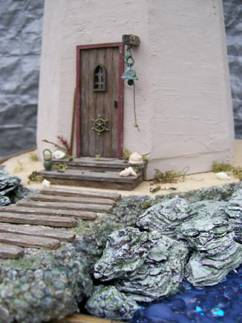 What is it about lighthouses that fascinate us so much? When I built my first lighthouse (the 1:12 scale laser cut kit) it was for a friend who is a bit of an historian from Maine and an expert on lighthouses. As we talked about lighthouses in general, I listened to him describe the beauty of these man-made monoliths as they stand on rocky outcroppings over the ocean. From an architectural standpoint, the shape and design of lighthouses is glorious in its simple, yet dramatic lines. The smooth sides and clean lines make a dramatic contrast against the ever-changing contours of the ocean and the jagged rocks on which they stand.
Yet part of the allure of lighthouses is the beacon of safety they provide to those at sea. Fishermen and travelers alike search for that constant light and listen for the sound of the fog horn as they navigate from the sea back to the shore. The comforting sight of a lighthouse tells every weary seafarer that they are almost home.
It's no wonder that we miniaturists are also fascinated with lighthouses. We love all forms of architecture and the lighthouse is one of the oldest and most dramatic of all buildings. In miniature, the lighthouse takes us on distant travels, always returning us safely home.
It's also no wonder that the lighthouse and wharf were the some of the first of the Greenleaf laser cut kit releases. The lighthouse also comes in half scale, which is one of the coolest kits I've ever seen.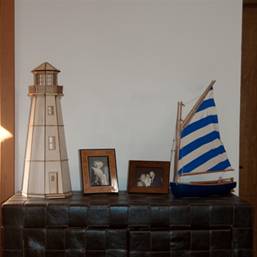 This is the 1:12 scale lighthouse and I have to say that it's the most gracious and elegant in terms of architecture and shape that I've ever seen in miniature.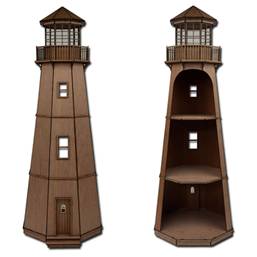 The finishing touch to the lighthouse design is the 1:12 scale laser cut wharf kit… the first miniature lighthouse accessory of its kind.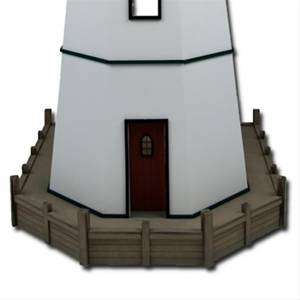 The wharf base has a very realistic look because of its design. The posts are created in layers of ¼" laser cut plywood so the proportion and perspective is perfect. The floor of the wharf is cut out in the center so that the lighthouse sets down into the wharf and onto supports underneath. This makes it appear that the wharf is built around the lighthouse. Oh, and this is the part I love best... the sides of the lighthouse are cut with such precision that each side is exactly the same width. That means that you can turn the lighthouse in any direction and still set it down in the base! How cool is that! The wharf has some nice, usable space on the floor where you can set up Adirondack chairs for outdoor relaxation or store your extra buoys and nets.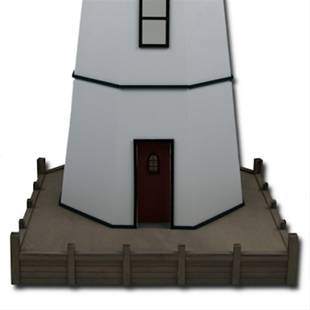 The detailing on these kits fascinates me. Take a look at the doors to the lighthouses. These doors have the planks engraved into the wood and I've never seen anything as realistic and cool in a dollhouse kit before! This is the half-scale door: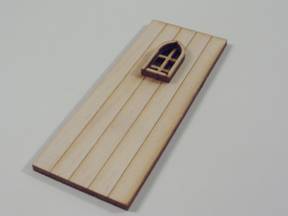 The fact that this is in half scale is even more unbelievable. It's just as gorgeous in full scale. Each plank is engraved to perfect realism. If you decide to stain the wood rather than paint, you'll love the way the laser cut edges look. Yes, they take stain very well without appearing to be black. Instead, the laser cut helps define the wood grain beautifully.
I've shown this picture before but I'm going to show it once more time just because it is so totally amazing.
This is the railing of the half scale lighthouse.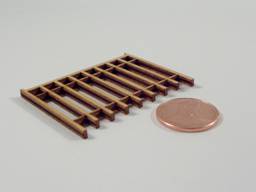 And this is the top portion of the half scale lighthouse in dry fit with NO TAPE! Nothing is holding any of this together except for the precision of the laser cut tab and slots.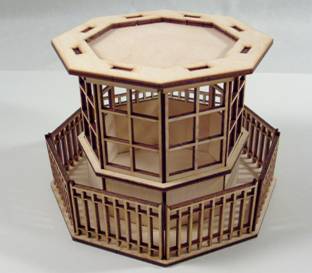 In fact, I had the whole half scale lighthouse in dry fit on a shelf in my studio for almost two months before I glued it together... and there wasn't a bit of tape on it. The laser cut tabs and slots are that good. If you think that kind of precision is remarkable in half scale, you should see it in full scale. It's just as great.
Laser cut is fantastic on every style of dollhouse kits, but there are a few features on the lighthouses (both full and half scale) that really stand out. For one thing, take a look at all those tiny little spaces in window panes and in the railings around the lantern housing. Doesn't that just make your fingers ache at the mere thought of sanding all those edges? With the laser cuts, there's no sanding at all. This alones makes the lighthouses a breeze to build.
While I'm talking about the way the laser cuts go together, take a look at the peaked roof of the lighthouse, both inside and out.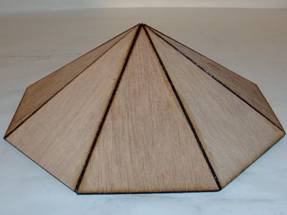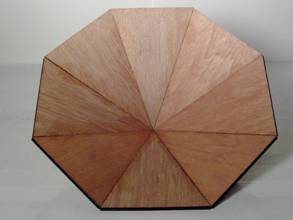 Have you ever seen tower pieces go together that smoothly? I've never been the best at getting octagonal roof pieces to fit together properly and usually offer up prayers that a talented octopus would suddenly appear on my doorstep and offer to help. This went together so nicely that I had to double check to make sure I hadn't forgotten anything! Then I sang songs of joy to Greenleaf for developing a laser cut that could take the difficulty out of my biggest building weakness.
When I built the full scale lighthouse I wasn't prepared for how much space there would be in each of the rooms. They're huge! This is a lot of dollhouse for such a tiny footprint. The full scale lighthouse on the wharf base is only 20" W x 22" D so it can sit on a small table or even on the floor but you can fit as much furniture into it as you can a regular dollhouse.
I gave my mother-in-law the 1:12 scale lighthouse and wharf base kits for her birthday this year because she had had kitten-fits when she first saw them in the Greenleaf store. My mother-in-law has been a miniaturist for a long time and she has a rather unique plan for her lighthouse. She has a tropical oasis on the patio and deck of her real life house. (Jimmy Buffet would be right at home there.) Her plan for the lighthouse is to paint it in traditional style and use it to hold napkins, coasters and other necessities when the grown ups are around. However, she'll keep some dollhouse furniture, minis, and dolls handy for her grand-nieces and their friends when they come to visit too. Now that's an example of how delightfully versatile this kit can be! (and you can bet that the grown ups will spend just as much time playing with the dollhouse as the kids do!)
The kit doesn't come with stairs but if you want stairs in your lighthouse, you can certainly do that with ease. I used a simple staircase kit for the first and second floors and then, just for fun, I put in a ladder leading to the light housing on the third floor. Faux trap doors are used instead of cutting openings so I could make the most of putting creative designs on the floors.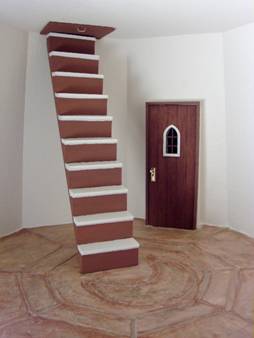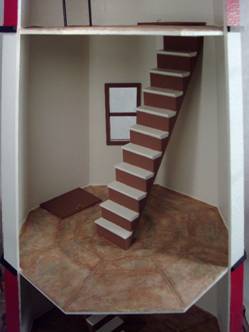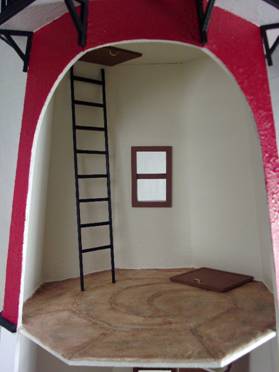 I'm not the only one who fell in love with the idea of creating designs on the lighthouse floors. Havana Holly used a combination of tile work, including hand made paper terra cotta tiles, on all three floors of her half scale lighthouse.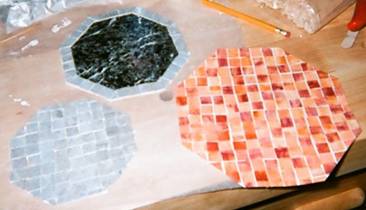 Gayle created some simply breath-taking floors in her full scale lighthouse using mariner compass designs. Not only are they beautiful, but the nautical theme is delightful.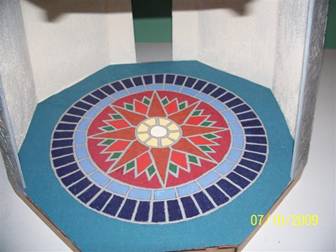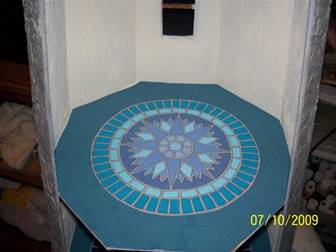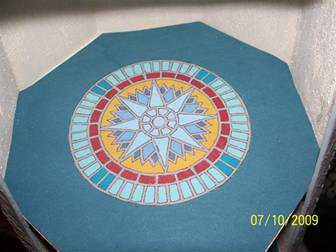 She also topped off each floor with this gorgeous bit of woodwork on the ceiling.
Speaking of ceilings, you have to see what Linda Cullen has been up to with the ceilings of her full scale light house! Linda has wallpapered the entire interior of her lighthouse and added lights to each floor, including this fixture set into a ceiling medallion. It's simply gorgeous.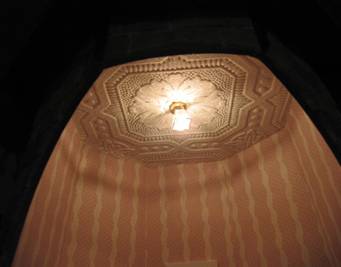 As beautiful and diverse as these interiors are, the exteriors of the light houses are just as varied and lovely. I've heard lots of talk about creating castle towers with the lighthouses (and am considering that myself) but for now let's take a look at some of the different personalities of the lighthouses.
Linda selected Paperclay as her medium and created a stone block exterior. This is the kind of lighthouse that I picture standing strong in the midst of a hurricane, yet the interior is that of an elegant home.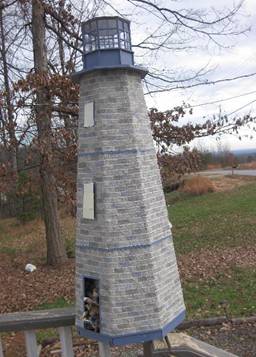 Holly's half scale lighthouse features an aged brick and plaster effect. The patina on the copper roof is the kind of detailing that makes it all so real.

Bluebear (Tracy) did a fabulous job with a dramatic and traditional black and white stripe on her half scale lighthouse. She even added a beacon light which gives the lighthouse the perfect touch of realism and life.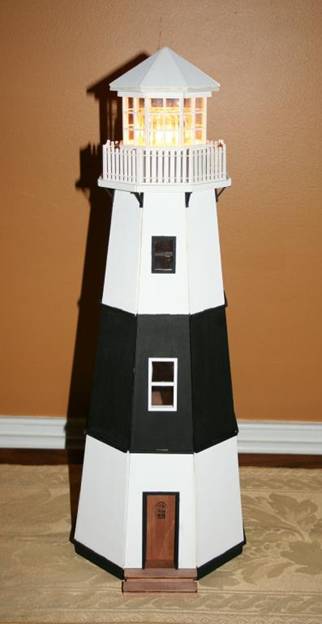 Chris (what2craftnow) made everyone's jaw drop when she unveiled this half scale masterpiece. Yes, that's half scale. I'd be impressed with this kind of detail in full scale but to see it in half scale is mind-boggling. This is an example of miniature artisan ability at its finest!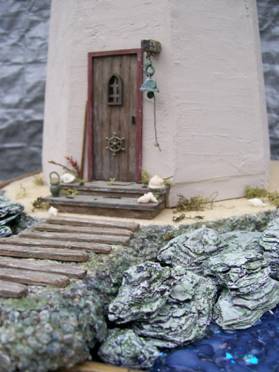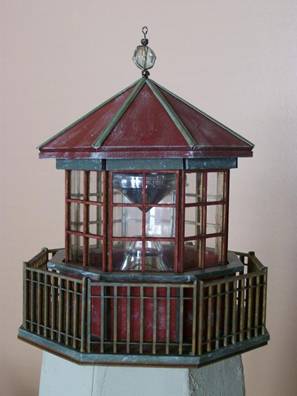 These ladies have given us some delightful glimpses at just how versatile the lighthouse kits can be in both sizes. From traditional working lighthouses to elegant residences, these kits can take on any personality. My first lighthouse was a sparkling pristine red and white East Coast style but my half scale lighthouse is going to be aged, distressed and haunted. What a delight to be able to do so much with one kit! That's one of the things we love best about Greenleaf dollhouse kits... they are the artisan's choice for creative potential!
On the other hand, they're also so easy that the dolls are starting to build their own houses now.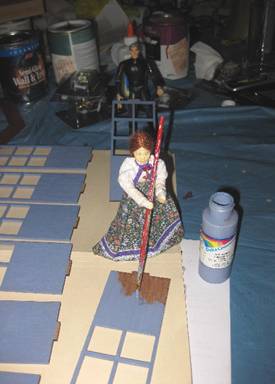 .