Laser Cut Rosedale Review

By Gina Lassales
The laser cut Rosedale was a must have dollhouse on my wish list but what Greenleaf house isn't folks? Everyone knows I can't stop collecting Greenleaf dollhouses.
Greenleaf is known for making very unique dollhouses. It's very difficult to find two similar dollhouses in their line. They always put out styles that are completely different from each other so each one is a must have and the Rosedale is no exception to this rule.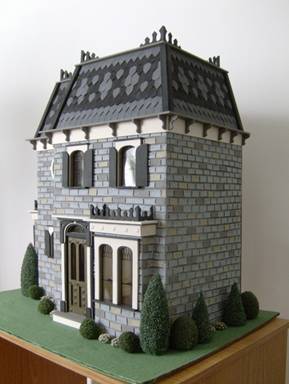 What attracted me to the Rosedale is its almost gothic look. This house makes a great little manor. Along with its lovely design and pretty accents it is very space friendly, allowing itself to be displayed just about anywhere.
At first I was skeptical about laser cutting but now that I have tried it, I LOVE it. I cannot praise it enough. All of the tabs and slots fit together like a glove. No sanding or cutting required to get the perfect fit. The smooth and precise fit of the tabs and slots cause each joint to sit tightly together, so put away your spackle tubs folks because there are no gaps here. The dollhouse goes together straight with no warping and no struggling, thanks to the laser cut system.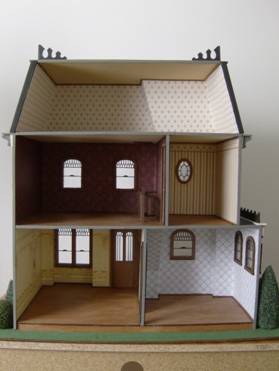 Simple, straight lines and that incredible mansard roof give this tiny mansion style and character. All Greenleaf mansard roofs have the traditional curve that's made these roofs famous but this little manor has a unique tall mansard roof line which allows you to really be creative with your shingle work. Shingling the house was a breeze with the new Greenleaf laser cut speed shingles. They go on very quickly and once on they have a very smooth finished look. The laser cutting has very sharp lines so each shingle stands out in clear and very defined detail. This result is perfect for patterned shingling. The flat roof top can easily be made into a roof top garden.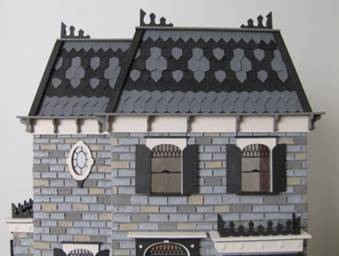 This house has a pretty, turning staircase and an attic door hatch that can be hinged. Those are just examples of the little details that Greenleaf always has in store with their dollhouse kits. Another reason why I love Greenleaf so much. there's always a little surprise thrown in with each kit for good measure.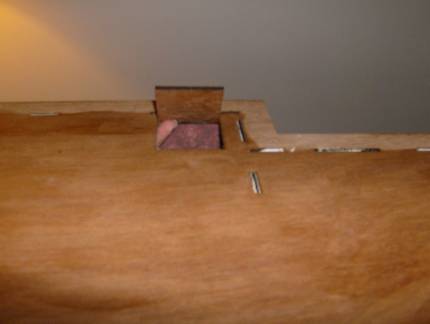 This dollhouse has a great front door. Another unique beauty, this front door is full of details and layered moulding. I love the simple step and top roof, it gives the entry way a very elegant look.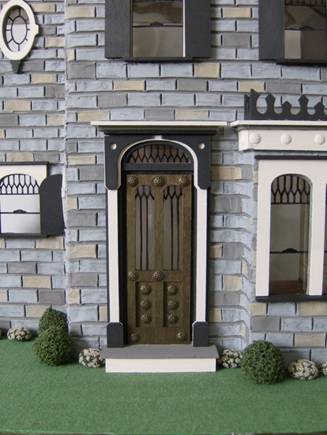 I decided to make my Rosedale into a stone mansion. I even added a stone fence to match. I thought it worked well with its gothic look.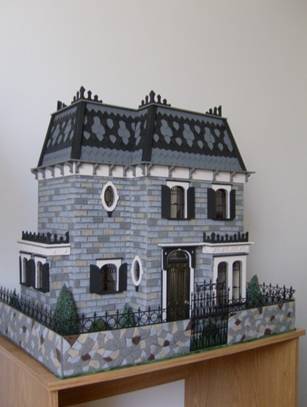 I think that this kit would work great as a haunted house, as well.