Gloucester Front Opening Dollhouse Review

By Gina Lassales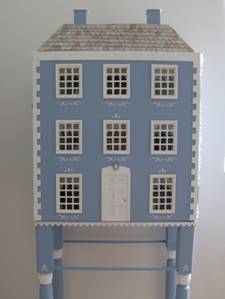 A front opening Greenleaf dollhouse, need I say more? I didn't think so. I was so excited when I saw that Greenleaf re-released their front opening Gloucester dollhouse that I knew I had to get it. Greenleaf came out with so many wonderful kits this year that I didn't know which one I wanted first but the front opening Gloucester was just too tempting to leave for later. It moved up quickly in my wish list and I am so happy that I got it.
The main feature that attracted me to this house was the front opening design. There are a lot of front openers out there but a die cut front opener is unheard of and the fact that it's a Greenleaf dollhouse, sealed the deal for me. Lightweight and moderately sized for easy display were the main reasons why I knew I had to get this particular dollhouse.
This house was a lot of fun to build. It is a very straight forward and easy to put together house. No complicated twists and turns in this one, just easy to join walls and floors. If you can build a box, you can build this dollhouse. Even the staircases were simple to put together. Fast and easy builds means more time for decorating and bashing.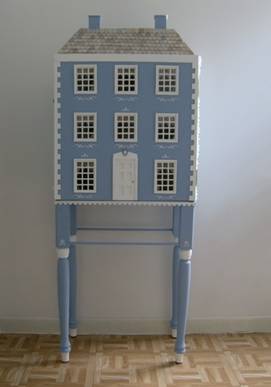 Hinges are always intimidating but Greenleaf made it so simple to put these hinges on the house that I had no trouble what so ever getting them in place. I was very relieved when I saw how easily they went on. No power tools are needed to put them on. The hook and eye latch is very traditional and just adds to the "antique heirloom" feel of the house.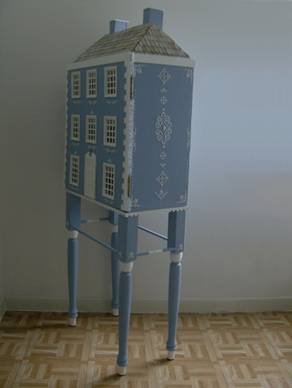 I decided to use a nontraditional style for my Gloucester and this is one dollhouse that can certainly hold any unique design you have in mind.
What I love best about the Gloucester is how much room you have for creativity. Its simple design is the perfect canvas for you make it into any style you would like. This house would be perfect for a stone or brick mansion, maybe stucco, even siding, the limit is your imagination. You can certainly add gingerbread and other fancy trims to make it a lovely Victorian but it would look just as pretty as a simple brownstone.
The front opening design makes it perfect for displaying in space limited areas and you can certainly add legs to it and make it into a cabinet dollhouse, like I did, so you don't even need to find an extra display table for it.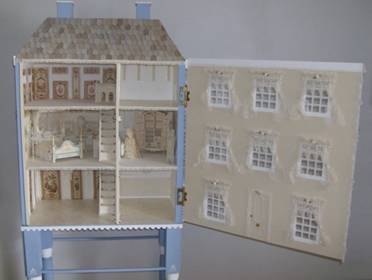 Even though this house is simple in its design it has a lot of charm and character in its pretty layered window and door mouldings.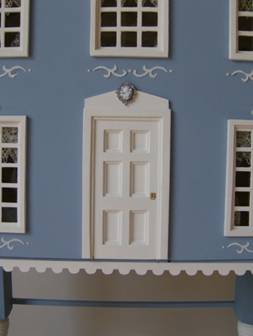 They are both very unique and not seen on any other dollhouse in the Greenleaf line.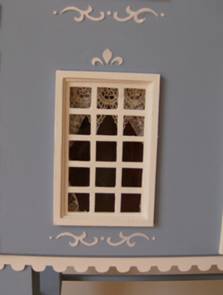 This dollhouse can be bashed very easily because of its simple interior. You can add extra windows to the side and back walls but you can also create your own faux windows and doors to the interior for the appearance of a larger house. Adding hinges to the top roof will give you extra room by creating an attic space. Larger rooms can be achieved if you omit some of the interior partition walls or the staircases.
This cute dollhouse would make the perfect heirloom but this house is so versatile that it doesn't even need to be a dollhouse if you don't want it to. it would make a very cute toy storage cabinet for a child's room. All you have to do is hang it on a wall or place on the floor of a toy room. You don't have to worry about little fingers getting caught because of the super light weight door.