Welcome to the Greenleaf Gazette!

Light It Up! How to wire your dollhouse!

February 2009
Dear Miniature Enthusiast,
We've asked a lot of miniaturists what intimidates them the most about building a dollhouse and the overwhelming #1 response is "Electricity!" Answers have varied from "I don't want to set anything on fire" to "I just don't understand all the terms or what kind of hardware I'll need for it". So this month the Gazette is going to cover everything from a glossary of terms all the way up to tape wiring. Special thanks go to Christine Errico and Darrell Payne for sharing their expertise with us!

The buzz in the miniature community is all about the upcoming Spring Fling contest sponsored by Greenleaf. If you haven't seen the Spring Fling contests in the past, you've been missing some fabulous creativity! Each year, Greenleaf produces a new and exciting kit for the contest and each year participants take the creating process to a whole new level. This year's kit is going to be bigger and better than anything we've seen before so get ready for the greatest contest ever. Details will be coming in an email to your inbox soon.

The biggest news we have for you this month is the return of a fan favorite... the Gloucester Front Opening Dollhouse is back! Originally released in the '90s under the Corona Concepts label, this kit is a must have for any miniaturist. Complete with hardware, the front opening design makes this charming house a real space saver, but it still has three full floors and six rooms! It's a limited production run available exclusively at the Greenleaf store, so don't hesitate to get yours now before they run out. Also, the ever popular Aster Cottage and McKinley Dollhouse kits are back in stock as well. We've also added a collection of dollhouse lights just to compliment this special edition of the gazette. We have extended our FREE SHIPPING offer on any order over $49, but it expires March 3rd so don't delay!
Deb Roberts
Editor in Chief
---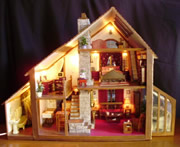 To Light or Not to Light-Why put lights in a dollhouse?

By Deb Roberts

Every dollhouse is a treasure. We build them, decorate them, furnish them, populate them with little people, and show them off with pride of place in our homes. We search endlessly for the perfect miniatures to fill our dollhouses and give them that extra touch of realism. In every tiny detail, we strive to create a miniature home that looks so realistic that one feels they could step inside and live there. But the one detail that is so crucial to achieving our goals of realism is lighting!
---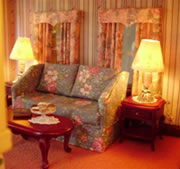 Dollhouse Wiring 101 - The basics of electrifying and troubleshooting wiring for your dollhouse

By Deb Roberts

Anyone who has ever wired a dollhouse will be the first to tell you that Thomas Edison had it easy because he never worked in miniature. Adding lights to a dollhouse is probably one of the most admired, yet dreaded aspect of dollhouse building. However, the magic of lights in a dollhouse is an allure too strong to resist and sooner or later most of us will give it a try. When the novice makes the decision to wire a house, there are a lot of questions about 'What hardware will I need?' and 'What do these terms means?' In this article, we'll provide the basic information you need before you start wiring your dollhouse.
---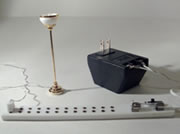 Plug and Play— Using the round wire method (and hiding wires)

By Deb Roberts

The easiest method for wiring a house is the round wire method (sometimes called hard wiring). The principle for this method is much the same as using lights in your real house. The lamps and light fixtures have an electric wire with a plug on the end. The plug plugs into a power strip which attaches to a transformer that plugs into your wall outlet. A few plugs, some hidden wires and voila! Your dollhouse is sparkling with light! Sound easy? It is.

Full story...
---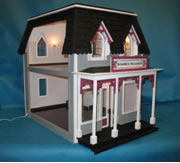 Hybrid Wiring - Combining Round Wire with Tape Wire

By Christine Errico

This tutorial provides step by step directions on how to light a dollhouse using the Round wire Hybrid method, combining round wiring with tape wiring. There's also a special bonus tutorial on how to lengthen wires on light fixtures!

Full story...
---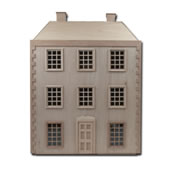 Hard Wiring A Front Opening Dollhouse

By Christine Errico

Just in time for the release of the Greenleaf Gloucester Front Opening Dollhouse kit, Christine shares her expertise in wiring the front panel. What a great way to add sparkle to the front of a fantastic house!

Full story...
---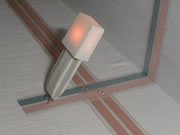 Darrell's Electrification Guide: Tape Wiring and More

By Darrell Payne

Darrell Payne is the tape wire guru of the miniature world. That's why we've included his famous guide to tape wire in our issue on electrifying your dollhouse. No collection of wiring tutorials would be complete without it!

Full story...
---
Member of the Month - Meet Rebecca

By Heidi Cleveland

February`s Member of the month is Rebecca (butlerestates). She has been a member of the forum since October 15, 2008. Just because she is new to us does not mean she is new to the craft. She has some wonderful miniature eyecandy and she does excellent work.
---
Havana Holly's Quick Tips!

By Holly Parker

Another painting tip: Keep two jars of water handy to rinse your brushes when you're painting very small items different colors, and stir a bit of dishwahing liquid into one of the jars of water. Rinse your brush in the soapy water first, then in the plain water and blot it with a dry paper towel and you can use another color. Favorite
---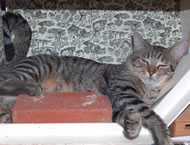 The Critter Corner!

I wish those contractors would clean up after themselves...

Lucky seems to be happy enough sleeping in Julie's Harrison, even if it is upside down. But he just can't seem to get those contractors to clean up at the end of the day. They're always leaving bricks in the most inconvenient places.

Our thanks to Julie (avidcrazyquilter) for sharing such a cute picture of Lucky with us. Lucky and Julie will be receiving a $25 gift card from Petsmart for being featured in our Critter Corner.

If you'd like to submit your pet's picture for consideration for the Critter Corner, you can upload pictures in the "Good Pets acting bad!" or "Good Pets acting cute!" galleries at the Greenleaf Forum.