Dollhouse Landscapes and Layouts

By Gina Lassales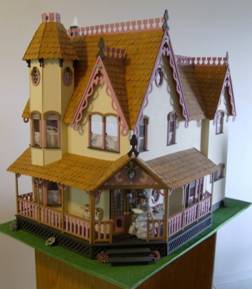 There is no denying that landscaping a dollhouse gives it that special finishing touch to its display. Landscaping is so popular that it's one of the most asked about questions in the miniature hobby. But you don't need unlimited space and money to give your dollhouse the added realism of a pretty garden or yard. I will give you some great cost effective landscaping ideas to enhance your dollhouses exterior.
These simple display layouts are great for saving space but you can always be as elaborate and creative with your landscaping as you wish if you have more space available.
Many things can be used for a dollhouse base so you can create your garden. Foamcore, cardboard and thin plywood from the hardware store are some of the materials I've used for bases. Remember, the base your using is not for you to be able to lift your dollhouse by, it's just for you to add more area around it for your garden, so you do not need a heavy or hard base. Often times your dollhouses mailing box is large enough to make a base out of it. This is especially true for smaller houses like the Orchid and Arthur Dollhouses.
Foamcore and cardboard bases also allow you to shape them anyway you want for the display area you have. Notice how I cut the Lilly Dollhouse's base at an angle at the corners to give it a more rounded look.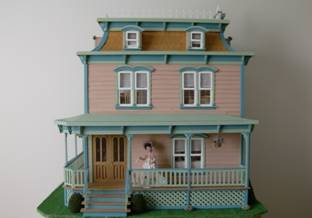 Thats right, yards do not have to be square. Notice how I made a round base for my Loganberry Mill Dollhouse. I used moss that I bought at the floral department of the craft store to put around it's base. It cost half the price as the moss found at the railroad hobby shop and it's the same product.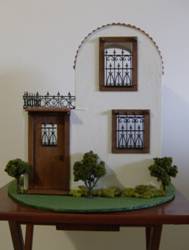 You can also use this moss to add interesting growth to your walls and stone walkways.
Displaying a landscaped dollhouse doesn't always require a huge area for you to walk around it on. You can set up a very nice garden display by putting your dollhouse on top of a wheeled cart. That way you can just turn your dollhouse around and it won't take much display space. Also, two shelved carts will give you two display spaces for the space of one. See how I am able to display the Willowcrest Dollhouse and Haunted House Dollhouse using the same space.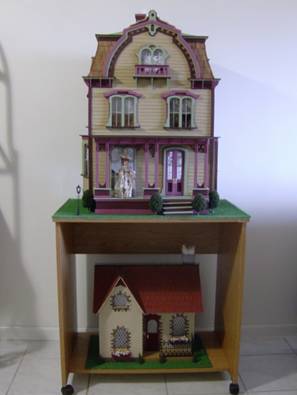 Smaller houses fit just fine on fold out tables and the good thing is that they can be easily turned around by the legs so there's no need to even touch your dollhouses base to view the back.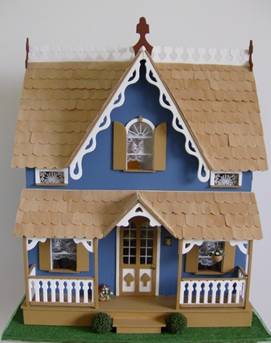 You don't need to buy a lot of landscaping to make a pretty garden or yard for your dollhouse. Strategically placed bushes, trees and accessories can add a lot to a garden without breaking the bank. Sometimes all that's needed to help a dollhouse look complete, is a few well placed trees and accessories around the base. I added a fountain, vehicle and some trees to the front yard of my Beacon Hill Dollhouse.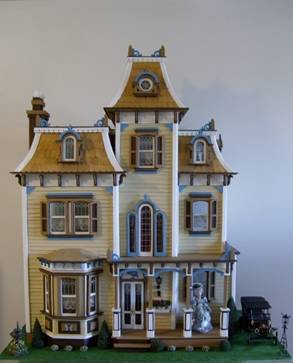 Grass can be found at the model railroad section of your local hobby shop but that doesn't have to be your only option. Grass can be made from fabrics, textured spray paint or created by blending different shades of green paint together and dabbing it around your base. You can also buy faux turf by the yard at your local hardware store. I used paint to create the "grass" on this micro Queen Anne Dollhouse base.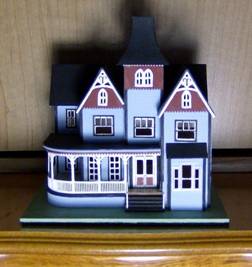 On my very first Willowcrest Dollhouse build, many years ago, I actually used the doormat that was made of plastic grass with the daisy in the corner to make my landscaping. Not sure how many folks out there remember that one. It was not the best choice, now that I have discovered other options, but it actually worked at the time. The grass seemed to be in scale to me!
Shopping for landscaping decorations can be expensive but don't limit yourself to just your local miniatures dealer. You can find many in scale trees and flowers in the diorama section of your local craft shop. I found these great autumn colored bushes there and decided to use them for my fall themed Buttercup Cottage Dollhouse.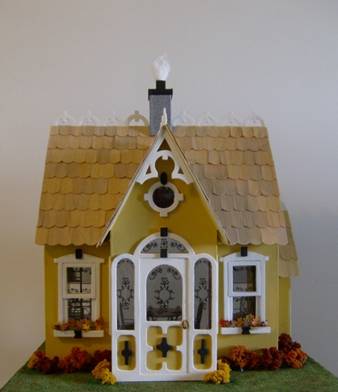 While at your craft store don't forgot to browse through the floral department. You can find many silk flowers and plants that will go well with your one inch scale dollhouses. You can also get them for a very good price and the color and style selection can't be beat. I found great looking flowers for my Glencroft Dollhouse there. The Glencroft's bonus yard gave me just the right amount of space to add a wishing well.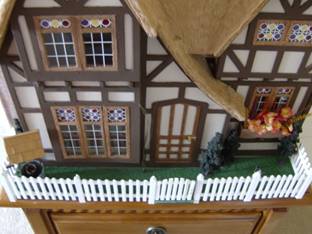 I also used the leaves of the silk flowers to create green plants for my Washington Dollhouse's flower boxes.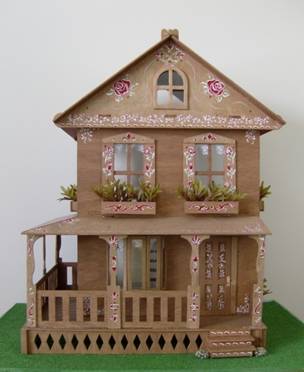 Fences add a more interesting look to any outdoor decor. The Glencroft comes with it's own pretty picket fence kit but you can certainly use other materials to create different style fences. I created a stone fence using paperclay for my Rosedale Dollhouse with "wrought iron" railing. You can also make your own picket fences using craft sticks and strip wood. A twig fence can easily be made using twine and real tree twigs you can find in your yard. I plan on using this technique to create a rustic twig fence for my woodsy Washington.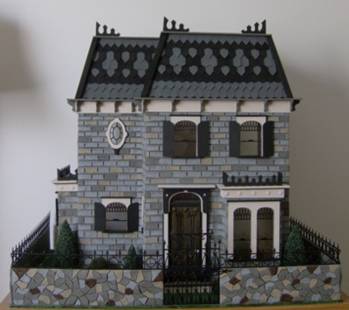 Adding ponds, wells and a sitting area can really enhance a small garden and make it look more interesting. Don't foget gazebos and greenhouses can give your garden interesting focal points. I enhanced the exterior scene around my Fairfield Dollhouse using the Greenleaf Half Scale Lighthouse. I added small pebbles around the base to give it a little more realism.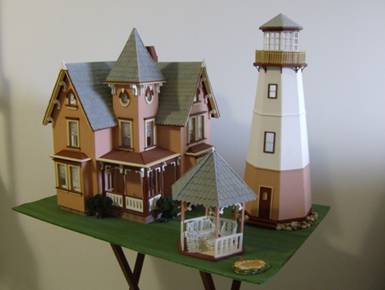 If space is still a concern for you but you would love outdoor accessories, then you can take advantage of the beautiful wrap around porches featured in many Greenleaf models. They can certainly be filled with flower boxes, bird feeders and potted plants. Also don't forget lighting fixtures and mailboxes! Even tiny folk standing outside can give the house a lived in feel. I decided to use flower boxes and a porcelian doll to give the Pierce Dollhouse's lovely wrap around porch some extra details.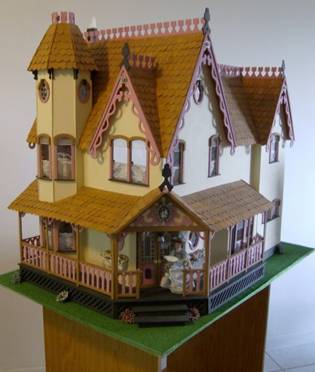 Take advantage of your L shaped houses unique display space. Many folks think that these houses limit your displaying ability but they really do not. In fact they give you a lot of gardening real estate without needing extra space for it. L shaped houses have a great area in the back to create a pond, deck, english garden or even adding extra out door buildings to your display. You can even add vehicles. A nice white wire vehicle fit perfectly behind my Pierce and completed the scene.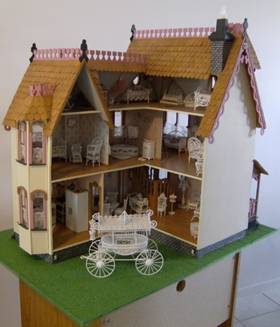 I love the little Greenleaf Annual Spring Fling Contest dollhouses because they can make great buildings for your outdoor displays. They can be bashed into anything you want them to be. Garages, carriage houses, servant quarters, guest houses and sheds are just some of the great buildings that can be made from these small, inexpensive, easily bashable dollhouses. I used the Greenleaf 2008 Spring Fling Contest dollhouse, Annie's Lobster Shack, to create a carriage house for my Garfield.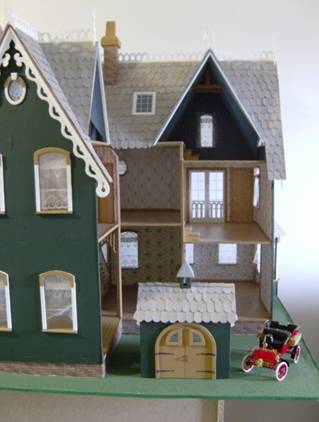 Aside from these small dollhouses, you can use the Greenleaf Sunrise or Heart Arbor to make beautiful outdoor gardens. I plan on using the Sunrise Arbor to make a nice outdoor scene for my Westville Dollhouse.
For an added bonus, I discovered that the Glencroft's yard works very well for the Vineyard Cottage Dollhouse. It is exactly the right length and all it would need is different landscaping to make it perfect. All you have to do is trace your Glencroft's yard onto a 1/8" thick foamcore piece and you can replicate it for your Vineyard Cottage.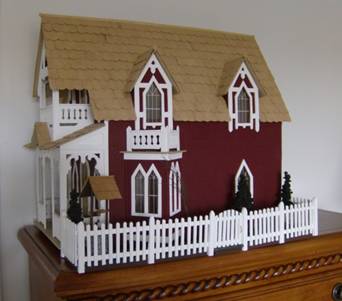 You don't always have to think green to make pretty exterior scenes. What about a nice winter scene? The railroad section of hobby shops have many inexpensive snow covered pine trees to add to your decor. They also have snow for your landscaping and other winter or holiday accessories that are in scale with one inch or smaller scale dollhouses.
I created a winter scene for my quarter inch scale Arthur which comes with the Greenleaf Village Kit. I used cotton balls for the ground snow and a half scale pine tree, which I dusted with baby powder to give it the "snow sprinkled" effect. The tiny snowman was made from furry white balls you can find at the craft store where the pipe cleaners are. Speaking of pipe cleaners, I used one to make the micro wreath for the door.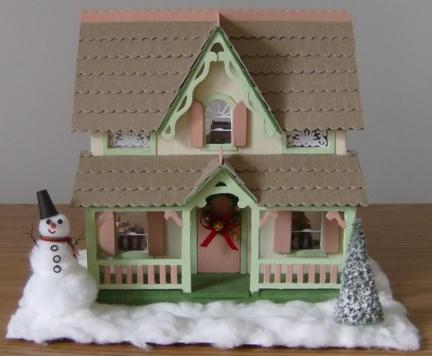 But what if you want your beautiful Garfield Dollhouse to have a yard full of flowers in the spring AND a snowy exterior in the winter? Don't glue your dollhouse to its base so you can change the landscaping to match the seasons, all year round!