Welcome to the Greenleaf Gazette!

Windmills, Windows and Winding Vines

July 2009
Dear Miniature Enthusiast,
This month we have a real treat as Jen Barrick, winner of the Spring Fling 2009 contest, shares some how-to advice about the creation of her Loganberry Mill. Jen used some amazing techniques in this build and you'll be fascinated to learn how she did it. Tracy Topps also joins us this month with a tutorial for creating a beautiful clematis vine just in time for your summer landscaping. We'll also take a look at window treatments that work wonderfully well in miniature, and what makes them so perfect for 1:12 scale.

Have you seen the latest kits being offered by Greenleaf? Our new line of laser cut dollhouses continues to expand with the pending release of the Beaumont Dollhouse Kit. This dollhouse will represent a giant leap forward as we've given it a total facelift with detail never before seen in a Greenleaf kit. Unfortunately, all this work has delayed the release until the second week in August with the Emerson Row and Chantilly soon to follow. You don't want to miss out on any of these fabulous kits, so be sure to check our store regularly!
Deb Roberts
Editor in Chief
---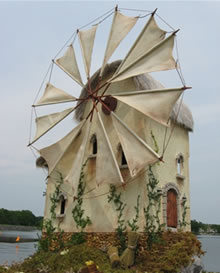 Tips and Techniques of the Original Loganberry Mill

By Jen Barrick

This month we're honored to have Jen Barrick join us with some insight into how she created the awe inspiring Loganberry Mill. Jen shares some of her tips and techniques for creating this amazingly realistic miniature masterpiece.
---
Window Treatments That Work!

By Deb Roberts

When it comes to interior design, windows can be the most important focal point of any room. That's true in miniature as well as life sized rooms. Windows were originally created to let light into a home, but I'm pretty sure that 15 minutes after the first window was invented there was a woman measuring it for curtains!
---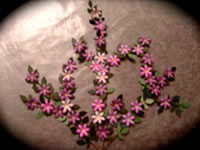 Miniature Clematis Vine

By Tracy Topps

This beautiful clematis vine is quick and easy to make and provides a lovely touch to any miniature landscaping project. Follow along as Tracy shows us how it's done!

Full story...
---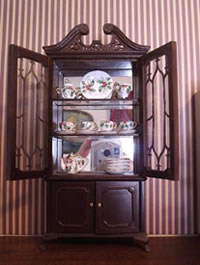 Collector's Cabinet

By Heidi Cleveland

In this edition of the Collector`s cabinet, I would like to introduce you to Kathie (KathieB), Kathleen (ItzKathyP), and Muriel. They have some beautiful little bits to share with you.

Full story...
---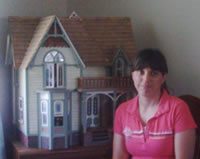 Member of the Month - Meet Kelly (kellee)

By Heidi Cleveland

I would like to introduce you to our July Member of the month, Kelly (kellee). She has been a member of the Greenleaf forums since May 28, 2005. Kelly is a really nice person to know and talk to. She does beautiful work on her dollhouses and she find ingenious ways to make miniatures on a budget.
---
Havana Holly's Quick Tips!

By Holly Parker

The Door Hinge: I don't like the little brass hinges. They are pretty, and all, but if applied like RL hinges on the edge of the door and the jamb, you won't see them anyway. I use strips of chamois cut from the detail-chamois you can buy at Pep Boys, but twill tape or any doubled sturdy fabric will do. If the kit door is a single thickness of plywood you can use split craft sticks for trim. Cut the strip double the width of your trim and at least 1/4 the length of your door. I like to use three pieces for a door. Glue half the strips lengthwise & evenly spaced along the edge you want to hang and glue your trim on top and clamp it TIGHT until it's dry. Next glue the other half to the edge of the doorway and glue the door trim over the top and weight it down until it's dry. Voila!
---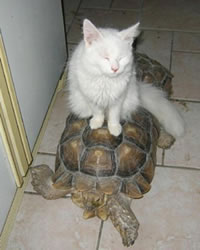 The Critter Corner!

Take me to the mini shop, please!

Biscuit has found a mode of transportation that saves him money on gas and if he saves money on gas, he'll have more money to spend at the mini store! While Bullet may not be speedy, we hear that he gets pretty good mileage on a head of lettuce.

Biscuit, Bullet and their human, Chesterfieldzoo will receive a $25 gift card from Petsmart for being featured in the Critter Corner.

If you'd like to submit your pet's picture for consideration for the Critter Corner, you can upload pictures in the "Good Pets acting bad!" or "Good Pets acting cute!" galleries at the Greenleaf Forum.