The Collector`s Cabinet

By Heidi Cleveland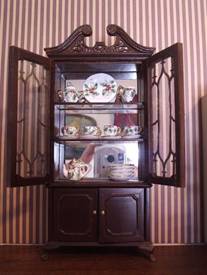 In this edition of the Collector`s Cabinet, I would like to introduce you to Kathie (KathieB), Kathleen (ItzKathyP), and Muriel. They have some beautiful little bits to share with you.
Kathie spotted this hand carved vase in Pam Jones` Miniatures out of African booth at the Bishop show in Chicago in 2007.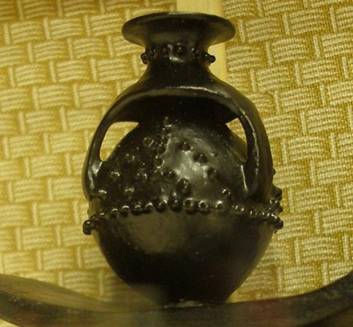 She loves beautifully handcrafted items and this one combined superb craftsmanship with African tradition. Kathie knew that it would end up in a project for her husband, who takes pride in his African Creole heritage. The vase and the hand carved stool, bought at the same time, are displayed in a shadow box with an African theme. When a project is meaningful as well as beautiful, it gives her a special pride in her work.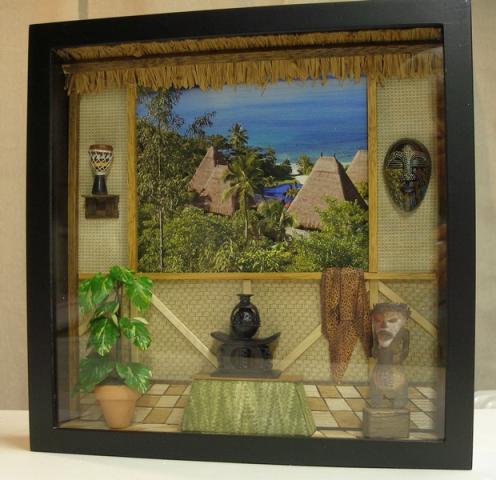 Kathleen said that she did not really realize how difficult it would be selecting her favorite miniature. She is relatively new to this great hobby. Some of Kathleen`s treasures make her laugh every time she looks at them. Others light up her imagination like a candle then moment she sees them. They can send her off in a new direction for her dollhouses. She is working on a 1905 era Pierce dollhouse.
Her favorite miniature is this memory box.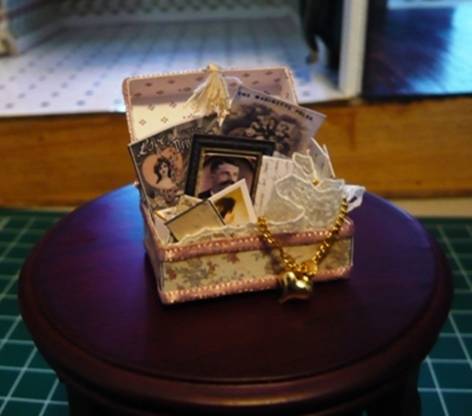 It was created from a kit entitled " Miniature Memories box kit". The minute she saw it, she knew it was something Miss Emma, resident of the Pierce, would cherish. Since Kathleen is new to miniatures, she is amazed at how cute it turned out. Miss Emma`s romantic and spirited personality will liven up Kathleen`s Pierce once all her ideas are completed. The memory box was the first, followed by her Deb Bed, which suits Miss Emma perfectly well.
Muriel was thrilled to be able to feature one of her favorite miniatures in the CC. She had no problem choosing. Her favorite miniature is this beautiful blue and white elephant that stands at the bottom of the stairs in the Mornington Mews.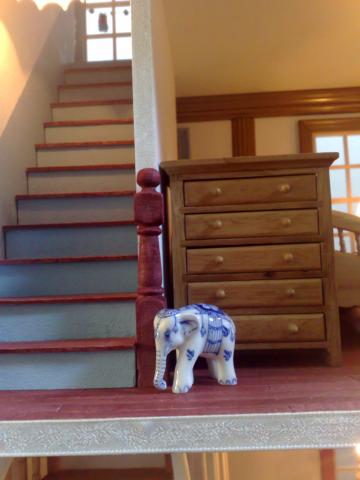 She spied this little beauty on the DHE website and her future in-laws brought it back for her from their trip up to the shop. She did not get the elephant for any specific house. Muriel thinks this will be a traveler. It will visit all of her dollhouses at one time or another. Muriel loves elephants (I will make a mental note of that!). When she saw this one, she just had to have it. The store does not sell this miniature anymore so she is lucky to have gotten it when she did. I asked Muriel if this particular miniature expresses her as a person. She said, "A little. I am a big but graceful mammal too. Now if only I was as cute." You are Muriel! You really are.
I hope you all enjoyed this small taste of miniature heaven this month. I know that I did. Keep posting all your beautiful treasures. I love to look through the galleries. You may be the next to be featured in the next edition of the Collector`s Cabinet.