QUICK PICKS
GREENLEAF FORUM HOT TOPICS
Welcome to the Greenleaf Gazette!

Well, Hello Dolly!

June 2008
Dear Miniature Enthusiast,
This month, we're celebrating the wonderful world of tiny people! Miniaturists vary in their preference for dolls in their houses. Some prefer that their houses remain unoccupied, as if the residents had just stepped out to the market. Others consider dolls to be accessories for a dollhouse, giving it life by creating a "living scene". And then there are the miniaturists who just frankly love dolls of any shape and size. Regardless of your personal preference about dolls, you're going to love this issue!

We're honored to have two of the finest doll artisans in the miniature world join us this month, providing insight and inspiration into the world of creating dolls. In this issue, Gina Gagnon and Sherri Colvin cover doll making from head to foot.

The big news this month is the announcement of the winners of the Spring Fling Contest! If you haven't seen the entries yet, click here to get all the info on the winners as well as a link to the gallery of all the entries. You'll be amazed at the creativity and talent in each and every entry. Our congratulations go to all the winners as well as everyone who entered the contest.
Deb Roberts
Editor in Chief
---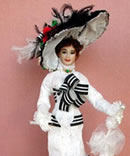 Assembling and Dressing a Doll Kit

By Gina Gagnon

So you want to dress that doll kit you've been hiding in your workroom now for a long time... I can help!
---

Heads Up! Sculpting Realistic Faces in Polymer Clay

By Sherri Colvin

When it comes to miniatures, I have an unreal fascination with realism. I love to make dolls that are highly believable in proportion, character and detail. I admit a degree in sculpture has given me an advantage, but it isn't necessary to spend four years talking about Rodin and Bernini to achieve a sense of realism in your miniature figures. A few basic tips can help you make more life like one-twelfth scale dolls.

Full story...
---

'Building on a Budget' Challenge Game Results

By Deb Roberts

Our readers have so much creativity and imagination that it staggers the mind! Come and see the suggestions submitted by our readers for last month's 'Building on a Budget' Challenge Game!

Full story...
---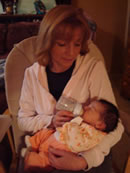 June Member of the Month - Meet Ann!

By Heidi Cleveland

I would like to introduce you to June's Member of the Month, Ann (Ann New York). She has been a member of the Greenleaf forum since July 30, 2007. Ann lives in New York about a half an hour away from Manhattan. She has been married for 27 years and they have three children that are 25, 23, and 17. She just became a grandmother for the first time in April of this year and she is loving her new role. Since the new grandbaby is a girl, she will be building her a dollhouse. She is still undecided on which one but Ann thinks that is a good thing. She has time until the baby is ready for one.
---
Havana Holly's Quick Tips!

By Holly Parker

Patricia King is my adoptive guru and she makes dolls from chenille stems/ pipe cleaners and wooden beads. Finding a wooden bead close to 1", particularly oval, isn't all that difficult at our 'big box' craft stores, and the chenille stems usually aren't that far away. You bend one of the chenille stems in half and glue 1/2" of the fold into the bead (I'd use superglue if tacky doesn't want to hold) and wrap the middle of a second stem around the folded stem about 1/2" below the bottom of the bead for the shoulders & arms.

Once you figure how long you want the arms you can cut off the excess stem on each side and twist those pieces around each lower end of the stem folded into the bead, for legs. You can pad the torso between the shoulders and hips with cotton balls and wrap strips of scrap fabric wetted with tacky glue to make the body. When it's dry you can draw a face on the bead with a Sharpie pen; you can paint the bead with gesso first and paint it the color of whatever ethnicity you want your doll.

You want 3-D features, like a nose? Experiment with gluing scraps of string, seed-beads, wee paper scraps to the bead before painting the gesso on. Hair can be yarn, embroidery floss, or for elderly dolls my ever-favorite polyester fiber wad that sometimes comes in the top of over-the-counter medication bottles (waste not, want not). You can glue on clothes made from fabric scraps. As your doll-making skills improve, you can retire your first efforts to crowd scenes & nursing home scenes.
---

The Critter Corner!

New Breed Announced at WKC: The Long Haired Mini Watcher

It's my understanding that various breeds of dogs are bred for specific purposes. Some dogs are bred to herd sheep, others are bred to aid hunters in retrieving their prey. However, Thumper is the first dog we've met who seems to have been bred to watch for the arrival of miniatures in the mail! Thumper is vigilant in letting Heather know when the mailman is coming up the walk with a new miniature in hand!

Thank you Heather for sharing such a great picture of Thumper with us! For being featured in the June Critter Corner, Thumper will receive a $25 gift certificate from Petsmart.

If you'd like to submit your pet's picture for consideration for the Critter Corner, you can upload pictures in the "Good Pets acting bad!" or "Good Pets acting cute!" galleries at the Greenleaf Forum.