'Building on a Budget' Challenge Game Results

By Deb Roberts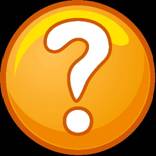 Our readers have so much creativity and imagination that it staggers the mind! Come and see the suggestions submitted by our readers for last month's 'Building on a Budget' Challenge Game!
Answers:
1. Marbles (any size or color)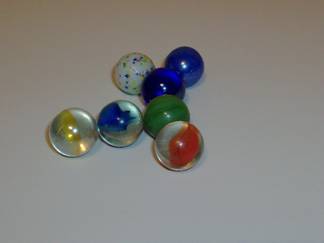 Clear ones w/yellowish centers in particular: old-fashioned oil-lamp -clear/yellow marble for the top, then a jewelery finding (JF) then an opaque colored bead/marble for the lamp bottom; all this set on a JF base, add a jump-ring for the control (up/down;bright/dim).
Blue marbles: ( I really love blue glass in real life) - I can see possibilities (haven't actually tried this yet) of creating 'something' that could be displayed amongst other (contrived) dishes in a cupboard --by placing marble on a base of either a JF or the prong-part of a covered button assembly. Then with the right additional findings, (eg. silver/gold JF 'things') glued all around it for the bowl sides and also set high enough up the sides of the marble so that at a quick glance the "round marble-ness" is disguised well enough to fool the eye into thinking "fancy colored glass serving bowl". ---Bea K.
Glazing balls, bowling balls, stop lights, boulders. --- Janet
Gazing balls! –Kellee
For the marbles, I use a clear one and make these crystal balls that light up—Pat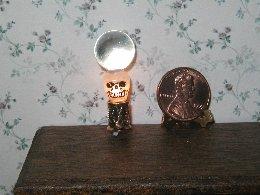 2. Seashells (any size or shape)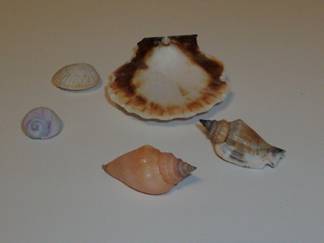 Unique planters or vases-to sit straight, glue on a base (button) or bake on PC. The larger shell pictured (scallop?) fireplace cover - mounted on a base and spray painted to suggest brass. The base could be scrap wood w/ small bead or JF feet added.—Bea K.
Serving dish, planters, crush then mix with sand for a beach scene, gravel--Janet

3. Push Pins (any color)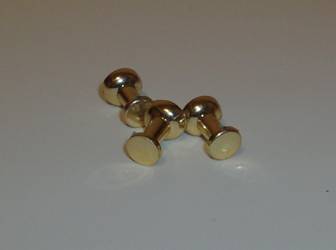 Part of a drapery-hanging assembly.---Bea K.
Ice scream holder, use with a pill casing and make a drinking goblets.
Bar bells/hand weights --Janet

Can be candle holders, or pushed into the wall
above a window for a window swag curtain. --Kellee
4. Pencil Erasers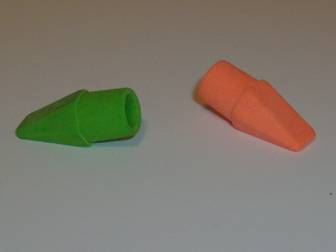 Round reddish ones I've seen used as sliced bologna. The ones pictured; "plant" in a pot then cover with plant material: topiary of sorts.—Bea K.
Small chimney, mini food, ramp for your mini car garage, --Janet

5. Paperclips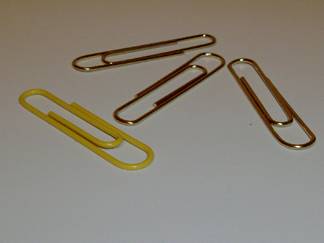 Flower bed edging: spray paint white, black or darkest green then push them into a foam base, lined up next to each other to make the edging all around the flower bed.—Bea K.
Cut the ends for handles--Janet

6. Suction cup window hangers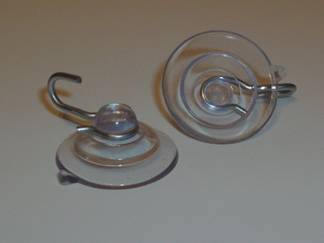 Besides glass-look bowls which I've read about--(possibly) : "formers" to shape PC or air dry clay bowls. I'd experiment first, but haven't any suction cups handy at the moment. Bea K.

Bowls, base for a lamp, a chair or stool, utility light, --janet

The suction cups make very modern sinks when you remove the hook and turn the suction cup upside down. THe metal hook then makes a wonderful gooseneck faucet!--Joann

7. Cardboard tube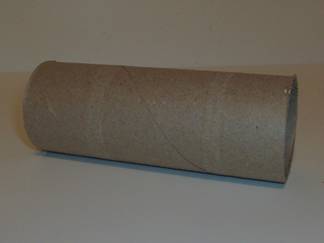 Round shape suggests ottoman, w/bead feet. Or, upholstered chair - portion of tube forms the seat; back made of a length of curved tube, cut open. Expanding on the tube idea and going on to longer lengths: my favorite use for long cardboard tubes is as architectural columns-- a wider diameter used alone or 3-4 (or whatever) small diameter, (1/2"approx.) ones glued together form a shaped column. Can be wall papered or painted afterwards. -- Bea K
The cardboard tube has as many uses as there are days in a year! Depending on the size, you have a pedestal for a table; a wonderful base for a hassock or stool; a form to turn into a barrel for storage in the
General Store. -- Joann
Can be made into tables, bedroom chairs or dining chairs, covered in fabric.!--Kellee

8. Cocktail stirrers/swizzle sticks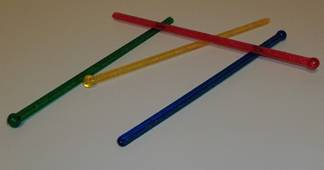 The obvious curtain/drapery rods; railings/spindles; chair rungs; simple frames. Going to longer lengths: "quarter rounds" to fill in floor/wall gaps or (for both long and shorter lengths) - add to columns/fireplaces/furniture to make fluted details. Bea K
Flag pole, table/chair legs, fence rail, trim, bed frame, --Janet

9. Round window punch-outs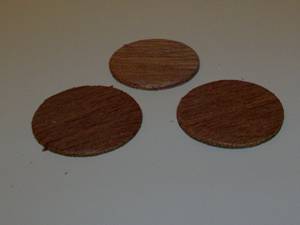 Pictures/plaques - frame w/PC or braid, etc—Bea K
Stepping stones, serving tray, make up tray—Janet
Round window punch-outs become table tops; serving trays; clocks; thermometers.—Joann
Platters, table tops.--Kellee


10. Oval window punch-outs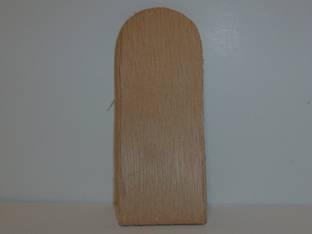 If the punch out is wide enough to be sawn in half lengthwise to make realistic looking shutters for an oval-topped window. Or, painted and aged: Halloween tombstones. Depending on size: maybe a chair back or headboards/footboards for beds by placing several together. Bea K
Grave marker, door panels—Janet
The loval window punch-out becomes a scale when trimmed down; a grave marker for that Halloween scene—Joann
Ironing board, tables, rounded countertop end.--Kellee

11. Leftover trim or gingerbread (not necessarily these specific pieces)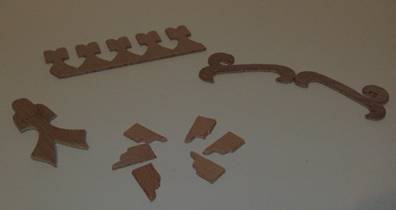 Shelves and shelf brackets. Often, using only parts of larger pieces interesting bits can be added to furniture (feet), walls (above door and window details or to partially frame a wall paper panel, etc) or incorporate them into various accessories. I look through my leftover trim pieces often to see what might be lurking there.—Bea K

Trim, ends for book shelves, --Janet

12. Craft paint bottle cap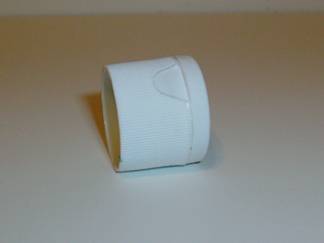 Planters, bowls, garbage can--Janet
13. Wooden wheels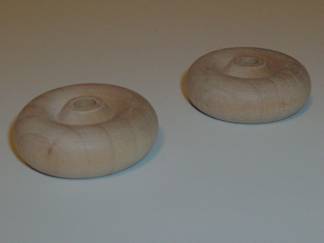 Tiny Flowerbed stick a tree in the middle, bunt cake,--Janet
Pillows, covered in fabric.--Kellee
14. Soft foam ear plugs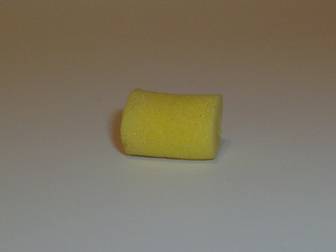 Haven't tried this - think I've read about attaching (gluing) several together lengthwise to make a realistic length then covering with fabric to make bolster-type pillows. Or, maybe cheese if trimmed into semicircles–Bea K
Cheese, grind it up and paint it for gravel,--Janet
15. Wooden drawer knobs/pulls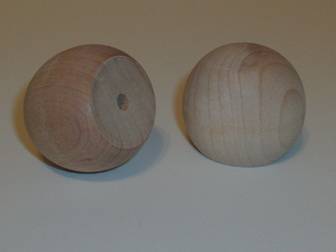 Small ones for bed post, drill out the insides for a deep bowl, planter—Janet
We took a wooden door knob pull, drilled out the center (flat part down so it sat smooth), drilled two holes in the top, and made a jack-o-lantern. Here's a picture: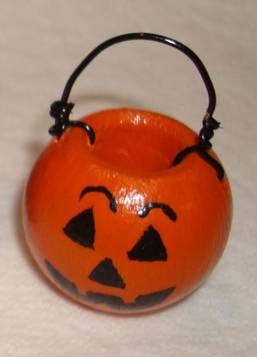 Doreen & Bob J
Debra suggests: Starting to look around the house for stuff to use for mini's on a budget. When I opened the vitamin bottle - free cotton! Had a going away party and the clear top from the store cake would make great "glass" for quite a few windows. Got a wedding shower invitation that had some great little organza roses and pieces of wedding veil on it will make a stunning hat. And like many other people have said, get out your stash of furniture kits and either make them or kitbash them. They look great painted, stained or stenciled.
Thank you to everyone who contributed to our Building on a Budget Challenge Game! You provided some wonderful and creative answers! For more tips on making miniatures from ordinary objects, visit this topic on the Greenleaf Forum.
Thanks to Anna M for such a great game idea!