June Member of the Month - Meet Ann

By Heidi Cleveland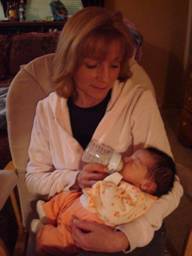 I would like to introduce you to June's Member of the Month, Ann (Ann New York). She has been a member of the Greenleaf forum since July 30, 2007. Ann lives in New York about a half an hour away from Manhattan. She has been married for 27 years and they have three children that are 25, 23, and 17. She just became a grandmother for the first time in April of this year and she is loving her new role. Since the new grandbaby is a girl, she will be building her a dollhouse. She is still undecided on which one but Ann thinks that is a good thing. She has time until the baby is ready for one.
Ann was first introduced to the dollhouse world at the tender age of 7. She received her first dollhouse and she loved it. It was a metal house with the curtains and flooring painted on. All the furniture was the same color and made of plastic. She cannot imagine the amount of hours she spent playing with it and the imaginary family that lived there.
Ann builds and decorates dollhouses but she is not a collector, although she would love to be. She just does not have the room for her dollhouses. She turned a bedroom in her house into what her family calls "The Dollhouse Room". When she does find a piece of furniture that she would love to save she ends up sending it off with one of the houses. Ann is a giver. I love givers. They are the best kind of miniaturists. Ann puts her blood sweat and tears into her houses and then she sends them off to be forever loved. Just like her metal house of her childhood. This past year Ann has built fifty-two houses for children battling cancer. You can see all these houses in Ann's gallery here.
Ann` favorite part of building dollhouses is the planning. She loves to open a fresh new box of dollhouse goodies. Then she decided how she will make this one look different from the last. She loves to search the Greenleaf website for new ideas. The only part of building that she dreads is the glue. She hates to wait for it to dry because she cannot move onto the next phase. She gets past this problem by having two houses going at once. She can work on one while the other one dries. Ann does have a dollhouse horror story to tell though. About a year and a half ago her husband bought her a Beacon Hill for Christmas. She spent everyday working on it. She built it, decorated the inside, and landscaped the outside. As most people do, Ann spent a small fortune on furnishing it. When the house was complete, she tried to find the perfect place for it in her home. For those who do not know this, the Beacon Hill is a monster of a house. HUGE! She finally decided it was too big for her home and she put it up for auction on Ebay. She put the starting bid at $100.00. It sold for $100.00 fully furnished. That was then she realized that she should have donated it.
The first house Ann ever built was 20 years ago when her daughters were 3 and 5 years old. It was the Heritage and she enjoyed every minute spent building and decorating it. She had not built another house after that one for 19 years. She was so excited for her daughters to have a dollhouse because she loved hers so much.
Ann's favorite dollhouse is the Lighthouse. It is so different from all the rest and she has always had a thing about lighthouses. She did not decorate the interior to look like a typical lighthouse. Instead it is more like a home. She still owns it but she will be donating it soon.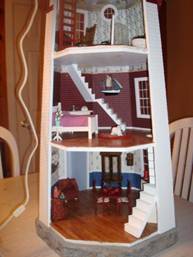 I asked Ann if she could only keep one dollhouse out of all the rest, which one would it be. She chose the Westville. Ann says that every time she builds a house that it is her favorite so far. She likes the Westville more than others. It just looks to her like a house you would see along a village street. She loves the front porch on it as well as the windows.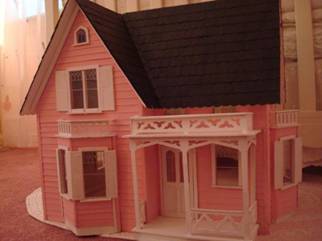 Ann would love to learn how to install lights in her dollhouses. Since she builds a house a week she has not had time to learn how to put electricity in them. She has an electrical kit and she has some lamps but for some silly reason it scares her. She would love to take the time and learn how to do it.
Since Ann started building the dollhouses she has met quite a few people who have helped her in one way or another to keep the project going. It has been such a wonderful experience for her in so many ways. She has met people who have given her everything from brand new kits, old houses, fabrics, furniture, discounts, and much more. She met a wonderful woman who is an artist. The woman shrinks down her paintings so that Ann can add them to the houses. She also met a woman in her 80s who builds dollhouse furniture for Ann's donated dollhouses. She adds such wonderful details to every piece she makes. Since Ann was new at this hobby, there has been plenty of help from the members at the Greenleaf forum.
Ann's plans for 2008? Build another 52 houses to give to 52 more children battling cancer.
Ann says that the only advice she can be qualified in giving to budding miniaturists is to have fun. Ann, I think you are wrong. Your acts of generosity, kindness, and giving are THE best advice to be given. You put smiles on the faces of children that may have not smiled in quite awhile. We should all try to give more and your level of giving is the pinnacle that we should all try to achieve.
For participating in this article, Gina will receive a $25 gift certificate to the Greenleaf Company Store.