Overcoming Physical Challenges Through Miniatures

by Deb Roberts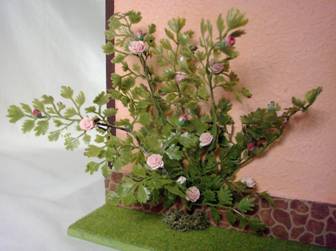 This article has been rattling around in the back of my head for quite some time now, yet for some reason I've been reluctant to give it voice. Perhaps I've shied away from the topic because it doesn't seem like a positive subject for a miniature newsletter but the more I think about it, the more appropriate it seems to be. It's not just the fact that it's a subject close to our hearts since the three of us who make up the Gazette staff face some physical challenges which have resulted in some creative solutions to our mini-making. There's much more to it than that. If you've read the current thread for the 2012 Spring Fling on the Greenleaf forum, you'll have already seen a generous helping of fortitude and positive thinking when it comes to overcoming a physical challenge in order to continue making miniatures.
Sometimes those challenges are simply the wear and tear of time on our eyes and hands that inhibit our ability to do things we used to do, and sometimes the challenges are specific to illnesses or injuries. Diabetics continue to work their mini magic despite failing eyesight and diminished feeling in their hands which makes it almost impossible to hold small objects, let alone put them together to make something delightfully tiny. Others face neurological issues such as MS, fibromyalgia, and strokes which causes an entirely different set of challenges, both physical and cognitive. Sometimes the challenge can be an isolated physical problem such as arthritis or spinal issues that pinpoint one specific part of the body, and sometimes the pain is so widespread that even the slightest pressure required to hold a paint brush is too much. The list is too extensive to name each challenge we've seen our friends face but the most common denominator among them all is that despite all these obstacles, we don't give up on our miniatures. In fact, the exact opposite is true and miniaturists will go to almost any length necessary to continue doing what we love to do best. We're creative folk anyway, but when we put that creativity into learning how to work around physical challenges, we can come up with some great ideas that allow us to continue mini-making……..and it's that motivation and inspiration that keeps us going forward in all aspects of our lives.
It's these creative ideas that inspired me to write this article to share the things we've learned with other miniaturists. Not only do we have lots of tips and techniques that make it possible to continue building dollhouses and making minis, but we also have some pro-active suggestions that can help able-bodied miniaturists avoid some of these problems later in life.
Work Smarter, Not Harder
That's a saying that you're probably familiar with and it's good advice no matter what the subject, however, for mini-makers with disabilities being able to work smarter is the key to being able to work on your minis at all! In looking over my list for this section, it's very obvious that the key to working smarter is using the right tools at the right time and in the right way. Therefore, the first step is to make sure that your workspace is organized so you can reach your tools easily and in a way that creates the best ergonomic space for your individual needs.
Make Yourself Comfortable
The basics are a good chair with adjustable arms, back and seat, and a work table that is a comfortable height for your body. You should be able to rest your arms on the table without slouching or stretching and your spine should be nicely supported without causing unnecessary strain on your back or shoulder muscles. Lumbar supports in your chair can make back pain more tolerable and prevent further strain. There are lots of options when it comes to lumbar supports but the best I've found is a curved circle of mesh that fits easily onto the back of any chair. It provides excellent lumbar support without being unyielding and these supports can even be found in places like your local dollar store so they're very affordable. Whatever type of lumbar support you use be sure that you use it every time you sit down to work. Using a lumbar support is one of the proactive tips that I mentioned earlier because even if you don't have a back problem you want to provide proper support for your back any time you are going to be spending a great deal of time sitting in one position.
Where Did I Put That Thing?
Equally important is making sure that you never have to stretch to reach your tools. Your tools and supplies should be close enough that you can pick them up without reaching over the top of your project or, worse yet, stretching to reach something at the back of the table. Regardless of whether your workspace is in a designated room or if you're using the kitchen table, it's important to have your tools positioned so you can simply turn and pick up what you need. In my opinion, the person who invented those plastic rolling carts with the clear drawers should be declared a hero because they truly make life easier. They come in all shapes and sizes so you can customize your workspace and they are the perfect height to fit underneath a work table. Most important of all, the contents can be easily reached by turning your chair (always turn the CHAIR, not your body), and opening the drawer you need. For additional organization inside them, use silverware trays to hold your small tools so you don't spend time bent over and digging thru a drawer. For tools that you use most often such as paint brushes, knives, pencils, tape, etc., use one of those lazy susans found in the desk organizer/office supply section of the discount store. It doesn't take up much space on the table and you can twirl your way to your tools without stretching.
Sharp, Pointy Things
We all have a healthy respect for the sharp blades that we use because most of us have had at least one small slip at one time or another so we know how quickly a blade can turn in even a strong, steady hand. That's why it's even more important for us to make sure that we have a good grip on the handle of our knives. Going back to the office supply department at the discount or dollar store, look for soft rubber or gel tubes that are used on writing pens. They slide nicely over most round handles and once in position, they don't slip or slide. When you're positioning it on the handle of your detail knife, test it in various positions while holding the handle in a tri-pod grip just like you would hold a pencil. Notice where the balance of the handle feels most comfortable and controlled and you'll have found the perfect fulcrum for your individual grip. The extra padding allows you to hold the tool longer without pain/strain and the no-slip grip makes you much safer. This is another proactive tip since the larger and more controlled grip will put less stress on the joints of your fingers, reducing the chance of injury or strain later on.
Craft and hobby stores are carrying exacto type/detail knives made with larger handles and molded grips so they're easier to grasp and control. I'm not specifically promoting any particular brands when I make suggestions like this next one, however, I would be remiss if I didn't mention that some companies such as Fiskars are going the extra mile to create more ergonomic cutting tools. The top of the line when it comes to comfort and control is the Fiskar's fingertip cutter which comes with a standard blade but it also has some nifty variations over in the scrapbooking aisle. This fabulous little tool slides over your index finger which gives you perfect control with very little strain.
Cutting It Down To Size
I think that it's fair to say that most miniaturists are so generous that they'd go out of their way to give you anything you ask for... unless you ask for their EZ Cutter and then they snarl and, well, things just get ugly. Products like the EZ Cutter are highly prized tools even in strong hands, but for those of us who have muscle weakness or arthritis that limits the mobility of our hands, the EZ Cutter is simply how we get the job done. Using a saw requires gripping, repetitive motion, strength, and stamina but the EZ Cutter takes one quick snip and you have a perfect cut. Keep the blade sharp so you don't have to exert too much pressure and it's a tool that you'll never let out of your sight.
A Little Extra Padding Never Hurts
In fact, a little extra padding can take away the hurt! Sometimes even the softest grip on the lightest weight paint brush can be hard on swollen or sensitive hands, but if you wrap a layer of foam around the brush handle it transforms the hard brush into a soft pillow. You get the added perk of not having to close your hands quite as tightly shut which takes strain off the joints in your fingers and the muscles in your palms as well. A different way of making painting easier with foam is to buy foam brushes and use them for painting large spaces as much as possible. Because they are so incredibly inexpensive you can simply toss them in the trash when you're done and spare your hands the need to wash out another paint brush. Never underestimate how even something as minor as disposable brushes can give you just a few more minutes of quality mini-making time with less pain.
Rev It Up
Power tools are probably the best thing in the world to keep a dollhouse builder in the mood to build! This is where we really start working smarter instead of harder by letting the tool do the work for us. For example, one of the things that all of us want to avoid is repetitive motion that can lead to injury, therefore a task such as sanding is something that we want to do with as little strain on our hands as possible. Greenleaf took most of the sanding out of dollhouse building when they started making laser cut kits, but there's always going to be a bit of sanding to do here and there. That's where a rotary tool such as a Dremel comes in handy. All you have to do is insert the proper bit, put on your safety glasses and mask, and then let the tool do the work for you. Not only is it much less painful, but you'll be finished in a fraction of the time which leaves you more time and energy to do something else. There are lots of rotary tools to choose from but my choice for ergonomic standards as well as a killer adjustable speed feature is the Dremel Stylus. It can be held in three different positions but each one is as comfortable as holding a pencil which gives you more control and less strain.
One of the hardest things to accept with disabilities is that we can't do things like we used to and it's traumatic to have to give up some of the things we love, especially if that thing is bashing dollhouses. Even the smallest of bashes usually requires that at least a little bit of wood is going to need to be rearranged and that's where a tool like the Dremel Trio comes in handy….and there are two specific reasons. The first is that the Trio is capable of doing a plunge cut directly into the wood so you don't have to mess with drilling holes and then wrestling with a reciprocating saw that jumps and jitters and leaves a jagged edge that needs to be sanded and filled. That brings us to the second reason the Trio is preferred---it rotary cuts the wood rather than using a reciprocating motion which means the cut edges are almost as smooth as if they were laser cut. Ultimately that means that you have less sanding to do and that definitely makes the Trio a treasure. I may have trouble tying my shoes, but with power tools like these, I can still bash a dollhouse!
To See or Not to See
Being able to see shouldn't be an option, but even people living free from illness eventually find it more difficult to see things up close thanks to Mother Nature's habit of diminishing our eyesight with age. Obviously the first priority is to make sure that you're seeing an optometrist regularly and keeping your prescription glasses up to date if necessary, but sometimes even good glasses need a little help. That's where things like magnifying visors, glasses, and workstations come in handy. Depending on your needs, you can find simple magnifying glasses, visors that you can wear, "third hand" magnifiers set into bases with articulated clamps, and even work stations with magnifiers on articulated swing arms that you can move back and forth when you need it. Your eyes are too precious to risk so even if you are just a "teeny bit fuzzy", use something to improve your vision and take the strain off your eyes.
The other thing that your eyes will thank you for is proper lighting. Overhead lighting is a must, but localized lighting is even more important. Brands such as Ott create lights for hobbyists that are free standing but have the ability to get up close to your project and flood it with much needed light. Even young, healthy eyes will thank you for it!
A Little Kitchen Assistance
When working with clay, one of the best tools to use is a pasta machine. In fact, they're so popular for clay that you can usually find them in the clay section of your local hobby store but check for less expensive versions in the kitchen section of discount stores online. Not only is the pasta machine helpful for blending colors, but it also kneads difficult clay and softens it so that your hands are spared a workout. Even paperclay can go thru a pasta machine rather than using a rolling pin and the extra perk of using the machine is that you can set the thickness for a uniform consistency all over.
Another tool that you can find in kitchen or bakery supply stores is molds of stones to use for clay. Bakery supply stores carry plastic sheets embossed with various stone designs that are pressed into frosting to leave the imprint of stones. Those same sheets work just as well for clay when you're making walls, walk ways, wishing wells, or fences.
Paint It Pretty
There's a lot of painting involved with dollhouse building but the repetitive motion and tight grasp on the paint brush can make this simple task challenging. That's why you want to utilize any assistance possible when you're painting your dollhouse. For example, there's nothing wrong with spray painting the trim of your dollhouse. Trim pieces such as porch railing or fences or even window frames and gingerbread can be time consuming and require tight grips on both the dollhouse piece and the paint brush. Using spray paint not only takes less time (leaving you with more time and energy to do something else) but it's also easier on your hands, especially for things like large amounts of stair railing or fencing. Just be sure to work in a well ventilated area and use normal safety precautions like goggles and gloves.
Recently paint companies have answered the consumer request to make painting go faster by combining paint and primer all in one can. That was great news for DYI home owners, but it's wonderful for those of us with smaller houses to paint too. The need for fewer coats of paint is always good news and since most companies are offering "paint pods" (small 1 or 2 ounce sample bottles of tinted paint), we can get the benefits of less work/more time in a size that's affordable and practical.
Practice Safe Breathing Habits
For people battling COPD, asthma, and other breathing related illnesses, it's important to make sure that we take steps to take care of our lungs. One of the easiest ways is to always wear a mask when sanding, sawing, using a power tool, painting, or using glue. It's easy to do and should be as spontaneous as putting on safety glasses. Another is to make sure that your workspace is well ventilated with fans or open windows that help circulate the air and doesn't leave things hanging in the air within your breathing space. Even something as simple as the fumes from paint or glue can be hazardous to someone with a neurological illness so don't underestimate how little it takes to cause harm.
Spray painting has its own challenges and even if your lungs are healthy you'll want to follow this advice in order to keep them that way. Always spray paint in a well ventilated area---preferably outdoors if you can. If you do need to paint indoors you can devise your own "paint booth" to create an exhaust for the fumes. My husband creatively used a plastic storage bin and cut a hole in the side where he screwed in a fan from an old air purifier and attached a dryer exhaust hose to the outside of it that fits into an open window. That simple set up is enough to ventilate the paint fumes and particles effectively when used with a mask.
Even if all you're doing is sanding, take just a second to put on a mask and protect your lungs from airborne particles. Your lungs will thank you for it by allowing you to continue mini making without causing a flare up of your COPD.
Take Shortcuts When You Need To
There are lots of shortcuts that you can take to make dollhouse building easier without losing any of the end results. Modern innovations like battery powered lights mean that you can have a beautifully lit dollhouse without spending weeks going thru the wiring process. That saves you time and energy that you can use for something else and you still get the same effect. Admittedly, there are times when going the distance for a desired effect is worth every ounce of effort you put into it, but when you plan your dollhouse, consider where you can take a shortcut and decide if it's worth it in the long run. Since most of what we build is an optical illusion anyway, a few more small optical illusions won't hurt nearly as much as pushing your physical abilities to their limit.
Take Time to Take a Time Out
The most important thing about working around physical challenges is knowing how to pace yourself. Frequent stops are necessary so as not to overexert your muscles or your store of energy. However, we all know how we get into "The Zone" when we're mini making and before we know it, we've been working at something for three hours without a break and when we come back to reality, we're exhausted and miserable. I've discovered that if I keep a kitchen timer on my work table and set it for 15 minutes when I begin work, it works well to remind me to stop and put down whatever I have in my hands, flex my fingers, and get up out of my chair for a few minutes to stretch my large muscles too. It takes some time to get into the timer habit... and some serious self discipline to heed the timer's bell rather than continue working. If you feel that might be an issue for you as well, set an alarm clock for 20 minutes and place it in a location where you have to get up to go turn it off. The timer bell will be a reminder that you have five minutes to wrap up what you're doing so that you're at a convenient stopping point when the 20 minute alarm goes off. It doesn't matter what kind of timer system you use, the important thing is that you are taking frequent rest stops to regain your energy and stretch and relax your muscles.
It's so easy to overextend yourself when you're doing something that you love because you don't want to stop... but the bottom line is that pacing yourself means that you get to do what you love almost every day instead of using up your personal resources in one big push and then spending days or even weeks regaining the strength to do it again. With a little time and practice, you'll find the perfect pace for yourself and your individual needs that allows you regular, happy, and relatively painless mini making time.