The Emotional Healing Power of Miniatures

by Deb Roberts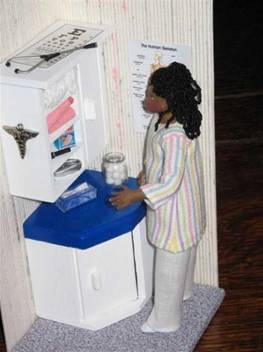 In the first article of this issue we talked about dealing with physical challenges while still making miniatures. This article is going to address another aspect that is even more important….taking care of your emotional and mental needs. This subject stretches beyond those with disabilities and includes people caring for loved ones who are ill or disabled. Creative expression thru mini-making is therapeutic for us all.
Why choose miniatures over other forms of creative expression? I think that all forms of creativity are therapeutic whether that creativity is expressed thru music, painting, sculpting, dancing, mini-making, or balloon animals----the point is that self expression thru a creative outlet is comforting and provides a positive balance to a negative situation. But there's one quality about miniatures that takes it one step further when it comes to therapeutic creativity; in the miniature world we create, we are always in control. When we're building dollhouses or making miniatures, we're creating a small world in which we have the ultimate control over every little thing from the choice of wallpaper to the type of lifestyle our little people live. The joy and happiness and freedom that we might be missing from our real lives is still very much alive and well in our dollhouse world.
The hardest part of dealing with long term and chronic illnesses is feeling as if everything in your life is out of your control. Your body has betrayed you by succumbing to illness and that illness has changed your life. Physical challenges become limitations and giving up the things we love causes us to go thru a form of grieving for those losses. Doctors are focused on dealing with the physical aspects of our illnesses and seldom even address the emotional challenges that we go through. And we're often so tired from the physical demands on our body that we don't have the energy to try and buoy ourselves back up. That wicked cycle is the foundation for situational depression; something that often slips into our lives when we face long term illness or disabilities.
It's very hard to hold onto hope when you're in the middle of a life situation like that. It's all extremely overwhelming and some days it feels as if you have no control over your life at all. That feeling goes hand in hand with one of helplessness and if your illness includes chronic fatigue (and most do), it's easy to fall down that rabbit hole of lost hope and a sense of lost self. You desperately want to break the cycle and do something-anything-to feel like yourself again but bone weary fatigue stops you at every turn.
That's when you need something small to turn your life around. In fact, you need to plan small steps to do that small thing so it doesn't feel so overwhelming. Using the technique of "compartmentalizing" you can break things down into manageable pieces instead of looking at the entire situation. For example, instead of thinking "I want to work on my dollhouse today" which includes dozens of possible things that you need to do, try being more specific and think, "Today I want to paint the window frames for the living room". The isolation of one specific task is easy for your fatigued brain to accept as the goal for today. By not thinking any further than that one task, you've reduced it to a manageable goal and that is the best way to set yourself up for success. Even if your task is something so simple that it only takes five minutes, you'll still feel successful and productive. Remember: Any progress is still progress. You don't have to do a lot to have accomplished something and the most important thing is that you have a feeling of accomplishment for that day. If you have the energy to do more than that one goal without overextending yourself, then there's even more cause for celebration but try not to let that thought of doing more than your set goal overshadow the task at hand. You're not competing with anyone, including yourself. The main thing is that you've overcome a challenge today and achieved your goal.
The flip side to that is not beating yourself up if you are not able to meet your goal. Personal forgiveness is required when you live life with chronic illnesses so be prepared to accept the reality of each day as it comes. When you set goals for your day, be sure to give yourself permission to reschedule a task to another day if you're too tired or ill to complete it. Pushing yourself past your limits only aggravates your condition and makes you feel worse. Being upset with yourself for not completing a goal also makes you feel worse and let's face it, you feel bad enough already without beating yourself up over not accomplishing something that can be done another day.
The best way I've found to compartmentalize my mini-making is also the best way I've found to help organize my work. Quite often chronic illnesses are accompanied by "brain fog"—a condition that inhibits your ability to think clearly and remember things. Brain fogs can cause you to sit at your work table for hours without doing anything because your brain refuses to sort thru all the random thoughts bouncing around about the project. You might start and stop a dozen different things without actually doing anything. Therefore it's helpful to choose a day when your brain isn't foggy to write down a list of what you need to do to build your dollhouse. Written instructions tend to lose their meaning when you're in the middle of a brain fog, but a list of notes that say things like "Glue window inserts to window frames" or "paint fence light blue" is easy to follow. By writing your "to-do" list of building tasks as an addition to the dollhouse instructions, you've compartmentalized a large job into small tasks that are easy to choose from. There may be days when "dry fit entire house" is too much but you can look a little further down the list and see "assemble porch steps" which is a smaller task that you can easily complete. Your list of things to do is the key to setting yourself up for success because it puts you back in control. While there may be things you aren't able to do that day you'll still find things that you *can* do without having to put a lot of thought into it. On good days you can tackle the more complex tasks but even on bad days, you'll feel like you've accomplished something.
Sometimes it helps to break away from a big project like building a dollhouse because despite your best efforts you still feel as if you're not getting anywhere. That's when you need a small diversionary project! It might be a good day to go back thru that list of bookmarks for mini tutorials and pick out something simple and fun that you can accomplish in a short period of time. It doesn't have to be anything special or even something that you have an immediate need for... as long as it's something that makes you smile while you're doing it, that's all that matters. Even the smallest accomplishments mean a lot.
I've discovered that keeping small projects in zip lock baggies is a great way to beat the brain fog when I'm trying to find an "instant gratification" project. Each one has all its components in the bag along with a picture or brief description so there's no confusion or wasted time trying to find a part. Some projects that are portable can be tucked into my purse and taken along to work on while I'm sitting in a doctor's waiting room. If you or a loved one has to go thru time intensive treatments such as chemo, dialysis, or medication infusions, keeping a few of these small projects on hand can make those sessions easier to bear simply because you feel you've accomplished something instead of the time just slipping away.
Unfortunately there are days when despite our best efforts we're not able to do more than lie down and rest. That can be very frustrating which causes a feeling of restlessness and a need to just "do" something. That's when a stack of miniature magazines and a notepad are just what you need! Leafing thru magazines doesn't require a great deal of concentration but if you do find an idea that you like, you can jot down notes about it (including the name, issue, and page number of the magazine where you found it) in your notebook to consider as a project later on. Sometimes it's very hard to do nothing even though doing nothing is what your body needs, so utilizing that time for future planning provides the gratification your brain needs in order to settle down and relax.
There is one other miniature activity that I've saved for the very last because I think it's the best. On the days when my brain is foggy but my heart is restless and my body can't sit still because of the pain, I go to one of my dollhouses and I very simply play. Sometimes I call it puttering and sometimes I call it dusting but what it comes down to is arranging and staging rooms or just admiring and touching my favorite miniatures. Yes, that even includes admiring the dollhouse I built and applauding myself for what I've accomplished. It takes some focus to make sure those thoughts don't turn to grief over what I wasn't able to accomplish today, but it's easy to get caught up in the delightful miniatures and the staged rooms or the storyline behind the house so my focus stays on the positive things. Most of all, when I'm in that miniature world, everything is under control and that's good for my state of mind.
It helps to belong to a community where we're accepted just as we are and we're not defined by our disabilities. The Greenleaf forum has been a sanctuary for so many miniaturists who felt secure enough within our online family to discuss their illnesses and share their strategies and techniques for dealing with it all. Even the most recent thread about the 2012 Spring Fling includes words of wisdom about how miniatures help some of our members deal with their own illnesses or the illnesses of their loved ones. Some of our friends are facing life altering situations and yet the hope that is always present is expressed in statements like "When this is over, I'm going to finish this project and then move onto my next dollhouse" which is followed by detailed plans of what that project will include. The excitement and enthusiasm never dims.
I can say with 100% sincerity that miniatures have kept me grounded and sane. If not for the glorious fulfillment of mini making and the wonderful friends/family that I've made in the miniature community I would have given up a long time ago. I know I'm not the only one to feel that way and on behalf of myself and others I'd like to especially thank Heidi Cleveland and Tracy Topps who have shared so much of their strength and wisdom during times of illness, and Dean Roberts who gives us strength because he never stops believing in us. The biggest thanks go to the wonderful friends we've made on the Greenleaf Forum who are able to openly discuss their illnesses and share how they've learned to keep building, keep coping, and keep hoping. It's the strength shared among friends that holds us all together, and together we'll overcome our adversities one miniature at a time.