Collector's Cabinet

By Heidi Cleveland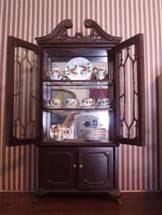 As many of you know, I have had many things on my plate recently. I was not able to get the Collector`s cabinet out to presses last month so here it is for November!
I would love to introduce you to our three collectors this month. We are going to see some lovely miniatures from Havanaholly (Holly), Jo Med (Jo), and Butlerestates (Rebecca).
Holly`s favorite miniature is this adorable potted blooming cactus plant that she put on Maggie`s glass topped table. One day is just showed up in the mail from her *twin sister* and our lovely editor, Deb. She says that receiving the plant was pure serendipity. She had not posted pictures of the fully dressed livingroom yet. As soon as she pulled it out of the box, held it, showed it off, petted it, and carried it around for several hours, she put it on Maggie`s hearth. Shortly after the glass-topped table showed up in a swap box, the little cactus hopped right up there!
This cactus was not even anything she was searching for. It was pure kismet. I asked Holly if this mini expresses something about HER as a person. This was her answer. " You mean my acerbic, thorny nature, or my frequent moments of blooming idiocy?" Holly, I got a good laugh at that. Holly says that Maggie is a tribute to her early S. Florida childhood and her present home in the N. Florida Panhandle. That particular cactus grows everywhere there!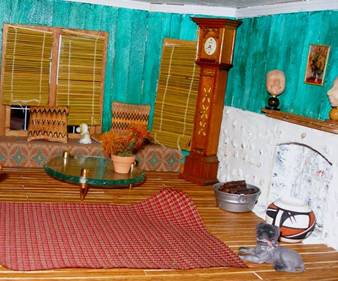 Jo had a hard time picking just one favorite miniature. She left it up to me to pick out of three choices. Gosh it was hard. I thought and looked and decided which one would be MY favorite out of her favorites.
I chose her Mexican coffin. The reason it is one of her favorites is because it was sent to her by one of our lovely forum members. The fact that this member specifically thought of her for this prize is why it is so special. Jo says that kind thoughts are worth their weight in gold (I agree). It is intended for her Goth girl`s bedroom in the Garfield. It will look perfect in there with all the other weird Goth stuff.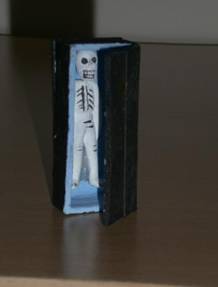 Last but certainly not least, we have Rebecca`s favorite miniature. It is her Rueutter`s Liquor cabinet. She acquired this treasure from Ron`s in Orlando, Fl, so that was a treat in itself! She bought it specifically for the Willowcrest. She had decided she was going to decorate in a Ralph Lauren style decor. Rebecca knew she need to find miniatures that she thought had that "Ralph Lauren" feel to them. She was not sure if she would be able to find many. When she saw this piece, she was so excited because it has the Equestrian mural and plates. The liquor is all very masculine so it fit in her theme very well. Plus she loves Ruetter`s miniatures so it was a win-win. She says this miniature is perfect for her. "The style is very me". Also because of her trip to Florida, her husband said that he thought it would be nice to get one really nice piece to remember the trip by.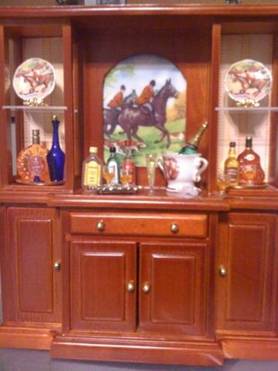 Thanks to all who participated this month for the Collector`s Cabinet. Keep those pictures in the Gallery coming. You may be the next to be asked to talk about your favorite!