Welcome to the Greenleaf Gazette!

Have Merry Mini Christmas!

November 2009
Dear Miniature Enthusiast,
Merry Christmas and Happy Holidays to all! This is our favorite time of the year. Up at the North Pole, er, I mean Greenleaf Headquarters, Santa Dean, Lisa, Bev and all the Greenleaf elves are busy, busy, busy filling all the orders for Christmas. Don't you think that every tree should have a Greenleaf Dollhouse under it?

I selected the Willowcrest Dollhouse as my Product Pick of the Month for that very reason. One of my happiest Yule memories was the morning I woke up to find a Willowcrest kit under the tree! I hugged my husband and then hugged the kit and repeated that sequence over and over all day long. In fact, every time I think about it I have to go hug my husband again! Pardon me while I go do that now.

During this season when we celebrate so many holidays, our common bond is the hope for peace on Earth and the wish for joy in every heart. That's what makes it such a magical time of the year. As miniaturists, we're just a happy type of people in general but this time of year, other people smile almost as much as we do all year long! I like to think that this is what it would be like if everyone in the world were a miniaturist. What a happy place it would be!

To all of our troops at home and abroad, we thank you for the gift of freedom that you give every day of the year. And to all the families of those troops, we thank you for the gift of your sacrifices while your loved one is so far from home.

From all of us at Greenleaf to all of you:

Have the happiest of holiday seasons!
Deb Roberts
Editor in Chief
---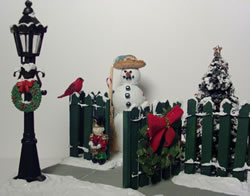 "Let it Snow" Vignette

By Deb Roberts

~~City sidewalks, busy sidewalks, dressed in holiday style. In the air there's a feeling of Christmas~~ Sing along with me if you know the words! "Silver Bells" is my favorite Christmas song so maybe that's why I visualized this little scene when I was wondering what mini to make for Christmas. However, I didn't visualize a busy city sidewalk. Instead, I thought of a quiet and quaint sidewalk scene leading up to a charming little home-a welcoming place with lights in the windows and beautifully decorated rooms inside. Of course it had to be a dollhouse!
---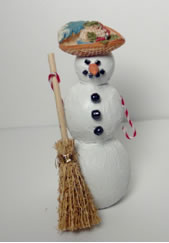 Silly Little Snowman

By Deb Roberts

The snow may be delightful, but when the weather if frightful, I'm much rather make my snowman indoors! I've tried it with real snow and it didn't work out as planned. Oh well, the kitchen floor needed to be mopped anyway. So let's forget about the real snow and make some of our own to play with!
---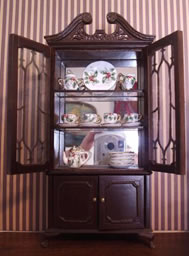 Collector`s Cabinet

by Heidi Cleveland

I would love to introduce you to our three collectors this month. We are going to see some lovely miniatures from Havanaholly (Holly), Jo Med (Jo), and Butlerestates (Rebecca).

Full story...
---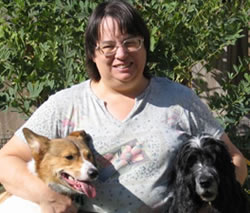 Member of the Month - Meet Teresa (Thmini2)

By Heidi Cleveland

This month I would love to introduce you to Teresa (Thmini2). She has been a member of the Greenleaf forums since July 5, 2007. She is also celebrating a birthday this month. Happy Birthday Teresa!
---
Havana Holly's Quick Tips!

By Holly Parker

CHRISTMAS ORNAMENT MINIS: This is too obvious, but with all the self-proclaimed newbies I might get away with this one... I'm not talking about the Hallmark ornaments, which really are minis, but things like package decorations and ornaments for table-top trees. Dollar stores, drug stores, etc, all have the packages of "stuff" that really can be used for minis. You can soak the glitter off the clear/ frosted plastic cherub/ angel/ rocking horse ornaments with nailpolish remover and spray them with primer and paint them. The mini wooden ornaments can be used as is or repainted. I love the little shiny Christmas gift box garlands, they look terrific piled under a mini tree.
---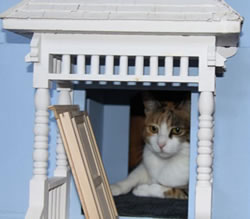 The Critter Corner!

Officer, I believe it was a cat burglar!

Theo discovered that the door hadn't been locked (well, glued) and took advantage of the situation. It didn't take long before he had the door completely removed and made himself at home. By the look on his face, we're betting that he'll never let a closed door stand in his way again!

Thanks to Lisa R and Theo for sharing such a cute picture with us. They'll be receiving a $25 gift card from Petsmart for being featured in the Critter Corner.

If you'd like to submit your pet's picture for consideration for the Critter Corner, you can upload pictures in the "Good Pets acting bad!" or "Good Pets acting cute!" galleries at the Greenleaf Forum.

A Special thank you from Dean: I would like to thank all who participated in last months sales event that was held in honor of my dear departed friend Seven. A friend of mine, Rich McCaffery, is actively involved with the Cooperstown SSPCA and assures me that the funds will go where they are most needed.