Silly Little Snowman

By Deb Roberts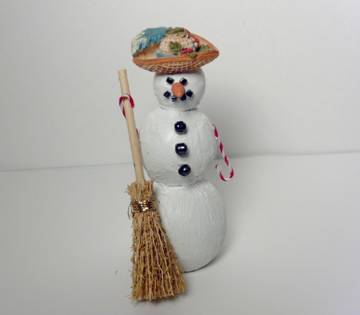 The snow may be delightful, but when the weather if frightful, I'm much rather make my snowman indoors! I've tried it with real snow and it didn't work out as planned. Oh well, the kitchen floor needed to be mopped anyway. Let's forget about the real snow and make some of our own to play with!
Making a mini snowman is much, much easier and a lot less messy! For this silly little snowman (or snow woman), you'll need three balls in graduating sizes... one large, one medium sized and one small. The size is entirely your preference depending on how big you want your snowman to be. I used wooden balls; the largest is a wooden drawer knob which is flat on the bottom. You could also use styrafoam balls.
For the rest of your supplies you'll need:
Greenleaf Dollhouse Stucco
White latex paint
Six black seed beads
Three slightly larger black beads
Two small candy canes or stick for the arms
A carrot for the nose (I made this one of Paperclay)
A hat
A broom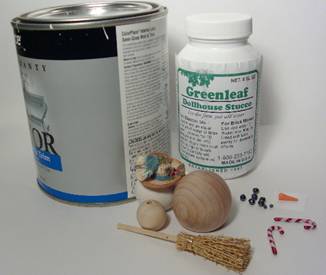 Begin with mixing the Greenleaf stucco with the white latex paint. You'll want to use a 60:40 ratio to get the consistency of wet plaster.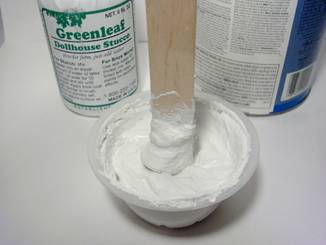 Glue the balls together to make the snowman form and then brush on a heavy coat of the stucco. The best way to apply the stucco is to use a stiff bristle brush and dab it on. Apply a heavy coat (about twice as thick as you would apply paint) and allow to dry. After it's dry you may want to apply a second coat to get a "fluffier" look to your snowman.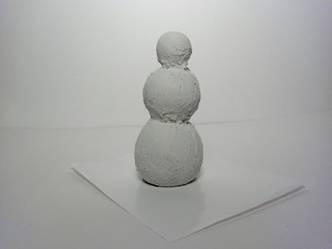 After the stucco is dry, use an emery board to lightly sand down the surface and remove the little peaks. As you sand, you'll notice that you're shaping the stucco. Give your snow an uneven surface with "smoothing" marks here and there to imitate the marks left in snow by little hands patting their snowman into shape.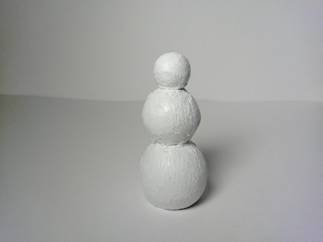 Glue two small beads on the face for eyes and four beads under that for the smile.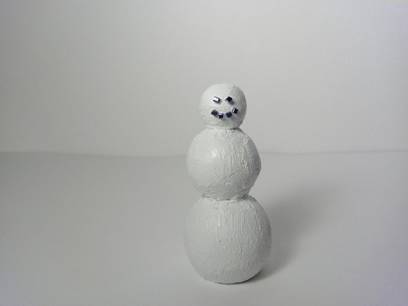 I used Paperclay to make the carrot for the nose but any clay would do. You can also use a piece of posterboard or card stock rolled into a small cone shape and painted orange. Add a few dry strokes of grey or dark brown paint here and there to really give the carrot some depth.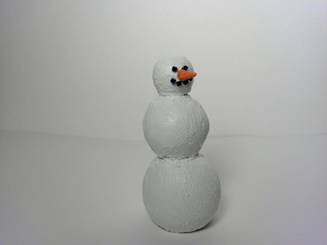 No snowman is complete without a hat! The type of hat you choose will determine your snow person's personality. If you raid your mother's closet, you'll get a lovely snow woman (and possibly a long time-out for taking mother's things without asking) A top hat or derby makes a nice gentleman snowman, or use a knitted hat and scarf to make a snow child.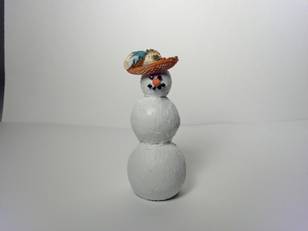 Add the three lager black beads to the front for buttons.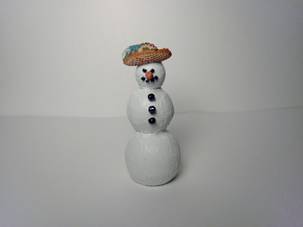 And finally add the candy canes for arms and give the snow person a broom.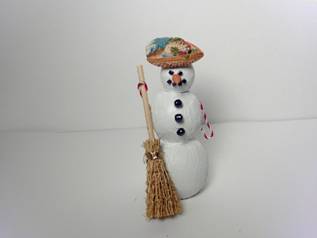 A simple and silly little snow man that everyone will love! If you'd like to create a home for your snowman, see the first article in this issue of the Gazette for the "Let it Snow" vignette tutorial.