Welcome to the Greenleaf Gazette!

Working With Wallpaper

October 2009
Dear Miniature Enthusiast,
Have you seen? Have you heard? The Taft General Store Dollhouse Kit is back! It's laser cut which means that every cut is perfectly precise for fabulous detailing. I'm fascinated with all the detailing of the Taft from the exterior stairs to the post office boxes and counters inside. There are even benches outside! With a choice between the Taft or the laser cut Brimbles Mercantile, it will be a hard decision about which shop to make first. (and you'll definitely want to make both!)
This month the Gazette takes a look at wallpaper. There are two schools of thought on wallpapering based on two types of building styles………those who decorate after the house is built and those who decorate during the building process. Both ways are wonderful and it's just a matter of personal preference as to which style a builder uses. Linda Cullen, one of Greenleaf's master builders, joins us this month with a walkthrough of how to wallpaper a tower after the house is assembled. The next article shows how to wallpaper before building a house. And finally, we have a tutorial and some suggestions about what to do with those leftover wallpaper scraps!

Happy Halloween everyone!
Deb Roberts
Editor in Chief
---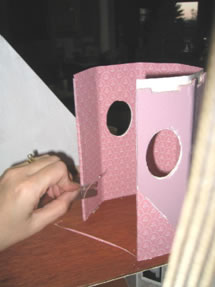 Wallpapering a Tower After Building

By Linda Cullen

Join Linda as she shows us how to wallpaper after a house is built and create a picture perfect tower room!
---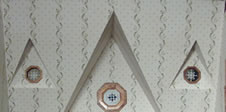 Wallpapering Before You Build

By Deb Roberts

Follow along as we look at the technique of wallpapering a house before it's built, including how to wallpaper around those tricky angles.
---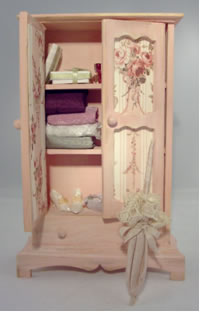 Decorating a Hutch with Leftover Wallpaper

By Deb Roberts

Wondering what to do with those scraps of leftover wallpaper? Use them to dress up a craft store hutch and turn it into a shabby chic delight!

Full story...
---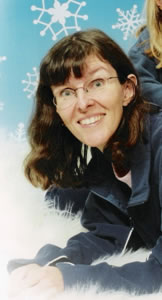 Member of the Month - Imgervais (Liza)

By Heidi Cleveland

This month I would love to introduce you to Imgervais (Liza). She has been a member of the Greenleaf forum since December 7, 2008. Liza lives in Ottawa, Ontario, Canada with her husband of 18 years and her three children.
---
Havana Holly's Quick Tips!

By Holly Parker

Many folks want to build a dollhouse for their baby/ small toddler to play with and are rightfully concerned about safety issues. Until a child is old enough to play unsupervised with sharps (scissors, pins, etc), a child should always be supervised playing with any toy with sharp corners or edges.

Until a child is old enough to want doors that open and close leave the doors off. I would also leave off the trims for the doors, and I would do the same with the windows. Next in addition to sanding all the rough edges I would go back with spackling compound or other filler of choice and make all the edges smooth. In addition to using carpenter's wood glue to assemble the kit, I use heavy-duty steel staples to reinforce the corners. I also use 1/4" square stripwood cut to the height of each interior wall and glue and staple them pieces into the corners and edges for added sturdiness. I would paint the finished house with a glossy, washable interior latex paint in colors pleasing to the child. Decorations (window & door trims, roofs, flooring) can be make from paper and glued on with a tacky glue that can all be removed later, when the child is older and ready for a more complete house; then you can add the doors and windows and roofing & flooring, and the child can help.
---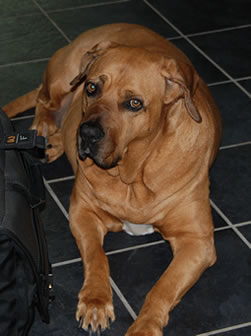 A Special Edition Critter Corner!

By Dean Roberts

Please excuse me for indulging myself, but I lost my dear friend Seven at the beginning of the month. My life hasn't been the same without her and I wanted to dedicate this month's critter corner in her honor. She has been a central part of my life for so long, I feel lost since she's gone. As with so many other animals, she was a friend in need when I found her, so in her memory, I'm having a 7% off sale until the end of the month with all the proceeds to be donated to the Cooperstown SPCA. Just enter the coupon code seven during checkout.

I'd like to apologize to Lisa R and Theo for muscling in on their feature and thank them for their understanding. They both will be highlighted in next month's Critter Corner.

If you'd like to submit your pet's picture for consideration for the Critter Corner, you can upload pictures in the "Good Pets acting bad!" or "Good Pets acting cute!" galleries at the Greenleaf Forum.