Magical Cane

By Heidi Cleveland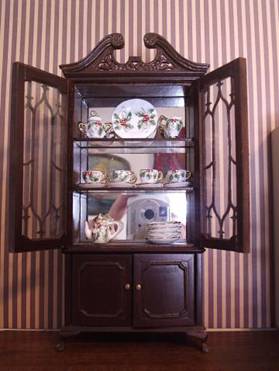 Welcome to the Collector`s Cabinet. This is a new article that will run once every three months here in the Gazette. It will feature three Greenleaf Forum members and their most special piece from their miniature collections. For this month we will be featuring miniatures from Susanne (MissyMew), Margarita (ilovecats), and Lynette (Lynette Smith).
Susanne had a very hard time picking which one of her miniatures were her favorite. She has accumulated a number of artisan pieces over the years. Several of her most treasured pieces are miniature children`s toys. Susanne has not able to get to many mini shows so her main sources of artisan work is through miniature magazines. Right now Susanne`s prized possession is a Amanda Skinner Rocking Giraffe.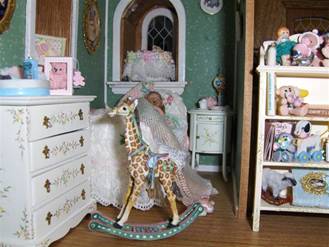 Ms. Skinner's animals are cast iron and painted with incredible detail. The animals are mounted and displayed as rocking or pull toys. Susanne fell in love at first sight and had to have one. Susanne was on the hunt for the giraffe. She had found one but it had been sold. She searched online until that giraffe was hers. As luck would have it, someone was selling one online as part of an estate sale. Fast forward a few weeks later and she was able to see, touch, and own her very own. Susanne appreciates artists that strive to achieve the very best in their field. She marvels at how they can part with their creations. Having a piece like this giraffe in her collection feels like Susanne is entertaining a small piece of someone else`s imagination in her own home.
Margarita had a hard time choosing which miniature she wanted to feature. So she chose two. They are two wicker sets made by our very own Smallhouset.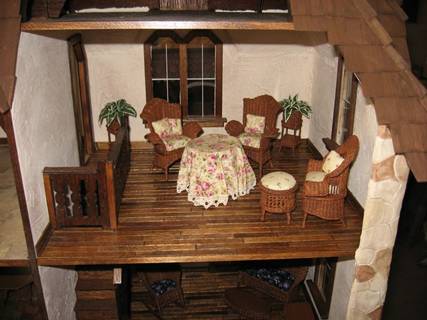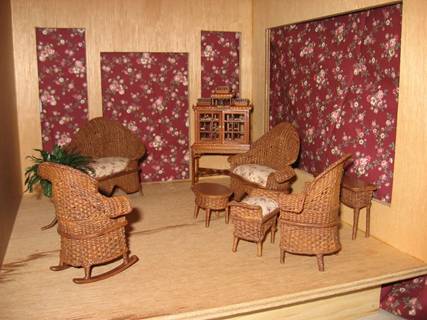 When Marg was trying to decide which of her collection would be considered her favorite, she kept going back to her custom made wicker furniture. She loves the entire set so she was unable to choose just one piece. Then the difficulty mounted when she had to decide which set to choose. She says that if she had to sell off her miniatures for some reason, she would be unable to part with her wicker. When Marg started collecting miniatures four years ago she fell in love with wicker furniture. She could not believe the prices that some online stores wanted for the pieces. She once found a set that she wanted but she had waited too long and it was sold. Marg was determined to get a wicker set one day. One day she stumbled across some pictures in the Greenleaf forum of wicker made by Smallhouset. She commissioned a set of wicker to go in her Foxhall conservatory. The finished product was even more beautiful than Marg had anticipated. She has since commissioned other rooms of furniture. One set is for the morning room in the Foxhall and the next will be a nursery set. Can you tell that she is a huge fan? Marg feels that these sets express her romantic dreamy side. She feels that wicker has such a romantic, beautiful and feminine quality. She wants to have it in all of her dollhouses. She daydreams of decorating a dollhouse in wicker with flowing curtains, a tea table and an open book. That is the real Marg even though she does not express it in real life. She can picture a miniature Marg sitting in the environment and drinking up all the romance of the setting.
Lynette does not consider this piece her prize possession but rather one that tickles her pink. She has a fireplace tea light candle holder in the French Provincial style.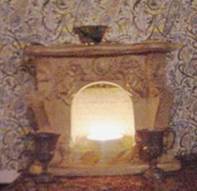 She found it at a thrift store for $2.00. Lynette was in line to buy a tin but only had enough money for one and had trouble making up her mind. Her friend came to her rescue and gave her the other dollar that she needed. When she got near the check stand, this fireplace was on the shelf. She put down the second tin and bought the fireplace instead. She loves having fires in her fireplace but it is not always convenient. Last Thanksgiving she had a small house fire! She admits that the fireplace, with its molded gilded leaves, is a little cheesy, but now her dollhouses can have instant and authentic ambiance. Sometimes Lynette sets it on her nightstand. She wants to figure out how to make another one in a more authentic style.
Lynette feels that a fireplace is like most miniatures: Something people enjoy and/or wish they had in reality.
This concludes our October installment of the Collector`s Cabinet. I hope you enjoyed this flagship article. I will be busy scouring the Greenleaf Gallery looking for plenty of eye-candy for the next issue in January. You never know. You may be next to offer your prized possession for all of us to see.
Happy Halloween!
Heidi Cleveland