Welcome to the Greenleaf Gazette!

Autumn Minis and Special Treasures!

October 2008
Dear Miniature Enthusiast,
This is the time of year when we all take some time to think about the things for which we're thankful. As miniaturists, we're always thankful that we have such a wonderful hobby (well, lifestyle) that brings so much fulfillment and joy into our lives. Here at Greenleaf, we're most thankful for you, the miniaturists. We'd just like to take a moment to tell you how much you're appreciated and to thank you for letting us be a part of your miniature world.

In case you missed the announcement about the winner of the Beacon Hill give-away, you can find the official announcement here. Congratulations Susan!!

Happy Halloween to one and all!
Deb Roberts
Editor in Chief
---

Anna's Fimo Pumpkin Pie

By Anna Magnusson

Follow along with Anna as she shows us how to make a mini pumpkin pie that looks good enough to eat!
---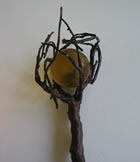 Magical Canes

By Anna Magnusson

In this great tutorial, Anna shows us how to make magical walking canes or wizard staffs. There's also an excellent plot "twist" at the end, showing how the same technique can be used to make trees. You won't want to miss this one!

Full story...
---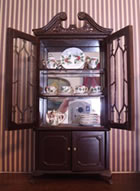 The Collector's Cabinet

By Heidi Cleveland

Welcome to the Collector`s Cabinet! This is a new
feature of the Gazette that you'll be seeing every three
months. Join Heidi as she chats with members of our
miniature community about their most cherished
minis and what makes them so special!

Full story...
---
---

July Member of the Month - Meet Meet Monica (The Haunted)!

By Heidi Cleveland

II would love to introduce you to our October Member of the Month, Monica (the haunted). I thought it was fitting to have a haunted member of the Greenleaf forum be featured for October. BOO!
---
Havana Holly's Quick Tips!

By Holly Parker

CLAMPS: There are a number of clamps useful to the miniaturist, from my personal favorite plastic spring-type clamps with the little toothed bits on the front that can swivel to hold a few things at a shallow angle (and provide entertainment wiggling back & forth while waiting for your Muse to hit back) that come in a big plastic tube from Harbor Freight (I must post a request in Corwin's thread for a use for those tubes! Maybe an elevator shaft for an Art Deco Emerson Row...) to the 24" & 36" bar clamps I use to hold side walls to the floor edges whilst the glue dries when there's a side porch preventing me from laying the house on its side with a med-surg nursing textbook on top to weigh it down. But if you're a budding newbie builder without the helpful DH, might I suggest, in addition to masking tape, that those good ol' wooden spring-type clothespins make perfectly good clamps for holding smaller parts together? Oh, look I suggested it, anyway. And if you don't have the spring-type clothespins, why haven't you already used up all your peg-type ones making mini dolls & railing posts with those? Anyway, in THAT even, raid your SO's rubber band collection, you will be amazed how well a few of the big rubber bands will hold things together while the glue dries.
---
The Critter Corner!

A really big house for a really tiny kitten!

Sometimes even a miniature house can be a little too big. Patches is only 7 weeks old, but she found her way into Kathie's Beacon Hill while it was on its back. She seems to be happy that her new home has a mini home that's almost her size, but a bit puzzled as to whether this is a door or a skylight. We have to wonder if she'll be content with a Beacon Hill as she gets bigger, or if she'll be asking Kathie (neechee) to build a Garfield for her someday!

Kathie and Patches will receive a $25 gift card from Petsmart for being featured in our Critter Corner.

If you'd like to submit your pet's picture for consideration for the Critter Corner, you can upload pictures in the "Good Pets acting bad!" or "Good Pets acting cute!" galleries at the Greenleaf Forum.