Welcome to the Greenleaf Gazette!

Mini Tricks and Treats for Halloween!

September 2007
Dear Miniature Enthusiast,
One of the favorite times of year for the miniature community is Halloween when we can let our imagination run wild, and no one does mini Halloween better than Greenleaf! From the Original Haunted Dollhouse, to the talented artists creating spooky treats at the Greenleaf Miniature Community or the Beacon Hill give-a-way, it's a bewitchingly good time! Come and join in the fun with some tips and tricks and a lot of treats.
Deb Roberts
Editor in Chief
---

Halloween by the Book

By Deb Roberts

We've all seen those cool wooden books sold in craft stores and had a feeling that there was something about them that would make a great miniature. We were right! Here's a spooky scene just perfect for Halloween.

Full story...
---

Anna's Pumpkin Teapot Tutorial

By Anna Magnusson

Follow along with Anna as she shows us how to make a tiny pumpkin teapot from fimo clay!

Full story...
---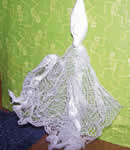 Spooky Ghost in the Wall

By Lynette (Nutti) Lowery

Nutti shows us how to make a spooky ghost coming thru the wall of your mini haunted house.

Full story...
---

September's Featured Member of the Month - Meet Anna

By Teresa Martens

Anna has been a member of the Greenleaf Miniature Community since May 29, 2005. She is a teacher and enjoys sharing miniatures with her students and often works them into her lessons. With 3,452 posts (and counting!) Anna shares with us her talent for making miniature items as well as her love of travel. And to top it all off she lives in Sweden!
---
September Quick Tip

By HavanaHolly

To make "bug juice" fill a jar with isopropyl alcohol and add India ink a few drops at a time; it needn't be too dark, as you can keep brushing it on to get the silvery effect on wood. An alternative method is to fill a glass jar halfway with white vinegar and drop a fine steel wool pad into the vinegar. Let it sit until the pad has mostly dissolved into rust (Thanks Holly!)

If you would like to submit a Quick Tip to the Greenleaf Gazette, please send an email with your tip to deb@greenleafdollhouses.com and include the words "Quick Tip" in the subject line.
---
The Critter Corner!

At last! A house just my size!!!

Tank the Ferret seems to be delighted that his owner, Amanda, has provided him with a house that's just the right size for a frisky ferret. Amanda says that he makes his way from room to room thru the doorways and even climbs the stairs. What could be more perfect for a ferret playground than a dollhouse!

Thank you Amanda for sharing this picture of Tank with us. Tank will receive a $25 gift certificate from Petsmart for being September's critter of the month.

If you'd like to submit your pet's picture for consideration for the Critter Corner, you can upload pictures in the "Good Pets acting bad!" or "Good Pets acting cute!" galleries at the Greenleaf Forum.