Welcome to the Greenleaf Gazette!

Pretty Little Houses all in a Row

MAR/APR 2012
Dear Miniature Enthusiast,
We have some exciting topics for this months newsletter, but the buzz on the Greenleaf Dollhouse Forum is all about this years Spring Fling Contest. If you missed the big news, this years kit was offered at $18.95 delivered, so interest spread like wild fire around the Internet! Even though the free shipping offer has expired, I was able to get a coupon code, DEBSCORES, to continue it through Monday (read the Spring Fling article for details). With the contest deadline being extended until Labor Day, there's still plenty of time to join the fun!

Brownstones! We have some great articles for ya, but hold on; I was able to get a exclusive deal for newsletter subscribers. Just use the code I mentioned above, DEBSCORES, and you save 20% on the Emerson Row, Cheltenham and Gloucester Dollhouses (limited quantities) plus FREE SHIPPING*! It's all in the name of good fun, so enjoy!

Until next time,
Deb Roberts
Editor in Chief
---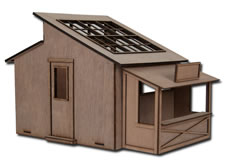 2012 Greenleaf Spring Fling Kit Preview

by Deb Roberts

Greenleaf has released the kit for Spring Fling 2012 and for a little while it left me speechless. There are so many wonderful aspects of this kit and SO much potential in the mix-and-match components that my mind just went into overdrive thinking of all the things that I can do with it. At $18.95, it's a must have and check this; I was able to score a coupon code for FREE SHIPPING... read on for details!
---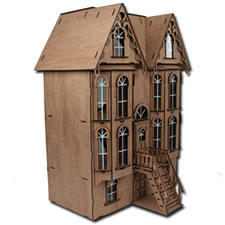 Getting Down to Earth with Brownstones

by Deb Roberts

From the dawn of time humans have used stone to create safe havens of shelter. Not much has changed and the history of modern architecture includes many various types of stone houses even though we no longer build from stone simply for safety. Sometimes the use of stone is to create a sense of grandeur but sometimes it's a matter of necessity. Stone houses were usually built most often in places where wood wasn't readily available but even that forced masonry has been very creative.

Full story...
---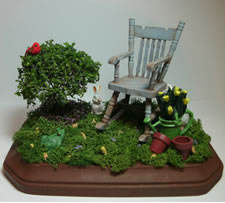 Brownstone Backyard Garden

By Deb Roberts

Brownstones have a rather unique challenge when it comes to landscaping. Row houses don't have room for more than a planter or two on the front stoop, so tiny little gardens filled as much space as possible in the back yard. I've designed this tutorial to work in two ways. It can be a stand-alone vignette if you use the wooden base, or it can be worked into the back garden of your Brownstone dollhouse. Either way, it's a lovely little scene that makes me think of quiet evenings spent potting plants in the backyard with the sound of crickets chirping. It's very homey and earthy and peaceful.
---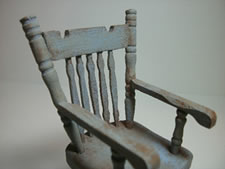 Creating a Weathered Patina

By Deb Roberts

From the time I was old enough to walk I was always sneaking off to play in the dirt. If I had access to water than my goal was to play in the mud, but I'd settle for dust if that was all I could get. So it's not surprising that after all those childhood years of mud pies and sand castles, I learned that dirt is beautiful.
---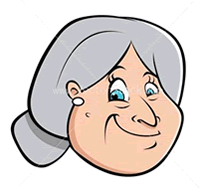 Ask Aunt Bea

By Beatrice Annabelle Minimaker

Hello sweeties! Come in and sit down comfy for awhile. I'm sorry if there's a little dust in the air but I've been spring cleaning. Isn't it just the best feeling when you shake out all the winter dust and make everything all clean and shining again? Today I've taken every single item out of every single room and then dusted and polished every floor, window frame and door. After that I cleaned and dusted every single item before I put them all back into the spotlessly clean rooms. Whew! That was a lot of work, but it looks so good in the dollhouse that I'm thinking of hiring someone to do it to my real house next week.
---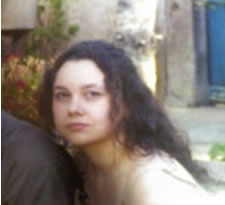 Member of the Month - Meet Kabrina!

By Heidi Cleveland

For this month, I would love to introduce you to a wonderful member of the forums, Kabrina. Kabrina has been a member of the Greenleaf forums since June 25, 2009. She is a very talented, sweet, and caring person. She is a good person to know and I thought we would all like to get to know her a little bit better. Kabrina resides in Arizona with her husband, her son Aiden, daughter Elora Dawn, and a host of furbabies. Oh! And a turtle named Koopa.
---
FUN FACT:

Did you know that you can shop for affordable dollhouse tools in the cake decorating section of the local craft store? Cake decorators make stonework too and you can find everything from brick stencils to plastic templates that you press into clay to embed the stone design. They even have clever little rollers with templates to make the job even faster and I've seen everything from siding to stone to shingles. The next time you're in your local craft store, take a turn down the cake decorating aisle and you just might find some sweet tools.
---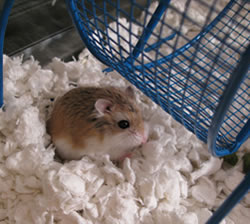 The Critter Corner!

Dollhouse Building Goes Green

In a recent study, hamsters were found to be an efficient source of power for small Dremel type tools when their exercise wheels were hooked up to a small generator. With the exception of a few soggy wood chips, hamster power is a clean source of energy. Unfortunately, hamsters are prone to taking sudden naps and extended lunch hours so they aren't a consistent power source. They are however, still the cutest bundle of energy we ever saw!.

Thanks to Brae for sharing such a cute picture with us. Sydney is a Robo Hamster and he will receive a $25 gift certificate from Petsmart for being featured in this month's Critter Corner.

If you'd like to submit your pet's picture for consideration for the Critter Corner, you can upload pictures in the "Good Pets acting bad!" or "Good Pets acting cute!" galleries at the Greenleaf Forum.