Getting Down to Earth with Brownstones

by Deb Roberts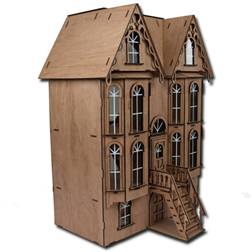 First, the important stuff: There is a coupon at the bottom of this page that you can use to get 20% off the Emerson Row, Cheltenham and Gloucester Dollhouses (limited quantities) plus FREE SHIPPING*! Scroll down for details!
From the dawn of time humans have used stone to create safe havens of shelter. Not much has changed and the history of modern architecture includes many various types of stone houses even though we no longer build from stone simply for safety. Sometimes the use of stone is to create a sense of grandeur but sometimes it's a matter of necessity. Stone houses were usually built most often in places where wood wasn't readily available but even that forced masonry has been very creative. In the desert southwest, durable houses were constructed using clay made from the local soil mixed with straw to give it cohesion. The result was adobe houses that maintained a consistent interior temperature naturally; something vital for life in the desert. In the Midwest, houses were constructed with sod. Chunks of sod were carved from the earth and used to create primitive, yet durable and fully functional homes. Many the pioneer woman despaired of such living arrangements after leaving behind her wooden Victorian house back east, but their hardy spirits adapted to necessity.
The point I'm leading up to is that regional architecture always finds its roots in the earth where it's planted. Peachy coral tones dominate the urban landscapes in the southwest and light browns and tans are the palette of the Midwest. But as you move back east, the tone subtly shifts and changes until you find yourself surrounded by the towering walls of the brownstones.
Brownstone is native to the East coast where the stone was primarily mined from quarries in New Jersey and Connecticut. The brownstone was affordable because it could easily be transported downriver via barges to New York where the upper middle class embraced it with enthusiasm. The region is rich in iron which gives brownstone its nice dark brown color and the natural texture sometimes even includes fossil imprints which make it even more interesting as a building material. As New York City's upper middle class population boomed, contractors quickly discovered that brownstone made a wonderful façade when a layer less than a foot deep of the beautiful stone was added to a wooden or brick building. With that kind of beautiful stonework during the height of the Victorian era it's only natural that brownstones would become home to some amazing and unique architectural features. Every mason was eager to show off his skills and make his brownstone more incredible than the one before. Needless to say this made rows of brownstones a truly impressive sight!
Features of Brownstones:
Gargoyles
In his preface for the book "Nightmares In The Sky", a photo collection by f-stop Fitzgerald of gargoyles found in architecture; Stephen King observed that gargoyles are more prevalent than most people think. As a society we tend to be oblivious to things above our normal range of vision so most people never look up to see that there are creatures incorporated into the stone buildings, always watching as we humans come and go. Gargoyles serve a useful purpose as rain spouts but the architects of the time had more than a little bit of Victorian sensibility and saw no reason to make the rain spouts boring. Gargoyles are so much more romantic, gothic, and ornate than straight tubes of tin and are still perfectly functional. They are also more durable and provide the crowning character of the brownstone's architecture.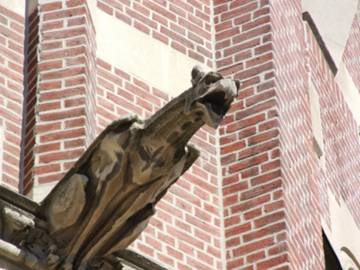 If one were to able to walk thru the streets lined with brownstones looking up at the sky rather than down at the sidewalk, the array of stone faces gazing back down might be a little intimidating. For the miniaturist who isn't blessed with their own impressive carving skills it pays to watch the craft store offerings during Halloween when gargoyles in just the right size for our scale are readily available.
Quoins
Masons put their creative skills to the test when it came to brownstones because the sandstone is so soft and easily manipulated. The precision with which it could be cut led the way to innovations like corner quoins which would later be one of the most distinctive architectural features of a brownstone. In miniature this look is particularly effective because it not only covers the joined corner of the house for a more finished look, but it also makes a great place to hide electrical wires! You can make your own quoins or buy plastic versions in 18" lengths from your favorite miniature retailer. This Willowcrest isn't a brownstone but you can see the elegant effect of combining brownstone type stonework with corner quoins.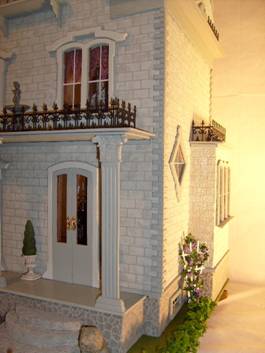 Front Stoop
Perhaps one of the most recognizable features of a brownstone is the traditional front stoop. Derived from the Dutch word "stoep", the term was coined for the wide stone steps and platforms that welcomed one to the front door of a brownstone. These stoops are traditionally very ornate and might feature anything from the then-popular pineapple to a more majestic look of lions or guard dogs. Railings could be made of concrete or wrought iron depending on the overall look desired. From Roman to Greek and everything in between, the front stoop was the heart of the brownstone. It was the open arms welcoming its weary residents home after a hard day at work and later on it became where its occupants could gather and socialize with neighbors.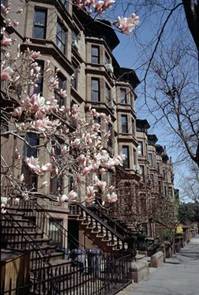 During times of financial crisis such as the Great Depression, women were known to take their bucket and scrub brush door to door and scrub the front stoop for a penny or two, so the stoop has even helped out in times of hardship. Besides windows, how many other architectural features can say that?
Technically speaking, if you're building a mini version of these fabulous front stoops, you'll want to use the formula of 9 inches of rise per one foot of tread (or buy the Emerson Row which comes with a perfect front stoop). I highly recommend Greenleaf stucco mix to create the concrete look you'll need for the realistic look for your stoop. Combine just enough stucco mix into light grey paint to the consistency of pudding and you'll have exactly what you need for concrete. One thing to keep in mind if you're building your own is that front porches were not originally part of the brownstone stoops. The porches were added later in the 20th century when many a brownstone received a facelift during urban renewal projects.
This Lily by Tracy Topps has the right tone for a refreshed brownstone. The addition of the wrap-around porch combined with the Second Empire mansard roof makes for a fascinating effect.
Pediments
One of the features of brownstones is the enormous number of windows located on the front of the building, which makes sense considering that the sides and backs of these row hoses were so close to one another that privacy would literally "go out the window" if there were anything but solid walls on those sides. They are also a bit of an urban necessity for areas where the concrete jungle literally grew up on all sides, blocking the sunlight from smaller houses tucked away in the shadows of giant skyscrapers. Natural light became a precious commodity during the industrialization of our cities and the brownstone solved that dilemma by fitting as many windows as possible into one side of the house. Of course, this provided yet another option for some ornate stonework to be done on the façade in the form of fancy window pediments. If you're willing to take your mini brownstone to the highest level, consider investing in some of the ornate Victorian style windows and window pediments from Houseworks. Brownstones reflected many different styles of architecture from Italianate to Greek Revival to pure Victoriana so don't hesitate to combine some ornate woodwork such as corbels, fascias, and pediments with your stones.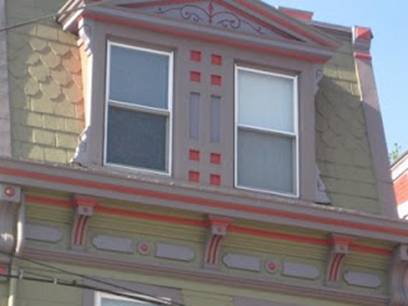 Reproducing Brownstone in Miniature
Brownstone is actually a type of sandstone which means that millions of years ago, sandy deposits containing feldspar, quartz and mica (that's what makes those shiny sparkles) settled in layers to create the amazingly complex look we find in brownstone. Since it's not a volcanic stone, it's a lighter, airier type of stone. The high iron content gives it a rich, luxurious dark brown color that is just as elegant as marble but much more affordable and easier to work with.
Just as the real brownstone is applied over wood (and brick), your miniature house will need a new façade applied to turn it into a brownstone. Real life masons worked hard to make the brownstone appear to be one solid piece with the appearance of marble, so if that's the look you're going for in miniature, consider using either Greenleaf stucco (slightly textured finish) or spackle (completely smooth finish) and apply it with a piece of hard plastic like a credit card to get a satiny smooth finish. A bit more practical and traditional is the distinct look of individual stones which was the norm for all but the most expensive brownstones.
There are many different ways to create stonework in miniature and the choice depends on your own individual style as well as the end result you're looking for. The most realistic look in miniature stonework is achieved either with Paperclay or Magic Systems but I've seen some equally gorgeous stonework done with paper egg cartons or sandpaper. Regardless of the method you choose, the most important thing to do before you begin is go outside, find the largest rock you can, and sit down to study it. Take pictures using the macro feature so you can look back at them later and still see all the swirls, whirls, lines, flecks, and specks that make every single rock different from other rocks. That may sound like silly advice but the best way to achieve a successful reproduction of some of Mother Nature's work is to go outside and get to know the real thing better. After you've become acquainted with the ways of rocks, do some research online about brownstone specifically so you can see the true color of brownstone and how the various layers of mica and quartz are worked into the larger stone. Once you've done some visual research into the nature of rocks in general and brownstone in particular, you'll be ready to choose your medium and start putting that stone façade together with a style and color that's true to real life.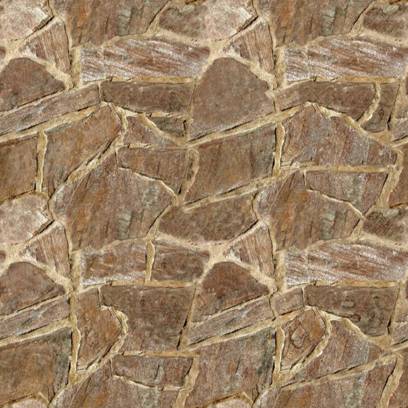 One thing to consider if you're going to be using modern décor in an old brownstone is that the stone is no longer fresh and new as it would be if you were creating a Victorian setting. Brownstones were built in areas of industrialization where acid rain and other forms of urban pollution pitted and marred the surface; creating even more character in the stone.
Kabrina's Gloucester shows us a lighter tone of brownstone, something that would have been highly coveted for it's unique shades. Natural variations do occur so while brownstones are primarily known for their dark color, don't feel confined to that one bottle of Nutmeg brown when you can play with a whole range of tones in that colorway.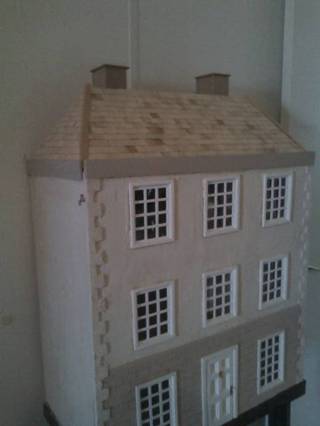 Of course that's all just the exterior detail of a brownstone. The potential for the interior décor can range from the 1800s through today so these houses have tons of potential. If you're looking for a graceful and elegant alternative, don't hesitate to take a step away from the traditional Victorian styles and get down to earth with a brownstone.