Ask Aunt Bea

by Beatrice Annabelle Minimaker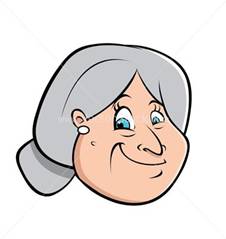 Hello sweeties! Come in and sit down comfy for awhile. I'm sorry if there's a little dust in the air but I've been spring cleaning. Isn't it just the best feeling when you shake out all the winter dust and make everything all clean and shining again? Today I've taken every single item out of every single room and then dusted and polished every floor, window frame and door. After that I cleaned and dusted every single item before I put them all back into the spotlessly clean rooms. Whew! That was a lot of work but it looks so good in the dollhouse that I'm thinking of hiring someone to do it to my real house next week.
Q. I'm building my first house and it's so much fun! I'm trying to make it look as much like a real house as I can but it bothers me that the staircase takes up so much room. If I left it out there would be more space and I could buy more furniture. Would it be such a bad thing if I left out the stairs?
A. Oh my, I wish I had a nickel for every time I'd heard that question! The answer is an easy one too. It's your house and they are your rules. You can build it anyway your heart desires because the main purpose of building and owning a dollhouse is to make you happy. That might sound like a pat answer, but it's true!
Technically speaking, stop and consider the way your dollhouse would look if it were life sized and next door to your real house. It would be as if your neighbor's house were cut in two so you could see right inside…..but you would only see one half of the house. The other half of the house that makes up the "fourth wall" and in practical theory, that's where your stairs would be. You can also use the 'fourth wall' theory to explain the absence of bathrooms, kitchens, etc.. Make yourself happy by filling your dollhouse with the things you like best, even if that means you have to leave out a staircase to do it.
Q. One of my dollhouses is a shop where all the hundreds of little things stay in the same place all the time. It's not like I'm going to rotate inventory so I've been considering gluing all the little stuff down to the counters and tables to keep them safe. I'm just worried about how I'd be able to dust things if they're glued down like that. What do you think?
A. I think it's a fine idea!! In fact, I've done it myself simply because my fingers aren't as nimble as they used to be and that makes it difficult to constantly restage a scene every time I dust or cause an earthquake by bumping into the house. It's also a helpful anti-theft device to thwart those two little feline juvenile delinquents of mine that keep running off with anything that isn't glued down!
I've discovered two things that work quite nicely for dusting teeny things with lots of crevices that don't move. The first one is canned air. Yep, the same canned air that you use to clean your computer keyboard is what works best for blowing the dust off of your miniatures. Just be very sure that the minis are solidly in place before you tap the button on the can or else it'll be 'Woooosh! 'Come a hurricane!!" and your beautiful table setting for 8 will suddenly be service for 6.5.
The second dusting secret is the use of make up brushes. You don't even need expensive ones either! The cheap sets at the local dollar store will work just fine. The soft bristles snug right down into all those tiny crevices and bring the dust out in a flash, plus the small size of the brushes is just right to get between items on a mini table or shelf.
Q. Everyone in the mini world is talking about the Spring Fling this time of year. I'd love to enter it but I'm not sure if I have the skill set equal to some of the other entries. I've seen some of the fabulous and complex houses submitted in previous years and it intimidates me. I feel like my entry would look silly compared to them.
A. Oh sweetie, c'mere so we can talk about this. You shouldn't feel intimidated by the other entries at all. Why, some of the finest contest houses we've seen were done by first time builders and that's the sworn truth! It doesn't take a lot of money either since the folks at Greenleaf try to keep the contest kits as cheap as they can. Remember that in the miniature world, big isn't necessarily better and those small houses can be more fabulous than the bigger creations.
I'll tell you a little secret about building contest houses. Most of the time, they're a themed house and themed houses can be the cheapest dollhouse projects of all because there's so much that you can make yourself instead of buying it. Get some paperclay and/or polymer clay and experiment with making things like furniture. Yes, you can do it so don't even start to argue with me about that! Just get the clay and experiment and you will be amazed at what you can do! And it doesn't stop with clay either. Make the most of making minis from found items like plastic bottle caps for lampshades and trashcans or toilet paper cardboard tubes for hot water heaters……the list goes on and on forever! There's so much you can make if you give it just a little bit of thought.
As long as I'm telling secrets, let me tell you something else you should know about the folks at Greenleaf and the Spring Fling contest. They've been holding the Spring Fling for several years and each year they put a lot of planning into making a kit that's affordable and fun to build. When it comes to the judging, why, Lisa and Dean don't care if your house is big or small, or if it's built just like the factory picture or if you've bashed it beyond recognition. The entries that they get excited about the most are the ones that show the enthusiasm of its creator in every detail. Love shows, you know!
Q. If there was just one reason to enter the Spring Fling contest, what would it be?
A. That's easy! The best part is getting to build a house with an entire community. Builders get together on the Greenleaf forum in the thread just for the Spring Fling and oh my, the teasing and laughing and good natured joking that goes on there is the true spirit of miniaturists! Everyone has a good time and it's just a pure delight to build the same house with so many other miniaturists and then see all the different results. There aren't words to describe how much fun it is to be a part of that group experience!
That's it until next time. If you have a question for Ask Aunt Bea, simply hit reply to the newsletter in your inbox and send your question to me there.
Happy mini-ing,
Aunt Bea