Welcome to the Greenleaf Gazette!

Miniatures That Chase Away the Winter Blues!

February 2008
Dear Miniature Enthusiast,
So dear readers, here we are in the dreary days of late February. Valentine's Day has come and gone, and spring is still just a bit too far away to reach out and touch. With snow on the ground and grey skies above, are you feeling those mid-winter blues just a little bit?

We've got just the thing to cheer you up and brighten your day! This month, we start a multi-part series on how to make some truly remarkable landscaping stones by Kevin Loving. Not only are these stones innovative and unique, but you'll enjoy Kevin's approach to discovering new ways to make miniatures.

We've also got a couple of tutorials for some bright and shiny miniatures to put a little sparkle in your day. And, of course, our Member of the Month will fascinate you with some little known facts about a miniature celebrity who has been hiding in our midst.

We hope that this brightens up your winter day just a little while you wait for that first robin of spring to appear. Oh, and while you're waiting, why not consider making a bird feeder or birdhouse to encourage Mrs. Robin to come bob-bob-bobbin' along? It's a great project to set your sights toward spring and would also be just the perfect thing to keep your kids busy while they're sighing that there's nothing to do indoors. You can find some great birdhouse and feeder kits here and they're easy enough to be the perfect project for your youngsters.
Deb Roberts
Editor in Chief
---

Romancing the (landscape) Stone:
One Man's Adventure in Making Authentic Looking Landscape Stones
(Part 1)

By Kevin Loving

Driving by curiosity and a unique sense of discovery, Kevin has devised his very own way of creating stepping stones in miniature. Follow along with part one of this multi part series to learn how to make your own unique and fabulous miniature stones!

Full story...
---

A Touch of Deco Coffee Table

By Deb Roberts

In contemporary settings, there's always room for a touch of art deco in the décor. The sleek lines and shining metals common in art deco fit right into modern design. Here's a table that's sure to add a sparkle to your living room!

Full story...
---

Sleek and Shiny Bed

By Deb Roberts

A modern house needs a modern bed and something sleek and shiny might just be what you're looking for. It's easy to make a modern bed with just a few simple supplies and a little creativity.

Full story...
---

February's Member of the Month - Meet Wolfie

By Heidi Cleveland

I would like to introduce you to our February 2008 Member of the Month, Wolfie (Gina). I thought it was appropriate to have Gina grace this months Gazette for two reasons. She has been a member of our community since February 15, 2007 and she also celebrates her birthday this month. What a great present! Gina is an integral part of the Greenleaf community. I love to see her creations and read her lovely posts. She is a gem in my book.
---
February's Quick Tip

From Steve in PA

For mini tile floors, you can go to your local building supply store and in the ceramic tile dept. they have extras of tiles that you can buy individually. They are 1 inch squares that are fixed to a mesh to make a 1 foot square tile. You just cut them apart & glue them down. Then you can grout them for a nice look.

If you would like to submit a Quick Tip to the Greenleaf Gazette, please send an email with your tip to deb@greenleafdollhouses.com and include the words "Quick Tip" in the subject line.
---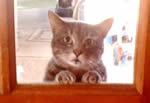 The Critter Corner!

"If I promise not to eat the minis anymore, can I come back in?"

Poor Tallulah. We're not sure why she's on the outside looking in, but have you ever seen a more pleading expression?

Thank you Pipertml for sharing such a great picture of Tallulah with us! Tallulah will receive a $25 gift certificate from Petsmart for being the February Critter of the Month.

If you'd like to submit your pet's picture for consideration for the Critter Corner, you can upload pictures in the "Good Pets acting bad!" or "Good Pets acting cute!" galleries at the Greenleaf Forum.