Romancing the (landscape) Stone:
One Man's Adventure in Making Authentic Looking Landscape Stones
(Part 1)

By Kevin Loving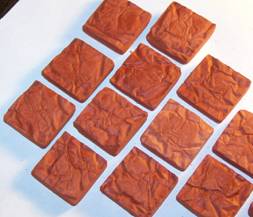 It all started with a post on our Greenleaf forum.
As usual I ask a question and received a lot of great answers but on this particular thread it also brought up a lot of additional questions in my mind.
The odd thing is this project has been driven by the engine of curiosity. I didn't then or even now have devised a use for what I eventually created. I have not as of yet attempted to "landscape" either of the two dollhouses I am currently working on.
I am honored by our good friend Deb by being asked to write an article on what I have discovered so far. I reserve the right of all good discoverers everywhere not to reveal all the 'fopaws' along the way. Just take it from me that my wife (and even my dogs) were giving me strange looks of astonishment at various critical points of the discovering process. (*Editor's note: We're not sure if the tin foil hat is actually a part of the process, but if that's what it takes to create these beautiful stepping stones, then we're willing to give it a try!!)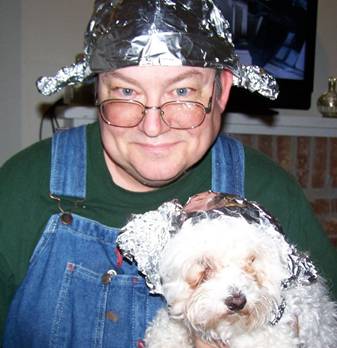 'A Mold By Any Other Name…' (translation: What matters is what something is, not what it is called)
I will start with a mold. About the time I started the thread on the forum I opened a tin of Christmas cookies and found the cookies were covered by a clear plastic shield with various shapes molded into the plastic.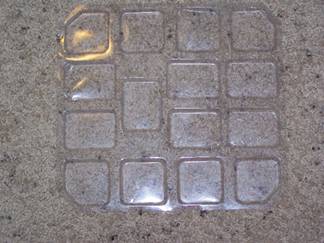 I was eating the cookies and looking at this plastic shield and a thought came to me (this is always how it starts--LOL). That plastic shield would make a MOLD!! Well I was off and running, and before I ate another cookie I had mixed up some Durham's Water Putty and poured my first stones.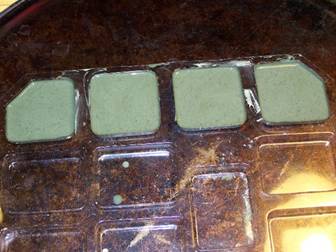 As soon as I started making stones I found myself looking for different molds to make the stones, I became distracted with all the common things around me that could be used for molds. I attempted to make molds out of various materials with limited success. I was able to produce a mold for flagstones that I constructed out of a material I cam across called Centra or Komex. This material is a 1/8" inch thick board that is used in the sign department where I work. It is much like plastic but not as hard as plastic. I am told by the sign guys it can be bought at an art supply store. Here is a picture of a flagstone mold I made from this material: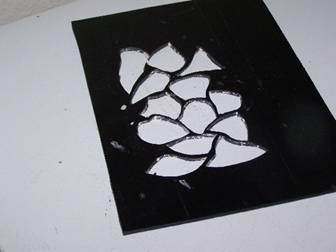 I took an exacto knife and cut the stone shapes out. This was not an easy task but it did work.
Another source of pre-made molds that will work is plastic crates that are used to carry drinks in. I work at a hotel and have access to a myriad of plastic 'milk crates' these are plastic 'boxes' that are used to transport milk to and from the hotel. I am sure you can locate one behind your local discount or grocery store. These are reusable but for some reason we have a hard time getting the companies to pick them back up after we empty them, as a result we have a loading dock full of various plastic crates. Here is a picture of a typical milk crate: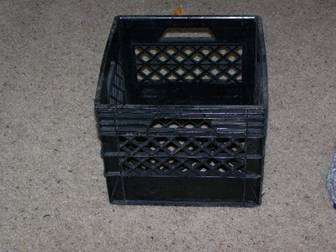 Here is a picture of a milk crate that has been 'adapted' to our use as a stone stencil: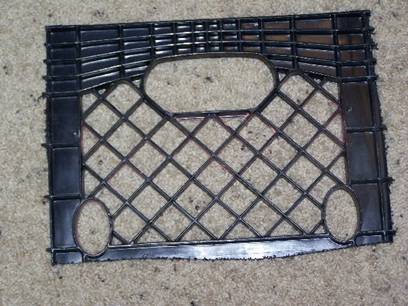 As you can see a saw will 'adapt' this nicely to a stone stencil. I have also cut up one of the crates used to carry bottled drinks because I like the pattern of the grid: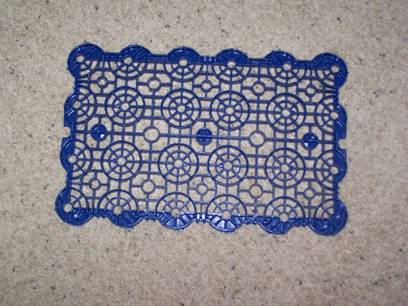 A closer look: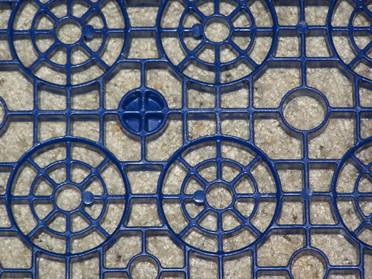 These are just a few ideas I came up with to supply myself with some ready made stencils with various patterns. I have to admit I have not as yet found an easy way to make a stencil. The Centra works but it is a pain to cut out. If you use this method just keep telling yourself 'this will last me the rest of my life'. Meanwhile keep an eye out for plastic objects that can be cut up and used for a stencil. I also want to try ceiling grids; you might remember seeing on drop in ceilings with recessed lights there is a plastic grid that is put in the ceiling in place of the ceiling tile that will let the light come thru. I want to try this grid to make small stones. It should be available at any home repair or hardware store.
To be continued in the March edition of the Gazette...
Return to Newsletter Home Page