Member of the Month - Meet Wolfie

By Heidi Cleveland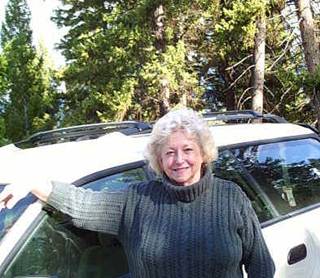 I would like to introduce you to our February 2008 Member of the Month, Wolfie (Gina). I thought it was appropriate to have Gina grace this months Gazette for two reasons. She has been a member of our community since February 15, 2007 and she also celebrates her birthday this month. What a great present! Gina is an integral part of the Greenleaf community. I love to see her creations and read her lovely posts. She is a gem in my book.
Gina lives in Seely Lake, Montana with her loving husband Doug. If you want to know what it is like to live in the wild just ask her. She lives in a beautiful home that is surrounded by nature. It is just breathtaking. Her and Doug almost lost that dream when her area was threatened by wildfires last year. I am happy to say that everything turned out fine for them in that natural disaster. Gina has a son and daughter. She is also blessed with eight grandchildren that all live in New England. She is also the mother of a lovely Australian Sheppard named Princess.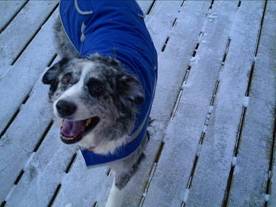 Gina is retired now and loves to just play but she was a very busy person in her day and she is full of surprises. Gina was a professional dancer.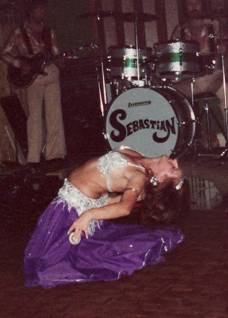 She also taught dance for fifteen years all the while raising two children and working full time. Gina had worn many hats in the professional world. She was a secretary, transcriptionist, administrative assistant, and a clerk in sales. She was also a miniature entrepreneur.
Gina's first introduction into miniatures was when she was a child. She owned a few metal dollhouses. That was not what got her started though. She was bitten badly when she saw her friend's husband building a dollhouse for his granddaughter. Within a couple weeks she had purchased a Greenleaf Arthur, built it and decorated it in the span of two weeks. She became a mini-holic. When she received her income tax refund that year, she purchased another fifteen different Greenleaf kits. She got her business license, started her business called Elegant Estates Dollhouses and Miniatures, and was exclusively building and selling Greenleaf houses. Gina branched out in her mini enterprise by making drapery sets and furniture for the houses that she built. She advertised in miniature magazines that were available at the time. She did all of this in the 1980s when the Internet was just a baby.
When she moved from Massachusetts to California she added porcelain dolls to her repertoire. She eventually met Doug and in 1998 they moved to Montana. She decided her business needed a name change. It needed something rough and tough to match her new surroundings. She saw a wolf dash in front of their headlights and safely run to the other side of the road. Lone Wolf Mini Creations was born on the spot!
Gina classifies herself as a Jane of all trades in the mini world. She loves to build, decorate and collect. As she builds and collects she logs each treasure in her Blue Book of miniatures with not just the date, place and time but also which dollhouse she is keeping it for. She gets immense pleasure out of working on her miniatures and creating her dolls. Gina's dolls are the most exquisite form of miniature art I have ever seen. I still remember our first introduction to Gina's craft, Granny.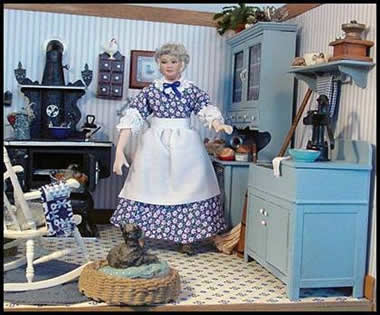 You can browse Gina's gallery in the Greenleaf community and see all her works of art.
Gina loves a good puzzle and dollhouses are the ultimate puzzle in my opinion. She is thrilled from the moment the box arrives. Each procedure in the building fascinates her. She can dream of what a house will be at every step. Gina decorates her houses even before they are out of the box. She painstakingly picks out wallpapers and paint colors for each and every build. She believes a dollhouse is never ever finished. You can always add and change in it's future. Gina does not dislike any part of the dollhouse building process. She calls every bit of it a challenge. Gina says, " What is dread when you have fallen head over heels in love with it?"
I asked Gina if she could only keep one of her dollhouses which one would it be? She said that was an easy question to answer. Hands down it would be her Garfield. She loves that dollhouse but right now it is spending its days waiting patiently for Gina to move to a larger domain. That dollhouse is her ultimate dream. She already has plans and components waiting in the wings for the day she can work on it. She says when she starts finally starts the Garfield; it will be her ultimate dream come true.

Gina's miniature plans for 2008 are to finish her Pierce. She has many other projects that she would also like to have done including her castle room box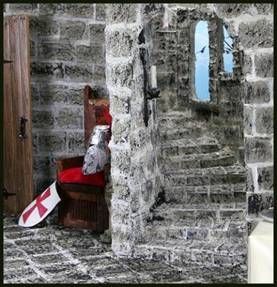 Gina says that all of her dollhouses are her favorite but if she had to pick just one it would have to be a Glencroft that she built many years ago. It was her pride and joy. Sadly someone broke into her home and stole it. She has a Glencroft kit in the wings ready to be built when she is done with the Pierce. Her other favorite dollhouse was a Brookwood that she owned. It died a horrible death when it fell off the back of a moving van and was run over by a semi. All Gina saw was splinters on the pavement. Her dream is to acquire another Brookwood.
Gina has many miniature dreams. One of them is to build as many Greenleaf dollhouses as possible before her eyes close for the last time. She would love to meet everyone on the Greenleaf site because most of them do not know how important they are in her life right now. Because she lives so remotely, we are her link to humanity.
I asked Gina what advice she could give to other budding miniaturists. She exclaimed "Never Give Up! Plan and go for your dream! Practice Practice Practice. Ask Questions!" But most of all enjoy creating your miniature masterpieces. Gina says that she has never regretted being involved in this fabulous hobby and it is the greatest pleasure in her life. I couldn't have said it better myself Gina.
For being the Member of the Month, Gina will receive a $25 gift certificate to the Greenleaf Store.