Welcome to the Greenleaf Gazette!

This,that and a sweetheart of a deal!

JAN/FEB 2012
Dear Miniature Enthusiast,
Welcome to another year of Greenleaf Gazette! This year we're going to be changing a few things such as adding some features as well as changing to a six issue per year format, but don't worry-while you won't see the Gazette in your inbox as often, you'll see more content in every issue. Features such as Aunt Bea's advice column and Fun Facts will be a part of every issue and there will be lots of variety in our tutorials, editorials, and articles.

This month we're kicking off the year with a little bit of this and that for you. We have some fun things like the Collector's Cabinet and a very special Member of the Month plus fun and games with eye candy and an amazing tutorial by Otterine that has me digging thru my studio looking for my polymer clay and raffia! I can't wait to try this one!

The big dollhouse news to report is that someone at Greenleaf went digging around in the back of the warehouse and found hidden treasure... The Cheltenham Front Opening Dollhouse! There seems to be much interest in this vertical format, so the design team got back at it and finished up the Emerson Row (great deal below)! Every time I look at the Emerson Row, I get the urge to build it with a Gloucester and Cheltenham to create my own neighborhood of brownstones. Just and FYI; there's limited quantities on the front opening houses, so you might want to move fast on them. Okay, I can't wait any longer. I need to go make some scarecrows!

Until next time,
Deb Roberts
Editor in Chief
---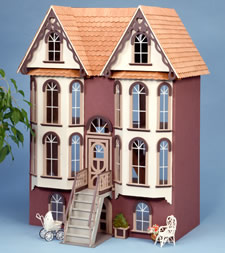 The Laser Cut Emerson Row Dollhouse Kit

A sweetheart of a deal

Greenleaf is proud to reintroduce this old favorite as its newest addition to our laser cut line of dollhouse kits. This kit will be available exclusively at the Greenleaf Company Store, and to kick off of with a bang, we are offering a 20% discount plus FREE SHIPPING* to newsletter subscribers! Just enter the code HEART20 at checkout. This great offer is good through Friday, February 17, so don't delay!
---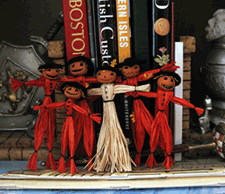 Merry Scarecrow Tutorial

By Otterine

This is a fun, simple and versatile tutorial for making raffia and polymer clay scarecrows that's perfect any time of year!

Full story...
---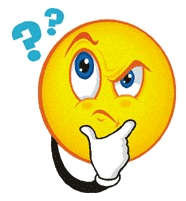 Guess That House!

By Deb Roberts

It's been awhile since we've played our favorite game, "Guess That House", so it's time to warm up the Pixilator and test your dollhouse knowledge. Here's how the game works: we'll show a picture of a small portion of a house exterior, interior, or factory feature and you get to see if you can guess which Greenleaf or Corona Concept dollhouse kit it is. The answers and scores are at the bottom of the page but don't peek! If you do, the Dollhouse Fairy will visit your house and put wrinkles in all your wallpaper.
---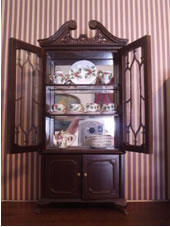 Collector's Cabinet

By Heidi Cleveland

Hello folks. It has been awhile since we have visited the cabinet. There is a new twist to the CC. I will still highlight three collectors per issue but instead of one miniature each, they will get to talk about two or three of their favorite miniatures. Lots more eye candy for us to look at. I decided that for the first edition of 2012 we would do something a little bit fun. I have chosen three of your most near and dear collectors to share. Tracy, Deb, and I would like to welcome you to the January edition of the Collector`s Cabinet.
---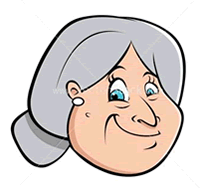 Ask Aunt Bea

By Beatrice Annabelle Minimaker

Welcome and Happy New Year! C'mon in and warm up over here by the stove. This time of year that cold air chills you right thru to the bone. I have some hot cocoa on the stove and I just baked a batch of double fudge brownies, so pull up a chair and make yourself at home. Let's talk about dollhouses for awhile. What questions do you have for me this time?
---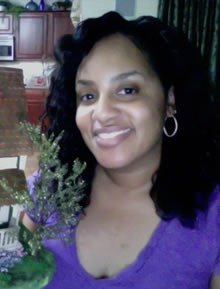 Member of the Month - Meet Tracy (Minis on the Edge)!

By Heidi Cleveland

For my first Member of the Month in 2012, I would love to introduce you to Tracy (Minis on the Edge). Tracy has been a member of the forums since April 20, 2005. Tracy is our go-to gal when we need help on the forums but she is so much more than that. Tracy is a wonderful person. She is super talented in all things miniature. And she is a great friend to have in your corner.
---
FUN FACT:

Did you know that dollhouses originated in the 16th century and were intended as miniature replicas for wealthy homeowners and not as toys for children? Not much has changed in six hundred years!
---
The Critter Corner!

I Have a Mini Me!

It's more than a little disconcerting to look into the human's dollhouse and see a miniature version of one's self. So many questions go thru the cat's mind---am I being replaced by a smaller copy that eats less? No, it must be a tribute to my greatness. Yes, yes, that's it. My human has built this entire small house as a shrine just to hold this miniature likeness of me. Now the only question is whether I want to sit and admire it or if I should smack it under the fridge.

Thanks to EllaMae for sharing such a cute picture with us. Monty and Sally will receive a $25 gift certificate from Petsmart for being featured in this month's Critter Corner.

If you'd like to submit your pet's picture for consideration for the Critter Corner, you can upload pictures in the "Good Pets acting bad!" or "Good Pets acting cute!" galleries at the Greenleaf Forum.