Collector's Cabinet

By Heidi Cleveland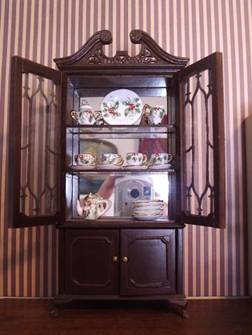 Hello folks. It has been awhile since we have visited the cabinet. There is a new twist to the CC. I will still highlight three collectors per issue but instead of one miniature each, they will get to talk about two or three of their favorite miniatures. Lots more eye candy for us to look at. I decided that for the first edition of 2012 we would do something a little bit fun. I have chosen three of your most near and dear collectors to share. Tracy, Deb, and I would like to welcome you to the January edition of the Collector`s Cabinet.
Tracy has chosen her Snape`s Dungeon as her first favorite miniature.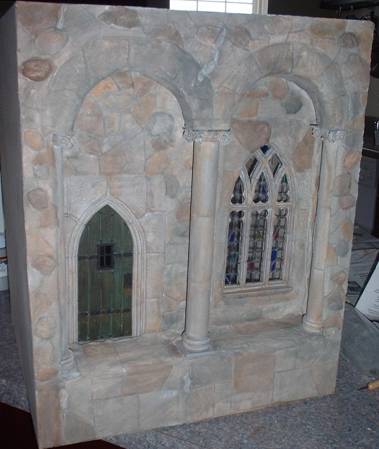 She loves it so much because it was her first project in paperclay. She built it during her very first Rik Pierce class at the Tom Bishop Show. Because Tracy lives in a small space, she loves to work on room boxes, small cottages, and shadow box scenes. She did this project because of its size. She and her family live in a good sized Condo but a large dollhouse would overwhelm her living area. She enjoys the Dungeon because it is small enough to display in any room.
Tracy had been using Magic Masonry Systems to create stones and bricks for her houses. As soon as she saw the project from Rik, she knew she had to take the class. Tracy loves castles, Tudor, and Medieval themes so this project really spoke to her. A bonus was learning the technique which she has carried on beautifully into other projects. Tracy has always been drawn to buildings that have massive architectural details. When she grew up on Chicago`s South Side, she always saw grey stone or brown stone buildings that had faces and other details within the designs. This appealed to her in a miniature sense. Then when she grew up around the "Beverly Hills" area, she saw detailed cottages and big Victorians. She has been able to add these elements to her miniature work today.
Tracy`s second choice is this gorgeous shadow box that she made at a Jo Bevilacqua class.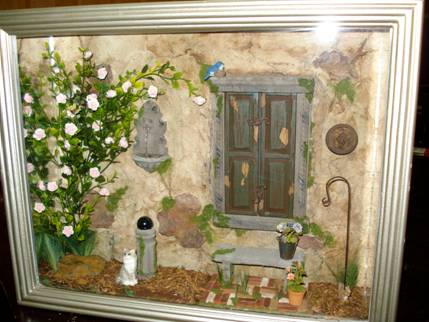 It is one of her favorites because she loves to create outdoor scenes. She thinks she has this love because her Mom used to *play* in her garden in the summer months. She began to enjoy it herself. When she moved from her parents' house, she has always lived in condominiums so that means no yard to play in. She misses not have a yard to work in of her own, so she is able to express that love in miniature. Tracy had made three shadowboxes before that class was advertised. She could envision the scene and just had to do it. She has this shadowbox with five small Rik Pierce Cottages that she has built. Since her space is limited, she uses wall space to highlight these treasures.
Deb would love to share some of her favorite miniatures next. First off Deb says that she had a hard time choosing just three of her favorite miniatures. Her minis are her babies and she loves them all, especially the ones given as gifts from friends. She says the three that she would place at the top of her list as her most favorite miniatures are a rocking horse with a mane and tail made with her own hair, a dressed skeleton matron posed on a woven wicker chaise, and a custom made doll of her great grandmother. I think those are some pretty cool choices.
Deb`s hair used to be five feet long and it was very traumatic for her when she had to have it all cut off. Her wonderful mini friend, Rosalind (Shy Spirit) asked Deb to send her some of her hair because she had a mini project/gift to work on for her. She made the sweetest rocking horse for Deb, using her hair for the horse's mane and tail. Not only is it a lovely keepsake of a part of her life but it's a precious reminder of the love of a friend. The rocking horse is near and dear to Deb because it holds the keepsake lock of her hair but Rosalind even asked her what kind of horse she would like to have and Deb decided on an old grey mare. Says Deb, "I think that the finished horse says a lot about me in personality as well as looks".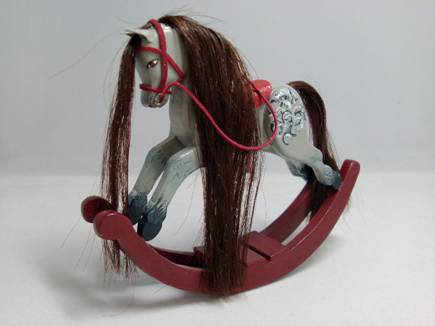 Another sweet reminder of how close we can become to our mini friends is Deb`s tea time companion made by Terri Hirt (Smallhouset). Terri is a master wicker weaver and not only did she make a beautiful chaise lounge for her, but she also dressed, wigged and staged the coolest mini matron in town to pour the tea. Terri did all that so Deb would always have someone waiting at home to lend a sympathetic ear when she returned from doctor's appointments. The skeleton also speaks of Deb`s personality from the pink toenails and perfect pearls to the almost scandalous slit in the skirt. She's eclectic and Terri caught so many things that make Deb smile and laugh.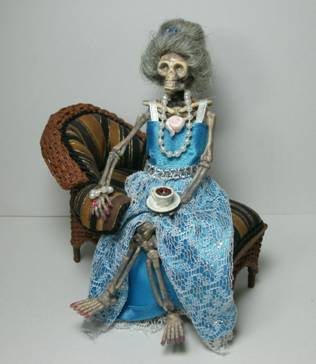 For Deb`s final mini she chose Sarah Ann. This mini was a gift to herself and the reason it's special is because it honors Deb`s family history. She sent this picture of her paternal Great Grandmother to Gina Gagnon of Lone Wolf Creations and asked her to duplicate it in a doll.
Gina did a wonderful job and when Sarah Ann arrived it was like a homecoming. Deb resized a copy of the original tin type, printed it, and framed it to hang in Great Grandma's store so you can see how perfectly the doll represents her.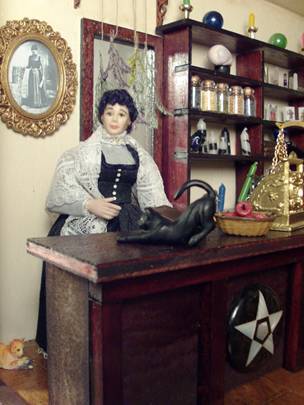 Sarah Ann is the mini that does express the most about Deb because she truly is family. When she looks at her she can see the faces and hear the voices of her father, her aunts and uncles, and grandparents; most of all, she can feel their spirits guiding her with strength and courage. Deb`s Great Grandmother was a very, very strong woman so this little doll and her shop give her a physical token to turn to when she needs a reminder about how to find her inner strength.
Last but certainly not least, it is my turn to show you my three favorite miniatures. I have chosen my Chinese carriage, Madeline, and Sir, both Lone Wolf originals.
There isn't anything really special about this carriage that would make you realize it is my favorite. I bought it at a yard sale two summers ago for 50 cents. It is old and I feel that it belongs to me, if that makes any sense. I am planning on making an Asian themed room in one of my houses and this will be a centerpiece to the room. It screamed at me from across the yard. Heidi!!! BUY ME!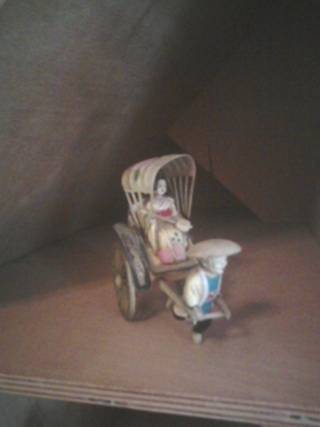 Madeline was made by a wonderful doll artisan named Gina Gagnon (Lone Wolf Miniatures). Gina had posted pictures of some of her dolls. I saw Madeline and it was love at first sight. She was beautiful and she was mine. She graced the Marquam Hill Mansion for quite some time. She had to be packed away because of curious kitten paws but one day she will see the light again.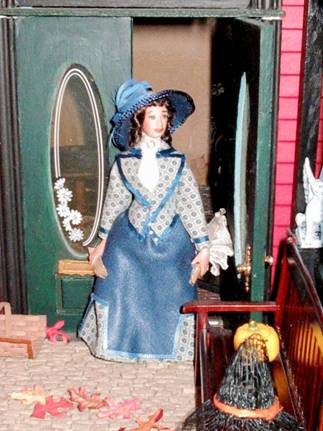 Her companion is an older fellow that is only known as Sir. Sir was collaboration between Gina and I. Gina needed some new molds to make dolls, I needed a man to make Madeline feel safe in the house and so Sir was born. He is an older gentleman but Madeline is fine with that. They get along just perfectly.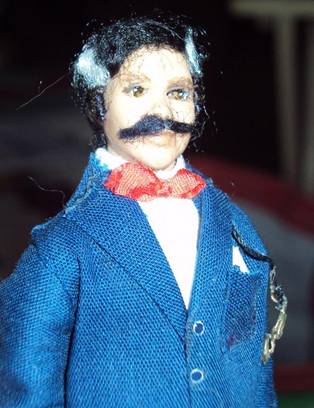 One day I would like to have two little girls to complete to collection.

Thank you so much for joining us in the Collector`s Cabinet. Make sure to add your newest favorites to your gallery. You may be next to join us here for some sharing.