Welcome to the Greenleaf Gazette!

Diary of a Polymer Clay Novice

January 2011
Dear Miniature Enthusiast,
This month we're going to do something a little different and instead of tutorials we're going to follow along with a newbie as she learns how to work with polymer clay. The challenge for this task has been to avoid reading any books on the subject, asking for help, or researching it on the internet. It's all old-school learning with just the instructions that came with the clay and the tools. We'll share her ups and downs as she experiments and follow the project through to the end to see if she's successful or if it's more like a reality show gone wrong.

Okay, so actually the reality is that I've wanted to learn how to work with polymer clay for quite some time and thought that it might be interesting and fun (possibly in a train wreck sort of way) for our readers to follow along. I decided not to use resource materials because I wanted to test the theory that miniaturists are always able to figure out how to do the things we do even if we're doing nothing more than playing around and experimenting till we get it right.

Of course I have no idea if I got it right or not since I've never done this before. LOL! But it's entertaining and hopefully it will inspire others to step outside of their comfort zone and try something new. What it all comes down to is that there is no right or wrong way of doing things as long as you're happy with what you're doing.

In the news this month are the joyous first whispers of Spring Fling 2011! Greenleaf is getting the new year off to an exciting start by asking miniaturists which scale they'd like to see for this year's 'Fling kit. You can add your feedback by popping into this thread on the Greenleaf forum. We'd love to hear your input!
Deb Roberts
Editor in Chief
---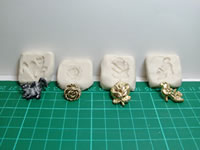 Diary of a Polymer Clay Novice Part 1: Making Polymer Clay Molds

By Deb Roberts

Traditionally the arrival of a new year inspires people to make resolutions, usually about things they want to stop doing. I tend to go the opposite direction and when January 1st rolls around I start thinking about doing something that I've never done before; expanding my horizons with new experiences. Usually I can nip that urge in the bud before it gets too far but this year it caught me unaware and before I knew what was happening I was in a craft store with a cart full of polymer clay and a pasta machine. I blame it on the huge discount coupon in my pocket because I was able to convince myself that the pasta machine was too much of a bargain to pass up. The funny thing is that I only vaguely sure why I would need one in the first place but I'm never one to walk past a good deal if there's a remote possibility that I might need something someday.
---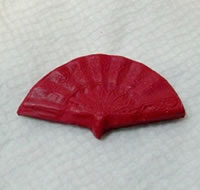 Diary of a Polymer Clay Novice Part 2: Using the Molds for Polymer Clay Elements

By Deb Roberts

Time to go back to the studio to make some great decorative elements!! I remembered to spritz the molds with water before I used them and that worked out nicely when it came to releasing the clay. The water stands up on the clay and there was no residue left in the molds at all. The first thing I had to try was a deep red colored clay to make a rose. I fell in love with this color in the store and couldn't wait to use it. I pressed the clay into the mold trying to keep it as even as possible, and then twisted it slightly to release it and trimmed the edges with a sharp knife.
---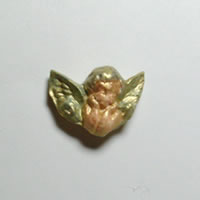 Diary of a Polymer Clay Novice Part 3: Finishing Polymer Clay Elements

By Deb Roberts

I must admit that whether it's clay or wood, painting details is one of my favorite things. Actually, I'm not that great when it comes to fine detailing which is why I can't do doll faces unless they're clowns, but there are ways to add plenty of detailing without making perfectly straight fine lines. This is a discovery I've made out of necessity because even though my hands don't work as well as they used to I've refused to give up painting details. There is always a work around to every challenge.

Full story...
---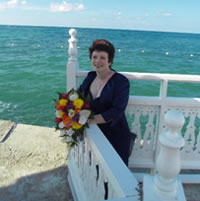 Member of the Month - Meet Debbie (Scotty)!

By Heidi Cleveland

At this time I would like to introduce you to our first Member of the Month for 2011, Debbie (Scotty). Debbie has been a member of the Greenleaf forums since March 9, 2010. When her cherished furbaby, Simon passed away, I was looking for a photo of him in her gallery. I really got to see what she has been doing miniature wise also and I wanted to know more about her.
---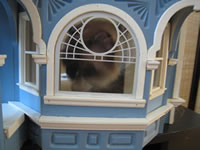 The Critter Corner!

A Room With A Mew!

It's a true fact that cats are the stalkers of the pet world. I mean, you don't find your hamster hiding out in dark corners waiting for you to walk past so he can pounce on your ankles do you? On the other hand, cats will wait for hours for that one chance to jump on your foot just to hear you scream. So I'm curious about whether Sunny is hanging out in the dollhouse because he's waiting for that perfect moment of attack or if he just likes the view from this window.

Thank you to Crystal for sharing such cute pictures of Sunny with us. She'll be receiving a $25 gift card from Petsmart for being featured in our Critter Corner.

If you'd like to submit your pet's picture for consideration for the Critter Corner, you can upload pictures in the "Good Pets acting bad!" or "Good Pets acting cute!" galleries at the Greenleaf Forum.