Welcome to the Greenleaf Gazette!

Making a Mini House into a Mini Home

July 2008
Dear Miniature Enthusiast,
We all know that a house is not a home till it has been loved and takes on the personality of its owner. That's easy to do in real life because our homes are the places where we keep the things that are near and dear to us. Those items reflect our tastes, habits and personalities, which in turn, gives personality to our home.

In the miniature world, it's much harder to get that 'lived-in' look. Sometimes it's a lack of accessories that coordinate with the décor or design of the house. Other times it's a matter of identifying the house's personality to know what it needs. This month, we'll take a look at various ways to give your mini home a lived-in look.
Deb Roberts
Editor in Chief
---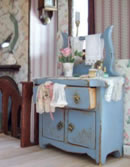 That 'Lived-in' Look

By Deb Roberts

It's often been said that it's the little things that make a house a home, and that's just as true in the miniature world as it is in the big world. We've asked a lot of miniaturists what they think makes their dollhouse a doll's home and the answer has overwhelming been, "those little touches of clutter and household items".
---

Polymer Clay Books

By JennyBee

When it comes to miniatures, I have an unreal fascination with realism. I love to make dolls that are highly believable in proportion, character and detail. I admit a degree in sculpture has given me an advantage, but it isn't necessary to spend four years talking about Rodin and Bernini to achieve a sense of realism in your miniature figures. A few basic tips can help you make more life like one-twelfth scale dolls.

Full story...
---

Dish Drainer Tutorial

By ShakyShaky

Melanie shows us how to make this perfect little dish drainer that every mini kitchen needs!

Full story...
---

Tracy Topps' Home Sweet Home

By Deb Roberts

One of my favorite Greenleaf houses is the Adams. Maybe it's because I grew up in small, rural areas, but the Adams has such a charming and cozy look that every time I see one, I just want to move in. Come with me as we visit Tracy Topps' sweet little home.

Full story...
---
July Member of the Month - Meet Esther!

By Heidi Cleveland

I would like to introduce you to Julys Member of the Month, Esther. Esther has been a member of the Greenleaf forum since September 26, 2006. Esther is a wonderful addition to the forum. She always has something helpful and nice to say to anyone and everyone.
---
Havana Holly's Quick Tips!

By Holly Parker

CANDLES: This happened to me. I lost the candles out the candleholders on my Mini Mundus piano (we get mice into the house and they wreak havoc with my minis when they get bored) and was becoming upset when I got a flash of inspiration (and the accompanying headache after) and found lovely skinny white bugle beads that fit perfectly. If inspiration had hit me just a tad harder I might have thought to thread each bead with a single strand of cream (for a new candle) or dark brown or black (for a burnt one) embroidery floss for the wick, knotting one end and dripping a glue bead on the knot at one end of the bead and cutting the other end off a fraction of an inch above the other end of the bead.
---

The Critter Corner!

Upstairs neighbors can be so inconsiderate!

If they're not stomping around in the middle of the night, they're drooping their tail over the landing and blocking the view! Humans might decide to resolve this issue by talking to their neighbor. On the other hand, cats are more inclined to just give the tail a good smack, thus teaching the upstairs neighbor to respect boundaries.

Thanks to Pastalinda for submitting this great photo of her furry friends. For being featured in our July Critter Corner, she'll receive a $25 gift card from Petsmart.

If you'd like to submit your pet's picture for consideration for the Critter Corner, you can upload pictures in the "Good Pets acting bad!" or "Good Pets acting cute!" galleries at the Greenleaf Forum.