July Member of the Month - Meet Esther

By Heidi Cleveland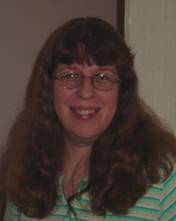 I would like to introduce you to Julys Member of the Month, Esther. Esther has been a member of the Greenleaf forum since September 26, 2006. Esther is a wonderful addition to the forum. She always has something helpful and nice to say to anyone and everyone. Esther lives a very busy life in my opinion. By day she is an accountant for a small laid back company that lets her surf the Internet on her off time. By night she is an avid dollhouse builder. Her daughter is an air traffic controller from Albuquerque with her husband and daughter. Her son is an airfield manager that just spent 18 months in Afghanistan. He met his wife online while he was overseas and they are about to bless Esther and her husband with another grandbaby. On top of all of her weekly tasks, Esther and her husband are very involved in their church. Esther and her husband both teach Sunday school. Esther sings in the Worship Team and hubby publishes the monthly newsletter.
Esther had always wanted a dollhouse as a child. Because she was one of seven children there wasn't a lot of money to spend on Christmas. Each child was allowed to choose one thing out of the Sear's Wish book and it could not exceed $10. Esther never got that long hoped for dollhouse as a child. When her daughter Nancy turned five years old, Esther decided to build her a dollhouse. She was able to buy the kit with her employee discount at the store that she worked at. She spent many hours lovingly putting the house together. She loved the feeling of watching the house come to life in her hands.

Fast forward to 2005. Her husband was working on his Masters and he was away from home three nights a week working on that or teaching class. Esther decided she needed a hobby. She remembered how much fun she had building Nancy's dollhouse and that is what she wanted to do again. The first house she built was the Greenleaf Sugarplum. She admits she made a lot of mistakes but she believes dollhouse building is a process. You learn as you go. She gave that house to her niece's daughters and she moved on to the next house, Dura-craft Columbian. After completing that house, she shipped it off to her daughter to replace the one she had as a child. Esther's husband was very supportive. He even bought her Greenleaf Laurel and Primrose for her birthday. That was the first kit she electrified and it graces her spare bedroom. Since then Esther has been a flurry of activity. You can click on her gallery link here to see all of the houses she has completed. Esther`s favorite house is her Willowcrest. It sits in her living room and she would love to build another one some day.
Esther classifies herself as a builder. From the amount of houses she has built, I would say so. The only thing she really does not like about the whole process is shingling the roofs. She feels it is mindless and tedious. Her mini dream would meet a whole bunch of the members of the Greenleaf forum and descend into Upstate New York and give Dean a big hello. Esther`s plans for 2008 are to build some of the kits she has in boxes in her home. She would love to learn how to mini crochet and making mini rugs. I asked Esther if there was only one house that she could keep and lose all the others which would she choose. She had to decide between her Willowcrest and her Beaumont. In the end, the Willowcrest won.
I asked Esther if she had any advice for up and coming miniaturists. She said to keep at it. The best advice you can get is from the Greenleaf forum. She feels the people on the forum are great and helpful and she classifies them as some of her best friends. She did add a side note to me that she sounds pathetic, huh? No way Josita! If you are pathetic then we all are and I guess we will have to change the definition of the word because we are all a family on Greenleaf.