Tracy Topps' Home Sweet Home

By Deb Roberts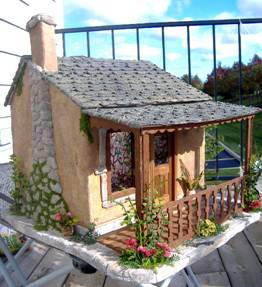 One of my favorite Greenleaf houses is the Adams. Maybe it's because I grew up in small, rural areas, but the Adams has such a charming and cozy look that every time I see one, I just want to move in.
Tracy has taken the cozy style of the Adams to a whole new level with her Paperclay artistry and landscaping. This darling little cottage is truly a 'home sweet home' with it's inviting front porch that immediately makes one want to pull up a chair and have a glass of lemonade. You can almost hear the birds singing and the crickets chirping.
Tracy's use of flowers and plants on the front porch make the entry way even more inviting and the floral pattern is echoed in the stained glass windows and door insert. Even the terra cotta pot beside the door is warm and welcoming.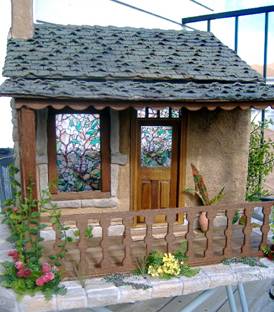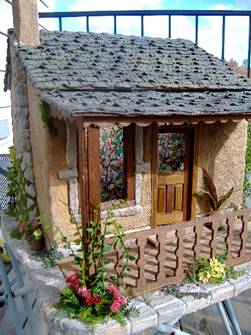 From the side view of the house, you can see the worn planking of the porch floor, giving the illusion that hundreds of feet have found their way to the front door. The shrubbery and flowers are well trimmed, but obviously have been nurtured for years by tender and loving hands.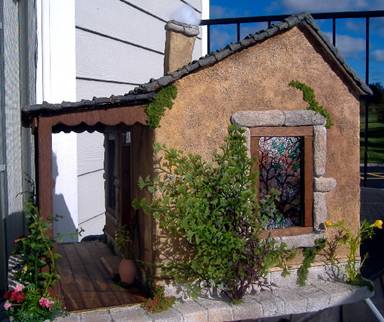 Even the moss on the chimney gives the impression that the house has been a well loved home for many generations.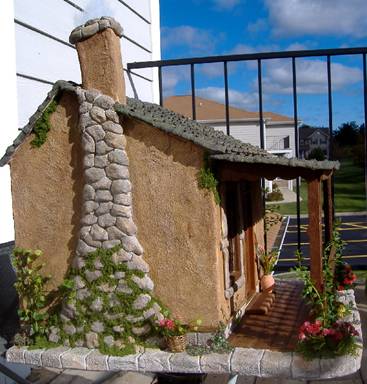 Inside the house, we find that the fireplace shows the effects of countless fires where small folks warmed their hands or waited for Santa.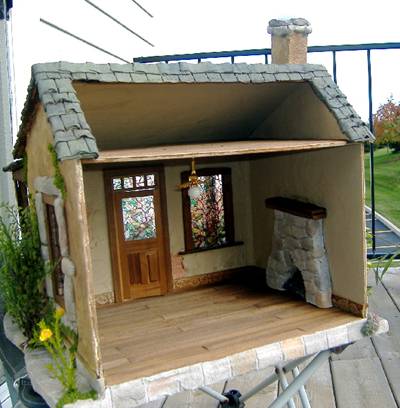 The interior walls may be a little worn, but that adds even more charm to this little home. Looking at them, you really do wish that they could talk and tell the stories of the people who have lived there. The hardwood floors look as if many a mother has paced their length, singing softly to a fussy baby.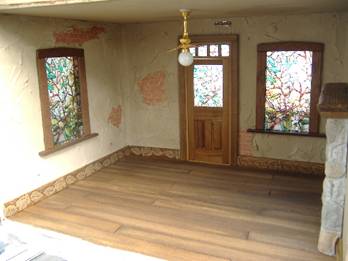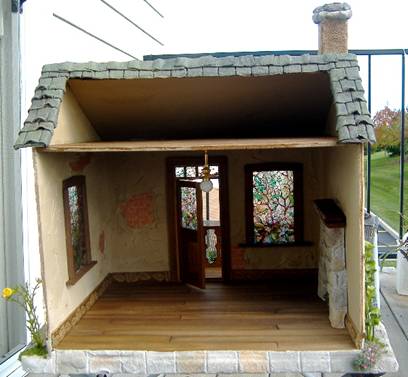 These are the little details that turn a miniature house into a miniature home. The obvious signs of age and wear tell stories of the years that this little house has been a home, and of the love that has been given to it... and that it has given back to its residents. Truly, it is a 'Home Sweet Home'.