Welcome to the Greenleaf Gazette!

Fabulous Architectural Features!

June 2009
Dear Miniature Enthusiast,
From a window bump-out to a fabulous mansard roof, we're covering dollhouses from top to bottom this month! We also have a Greenleaf exclusive written by one of the youngest miniaturists we know. We won't tell you her name yet, but if you read further, you'll find out who this up and coming young artisan is.

The results of Spring Fling '09 are in and we'd like to congratulate our winners as well as everyone else who took part in the contest this year. Each year the entries get better and better…….and each year the folks at Greenleaf have to pull someone out of retirement to help make the final decisions! Yes, the judging is really that tough! Take a look at the Spring Fling galleries for both the Adults and the Junior Division and you'll see just how difficult it was to choose a winner this year. Our hats are off to everyone who showed such wonderful creativity this year.

What's the hot news in the miniature world right now? More new dollhouses! Greenleaf has seven new dollhouses and another three on the way! Best of all, they're all laser cut! Being a miniaturist just keeps getting better and better! Take a look here at Greenleaf's Laser Cut Dollhouse Kits.
Deb Roberts
Editor in Chief
---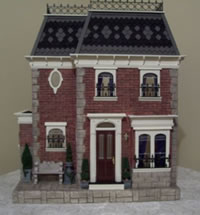 Patterned Shingle Roof

By Diana M

The re-release of the Greenleaf Willowcrest and the upcoming release of the Rosedale have mansard roofs making a big comeback in the miniature world! Mansard roofs were extremely popular during the Victorian era and with good reason. As an architectural feature, nothing gives quite as much character and charm to a house than a mansard roof, especially when a design is incorporated into the shingles. Follow along as Diana shows us how to create this beautiful and elegant look.
---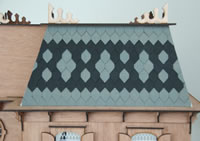 A New Way to Shingle Your Dollhouse

By Dean Roberts

I Love Diana's Rosedale! In fact, it inspired me to re- release this dollhouse as a laser cut model which is now available at the Greenleaf Company Store. After reading her shingle tutorial, I realized I needed to start manufacturing Diamond shape shingles again. They look great, especially on the Rosedale, but I've longed to come out with a better product that would make applying shingles a little less daunting. So I fired up the laser cutter and burned off what I'm calling speed shingles strips. I figured this was the perfect time to introduce this product with a comparative tutorial on shingling the Rosedale along with a money saving offer!
---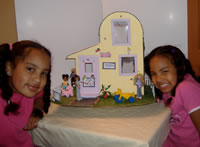 Sarah's Painted Yard Tutorial

By Sarah Topps

This month we're delighted to feature the work of a young miniaturist, Miss Sarah Topps. Sarah and big sister Rachel were winners in the Junior Division of the Spring Fling '09 contest with their "Girls Only" Clubhouse entry. Sarah has already developed her own building and landscaping style, and with a little help from mom Tracy, she put together this wonderful tutorial for creating a painted landscape. (Did we mention that Sarah is only 7 years old? That's a lot of talent in a little package!)

Full story...
---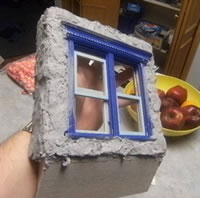 Window Bump Out

By Corwin

Corwin is the king of bashing and is currently working on a Garfield that will soon reach epic proportions. One of the features that Corwin has added to his Garfield is a window bump-out that will enhance the exterior appearance of his house as well as add a window seat to the interior. Follow along with Corwin as he shows us how to create this great architectural feature.

Full story...
---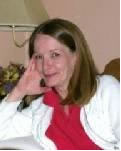 Member of the Month - Meet Chris (what2craftnow)

By Heidi Cleveland

I would like to introduce you to Chris (what2craftnow). She has been a member of the Greenleaf forums since August 21, 2007. Chris was very hesitant about having her profile done this month. She thought she had nothing to offer and would be really boring. No! No! Chris. You are in no way, shape, or form boring in our eyes. You are perfect! ).
---
Havana Holly's Quick Tips!

By Holly Parker

Polymer clay marble: You do need to get yourself a piece of translucent clay. Condition it and roll it out thin. Take a bit of whatever color marble you wish to make on your paint brush and draw a few random lines, fold the clay and roll it, and do this a couple of times. Repeat with another color or two and white/ pale gray. Last of all roll it thin again and draw fine lines with black. Roll up your sheet of clay into a roll and roll it into a cane. From this you can slice pieces to roll out and bake to make counter tops or tiles. This is a great way to use up stray bits of colored clay, too.
---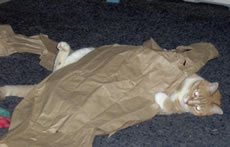 The Critter Corner!

If you'd build me a house, I wouldn't have to be a bag-kitty!

Poor Newman. Other kitties have big Victorian mansions to live in and all he gets is a paper bag. At least that's what he'd like for us to think, but we know that his human, TiniJudi, is a very talented builder and there are lots of dollhouses in his home. Could it be that Newman is trying to con Judi into building a dollhouse just for him?.

Judi and Newman will receive a $25 gift certificate from Petsmart for being featured in our Critter Corner this month.

If you'd like to submit your pet's picture for consideration for the Critter Corner, you can upload pictures in the "Good Pets acting bad!" or "Good Pets acting cute!" galleries at the Greenleaf Forum.