Memeber of the Month - Meet Chris (what2craftnow)

By Heidi Cleveland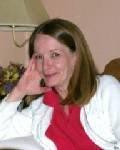 No more pencils. No more books. No more teachers dirty looks.
Kick the tables. Kick the chairs. Kick the teacher down the stairs.
(Oh my, I forgot how violent that one was.)
That little diddy was always sung at this time of year when I was in school. June is wonderful. It is a perfect time to get some real dollhouse work done. In some parts of the world, the humidity levels haven't even begun to rise. Glue and paint will dry in a timely manner while you are outside grilling some hot pups and burgers on the grill. This is also the time of year that Mother cats are having their kittens. I am the proud mother of a 14 week old kitten, Oliver. He is an Ocicat. He is full of you know what and vinegar! So these battle wounds on my hands are not because I have been working on miniatures and dollhouses. I have been fending off a feline Bruce Lee.
I would like to introduce you to Chris (what2craftnow). She has been a member of the Greenleaf forums since August 21, 2007. Chris was very hesitant about having her profile done this month. She thought she had nothing to offer and would be really boring. No! No! Chris. You are in no way, shape, or form boring in our eyes. You are perfect! I absolutely love your work and I feel you are a very, very talented miniaturist. Keep up the excellent work Chris. We all love your eye candy.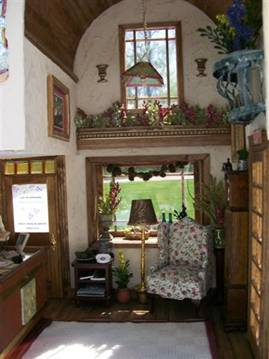 Chris` love of miniatures started when she was very young. During the summer months her mother worked a full time job, so Chris would live with her Grandparents in Des Plaines, IL. Her Grandma would take Chris with her to the hairdressers in the local Marshall Fields. Lo and behold, right outside the door of the salon was a huge glass shelved counter filled with enticing little minis. She dreamed of owning those lovely little things. One day her Grandma broke down and bought her a handblown clear glass vase with tiny yellow stripes. Chris still has it to this day and it needs to find its rightful place in one of her dollhouses.
Her first dollhouse was the Orchid. She picked it up before she went into surgery in 2007. That house was an immense help in distracting her brain from fretting about it. Unfortunately, Chris and the Orchid never really connected and the house was never completed, but that Orchid was the catalyst that brought her back to her childhood fantasies. She was pretty intimidated by the whole process at first. If it wasn't for a little encouragement from her husband Bob, Chris would probably have ditched the whole minis idea and gone back to crafting other stuff.
Chris loves to decorate and collect items for her dollhouses. Building is just the necessary means to get to the decorating part for her. She could spend a lifetime decorating dollhouses and never feel like she has wasted her time. She says that it gives her a deep sense of pleasure and real peace down to her soul. Landscaping has become a passion for her. She feels that it adds so much more to the piece.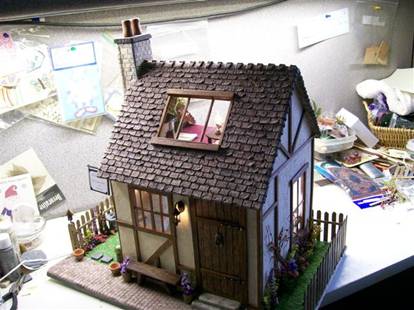 Chris` dream would be to have oodles and oodles of space. This is so she could display all of her stuff when she finishes them. She can barely finish a piece when her husband exclaims, "What the heck are ya gonna do with THAT one now and where in the world are you putting it?" LOL Chris has censored her reply to these questions.
Chris has many plans for this year. First on her list has been finishing the 1/2 scale lighthouse for her sister`s birthday this month.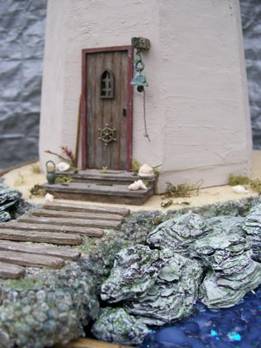 She wants to finish the Colonial 300 and decide what to do with the Marquam Hill Mansion shell. They were both impulse buys. Chris, I think all dollhouses on some level are impulse buys. After those are decided, she has a Brimbles to work on. She has christened it a millinery shop so far but she knows the house could change its mind at any moment.
Chris finds that she loves the house she is working on or just completed. Those are the houses of her dreams at that moment. Right now her favorite is her 2009 Spring Fling, the Tuscan Sun Hotel.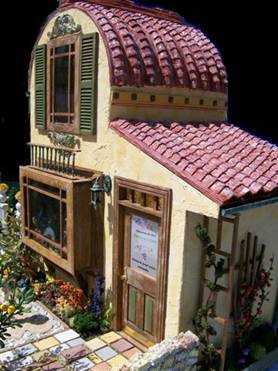 It was a real joy to do and she learned some new things along the way. She has to admit there is one house that she loves above all the rest. Her first love is her Tudor Primrose. It was a great learning experience and the first one she had a true mini love affair with. When the houses seem to build themselves, she knows she is on the right track. Chris has a real love of English history and the Tudor style just appeals to her. She would love to do an Elizabethan era "something". Chris has learned what we all have in this hobby. The house knows best what it wants to be and there is no going against it. No truer words have been said about dollhouses.
Chris would love to learn anything and everything. Right now, she would love to learn how to make wicker furniture. She just loves the look. She would also like to learn how to make bed frames. She has purchased all the materials to do it, just has not gotten down to doing it.
Chris has some wonderful advice for all of the new miniaturists on the horizon. Don`t get discouraged. There seems to be so many rules of thumb with miniatures but in the end, it is your project. It is your vision so do what makes you happy. She also says that you should try everything. You never know what you can do until you sit down and give it a go. Her parting words are my favorite." Allow yourself to fail now and then, it is part of the process."
You can visit Chris` gallery here and enjoy all her wonderful works of art.
For participating as the Member of the Month, Chris will receive a $25 gift certificate to the Greenleaf Store.